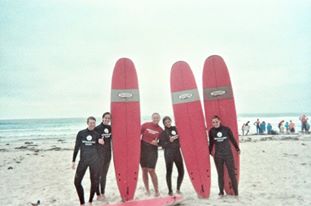 Well guys, I finally had a chance to do some California dreamin'.
Doesn't every teenager want to go to California? It's totally glamorized on TV, and after watching shows like Zoey 101, I was sold.
Still sad my parents wouldn't let me go to Pepperdine University, though. Real talk.
When I finally made it out to California, it was — of course — Invisible Children that brought me. I got a partial tuition to the non-profit's Fourth Estate leadership camp, and so I was lucky enough to head out to the University of San Diego for a few days.
It was amazing.
Invisible Children means so much to me, so it was so cool to attend and see so many people that care about the organization just as much as I do.
We got to listen to a bunch of speakers — the highlights were definitely Kristen Bell and Tom Shadyac.
Because it's Invisible Children, of course, we watched lots of documentaries and concluded our first day with a scavenger hunt-type game called "Bastille," and concluded our second day with a dance party.
One of my favorite things, by and far, was meeting the people. I came with Caitlin and Lindsay, but met so many new people, and I really hope I get the chance to stay in touch with them!

And also, this campus was seriously gorgeous. Here's the pavilion we had a lot of our lunches in, followed by a picture of our dormitory.
That's Chad, Sarah, Kristin and me. We're all from the midwest, so we were placed on the same team for activities and lunch purposes. They were some of the coolest people I've ever met.
Saying goodbye at checkout was so hard!
But, luckily while we left the conference, we didn't have to leave the coast quite yet. Since we flew all the way out to the West Coast, we opted to extend our trip a bit longer. I booked a hotel with two girls from my school — Lindsay and Caitlin — as well as another girl from Michigan named McKenzie that we picked up along the way.
We spent our last few days in San Diego doing typical tourist stuff.
First, we went kayaking in La Jolla! It was the first time I had ever been kayaking, but it was really fun. Everyone in our group was completely in love with our kayak guide, so naturally, we made him take a photo with us.
Supposedly you should have been able to see otters on the kayak tour, but it was too dreary outside, so we didn't see anything. We did, however, get to paddle over a fault line, which was really cool. Here's what that looked like.
Our tour guide told us that most places refuse to insure the huge mansions along the coasts. We paddled alongside some of them and they were absolutely gorgeous! But, due to erosion, many of them physically cannot remain for long. Sellers will only take cash payments for the homes, and it's impossible to get an insurance policy on them. After we went kayaking, we cleaned off. There was a bucket to rinse our feet in, and for some reason, we were obsessed with it?
After that, we took surfing lessons! Because, when in California, you know. I was really proud. I managed to get up and ride a wave on the second try. Nothing fancy, of course, but I held my balance for about 10 seconds before I lost my momentum and had to bail.
I'd describe surfing as being easier than you think, but harder than it looks, if that makes sense.

We spent the rest of the day chilling out along the coast. It was so nice to relax!

We also made time to see the San Diego Zoo. I was absolutely blown away by how big it was. I was totally not expecting that! My favorite exhibit was definitely the panda exhibit. It was really funny, because the panda didn't move at all until I got to the end of the line. Then suddenly, he started rolling around and the entire line just stopped to look. One of the security guards had to yell at us to keep everyone moving, since it was such a popular exhibit with such a long wait. You couldn't linger! You had to keep moving.
Before we left, of course, we made it a point to stop by the IC office to say goodbye to everyone one last time before we hopped on our plane back to Michigan.
I was a little hesitant to make this trip since I'm in college and about to start a pretty low-paid internship, so I was a little concerned about money. But, I'm so glad I went! San Diego (and La Jolla) proved that southern California is absolutely gorgeous! I already can't wait to come back in the future!