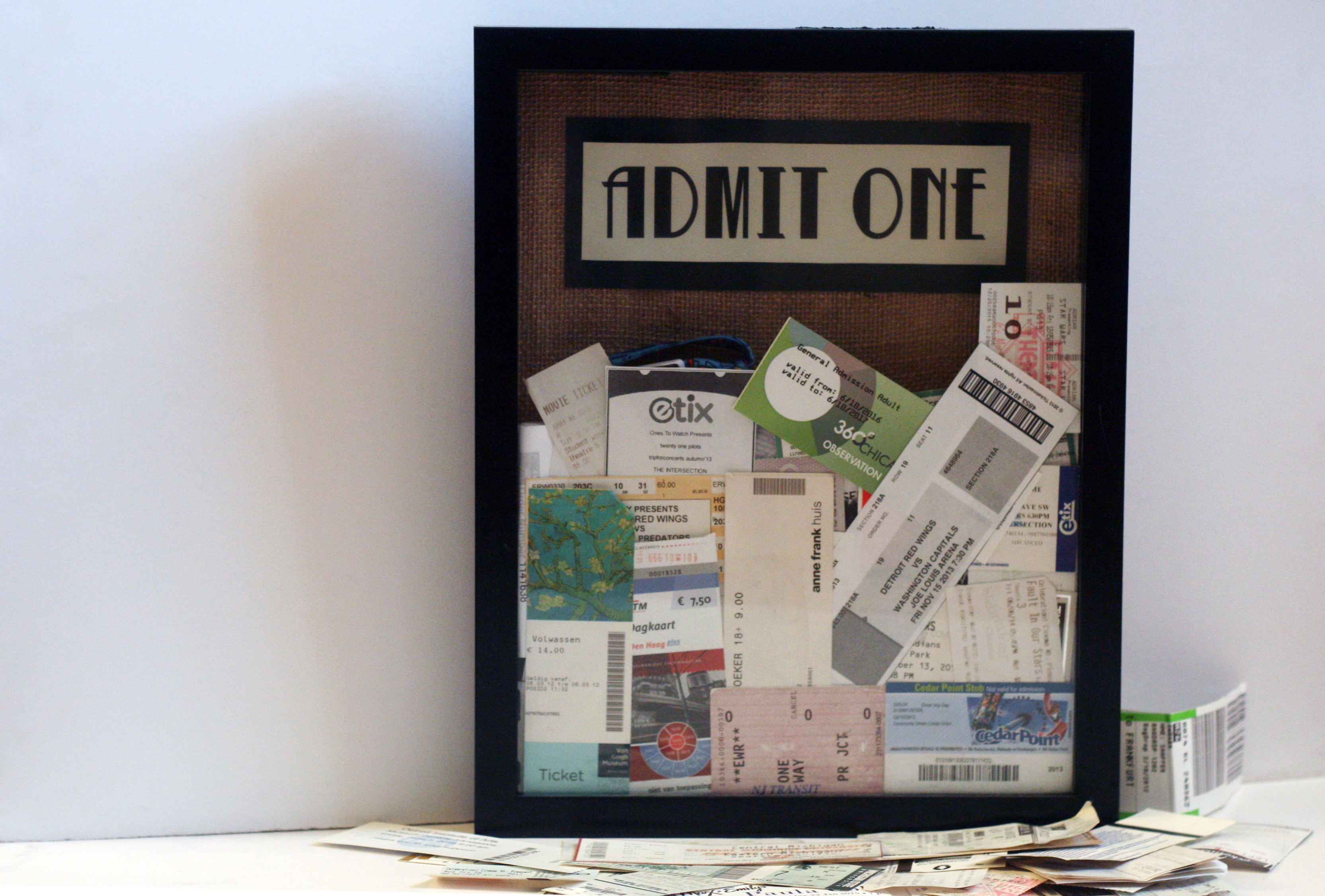 OK, so I finally got sick of the number of errant ticket stubs and broken wristbands filling up shoeboxes inside my apartment and decided to do something about it.
I've been seeing these ticket stub shadow boxes all over Pinterest lately, and finally decided to make one for myself!
Because I've been stalking JoAnn Fabrics on the regular lately, I was able to snag quite a bit of this stuff for fairly cheap. The shadow box was on sale for half off, and the scrapbook paper was half off as well. I had the rest of the materials on hand, so my total project cost was $12.50. Not bad!
I started on the background. I used Mod Podge to adhere the burlap to the frame's backing.
…And more Mod Podge on top of the burlap…
(I usually use a lot of Mod Podge when I'm working with burlap because it keeps all those little fibers in place.) I used half a jar, but because it dries clear, it wasn't an issue. I let the Mod Podge dry overnight, and started on the plastic part of the frame. Remember me ranting and raving about my Versa-Tool? It can be used for this and this. I used it for this project as well. I screwed the hot knife tip on and messily created a slot for the tickets.
I think I'm going to have my dad clean it up with a drill or something, next time I see him. After I finished stinking up my entire newsroom with the smell of burning plastic (sorry guys!), I started on the inner details.
I gathered a few retro showtime fonts- it was so hard to decide! (From top to bottom: 1. Budmo 2. Market Deco 3. Park Lane 4. Outstanding 5. Betty Noir 6. Nickelodeon 7. Big Top) I finally decided on Betty Noir, the third from the bottom. I printed it out on some off-white cardstock, mounted it onto the black cardstock, and attached it to the burlap backing — all done with craft glue. I assembled the frame and voila! Just drop your tickets in.
Like I said before, this is such a popular project, but no two are the same because it's so customizable! And not only is it cool for personal use, it would make a great birthday gift to a roommate or a best friend, or an anniversary gift too!
Thanks for reading,