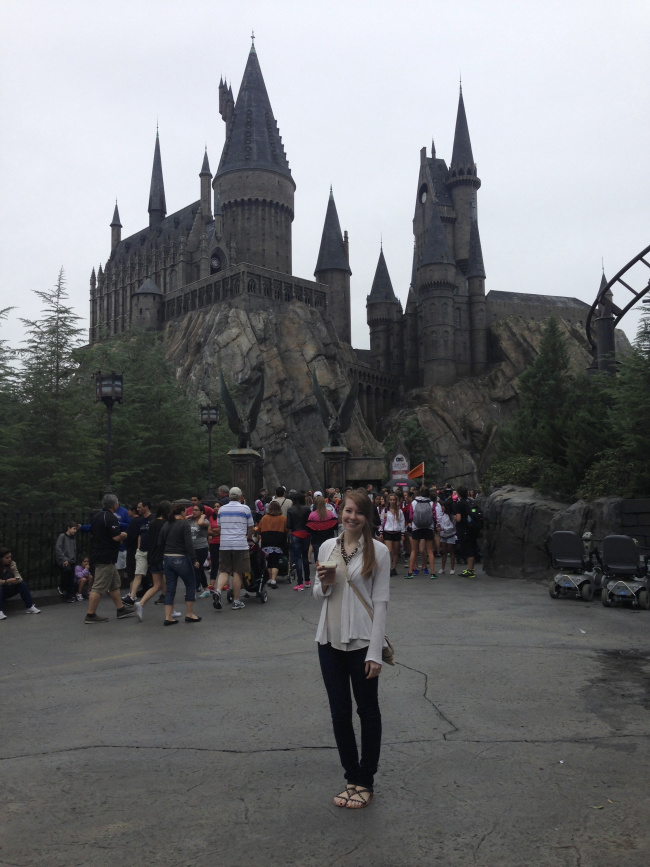 This week's classes are done and I have today off of work (gasp!) so I figured I would use this precious, precious time to finally give a recap of my recent Florida vacation!
After graduation, my good drinking buddy friend Jordan moved down to Florida to live with her mom and work. Back in November, I decided Future Randi should pay Future Jordan a visit, so I booked a fairly inexpensive flight from Detroit to Tampa. Fast forward roughly almost three agonizing months of polar vortex later, and I'm giving Past Randi a nice hearty pat on the back for that decision. Good one. Because Jordan and I are both semi-recent college grads (read: broke), we knew we wouldn't be able to have a crazy week of adventures planned, but we did get to go to THE MOST MAGICAL PLACE ON EARTH!
That's right! We took a day to go to the Wizarding World of Harry Potter at Universal Studios! We bought a one-day, two-park pass, so after heading STRAIGHT TO HOGSMEADE WITH NO DISTRACTIONS, we got to check out the rest of Islands of Adventure and Universal Studios.
Harry Potter World exceeded my expectation in details, but was a little underwhelming in terms of size. Because Jordan and I chose the coldest, rainiest day of the year to go, (aka: 62 with scattered showers), the lines weren't bad at all. The longest wait was about half an hour to see the inside of Ollivander's. We got to buy fudge and Bertie Bott's Every Flavour Beans at Honeydukes and check out the merchandise at Filch's Emporium. I got to grab a cold Butterbeer off of a street cart, and after we rode every ride, including Harry Potter and the Forbidden Journey, which started with an amazing line that meanders through the Hogwarts castle. The detail to attention along the line, as well as throughout the entire park itself, was incredible. The pictures inside Hogwarts talked, and you got to take a trek through Dumbledore's office as well as the Griffindor common room after making your way through the Herbology greenhouses outside. Part of me wishes the line had been longer, so I would have had more time to gawk at the Mirror of Erised and the Defense Against the Dark Arts classroom as I wandered past. Jordan and I ate lunch at the Three Broomsticks, where I ate potato leek soup and drank pumpkin juice while watching ghosts move objects around and Madam Rosmerta's shadow move across the rafters.
As I mentioned, the park did kind of underwhelm me in terms of size. But not to worry! In late 2013, right after I bought my plane ticket as a matter of fact, Universal announced it would be expanding the Harry Potter portion of the park. The expansion is located in Universal Studios itself, so guests will have to take the Hogwarts Express between parks. While the expansion sadly won't open until this coming summer, we did get to grab a sneak peak of Diagon Alley under construction.
Doesn't it look so exciting? I'm definitely going to have to make another trip down to visit once the expansion opens. I absolutely love Harry Potter, and the park is so magical!
Even though the Wizarding World of Harry Potter takes up most of this blog post (whoops), it was really only about five or so hours of my entire trip. We got to check out the new Despicable Me ride as well, and even though the Twister ride wasn't operating, we got to ride the Spiderman, Transformers, ET, Mummy and Simpsons rides, just to name a few. Getting used to the rides was a little weird. Because I live in Michigan, Cedar Point is a routine summer destination spot for me. Because I'm used to long and boring lines culminating in an intense roller coaster experience, seeing the detail put into just the wait for any of the rides at Universal was a little weird to get used to. Also, Universal's rides are less OH MY GOSH BIGGEST FASTEST BADDEST SCARIEST AND HEART-STOPPINGEST IN THE WORLD and more focused on motion simulation and stop-and-go surprises. It was still very cool, just a little bit of a surprise.
Once Jordan and I drove the two hours back from Universal that night, we completely passed out. I spent Friday relaxing and watching movies (Harry Potter of course) while she had a job interview, and then we got to spend the night bar hopping in Ybor, outside of Tampa. It was so nice to not have to wear a coat- just a leather jacket. We got to check out the Tampa Bay Brewing Company, where I tried the True Blonde Ale, and then visited Gaspar's Grotto, where PBR was on special. I can never turn that down. Karaoke and a good time were had by all.
Saturday was another relaxing day, filled with Olympics-viewing and then Jordan and Freddie made dinner. After that, we tried to get tickets to the Detroit Red Wings vs. Tampa Bay Lightning game, but hit a wall with every attempt. We went to a bar to watch the game instead. Too bad my Wings lost! There's always next time, right?
And then sadly, the trip was over. I was back in Detroit before the afternoon was over on Sunday. Luckily, the airport had been plowed and de-iced, since this is what it looked like when I flew out last Wednesday.
Brutal. As a side note, my departing flight was delayed two hours due to the snow, and it took me three hours instead of my usual hour and 15 minutes to make it from my parents' house to the airport. My plane had to be towed to the taxiway and undergo two rounds of de-icing. It was at that point my friend texted me to let me know two Delta jets had actually skidded off of the taxiway and landed in the snow. Yikes. Luckily, aside from the delay, I had made it out of Michigan OK. And a fun fact? The Detroit Metropolitan Airport measured eight inches of snow on the day I flew out. That's an all-time record. Crazy, right?
It was nice to leave the cold, snowy weather, even if it was only for a few days, and it was only about 60 outside. But spring is coming soon, right?
Until then, think warm thoughts!