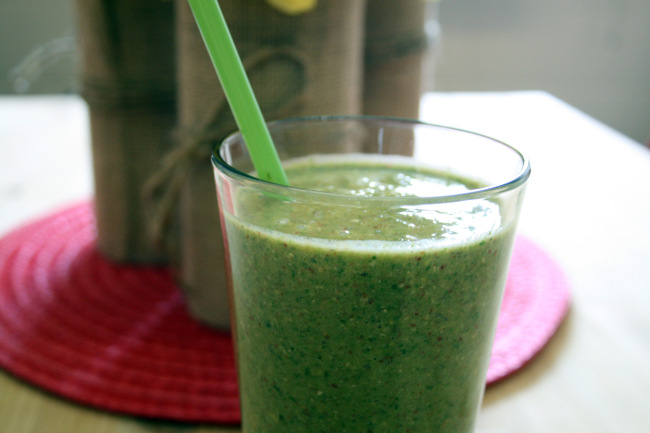 I'm a little bit of a health nut and a lot of a heavy sleeper. And even though I'm great at planning ahead, I'm not so great at waking up, ever. More often than not, I'm still perfecting my winged liner while already running 10 minutes late to work. So needless to say, I'm not the type of gal that will wake up three hours before work and cook up a hot breakfast while sipping coffee and reading the paper as the sun rises every morning. Nope. That's not me. Wish it was, and I'm working on it, but it's totally not.
So after years of grabbing a sugar and preservative-filled doughnut or coffee cake at Biggby on my way to work, I realized I needed to make a change. Enter the green smoothie. It's super easy to make in the morning as long as you have everything on hand, and there's no need to sit and eat it. Just pour it into a portable cup and head out the door. Five minutes tops. Plus, it's jam-packed with tons of healthy goodies that will kickstart your morning a lot better than a cream-stuffed long john. If you're incredibly lazy, you can even make it the night before and freeze it. (Bonus points if you can manage to put in in your car ahead of time during winter.)
I've tried variations of the green smoothie over the years, but this one is one of my favorites. Just toss all of the following in a blender and enjoy!
–
1.5 cups milk (I prefer vanilla soy if it's a workout day and I need the extra calories. Otherwise, I go with unsweetened coconut.)
1 cup frozen fruit of your choice (Digging strawberries or peaches lately. You can also blend multiple types.)
1 tbsp. goji berries
1 tbsp. chia seeds
1 tbsp. hemp hearts (I double this if it's a workout day.)
2 tbsp. old fashioned rolled oats
One large handful of spinach
Handful of ice if desired
–
You can check out my dry goods mason jar storage system here, if you're interested.
That's it. Seriously. It's super easy. It's about 300 calories, exceeds your daily dose of vitamin C and contains 10 grams of protein. Goji berries are packed with antioxidants and spinach is chock-full of phytonutrients. Plus, I find that sipping on a smoothie throughout the morning suppresses hunger a lot better than scarfing down three Chewy bars at 8:30 a.m., and I'm able to easily hold out until lunch at 2 p.m.
Although, I would advise using an opaque cup for your smoothie if you're taking it into work. Otherwise, you'll field a lot of questions about the "sludge" in your hand.
Do you have a favorite smoothie recipe? Share it in the comments. I'd love to hear it!