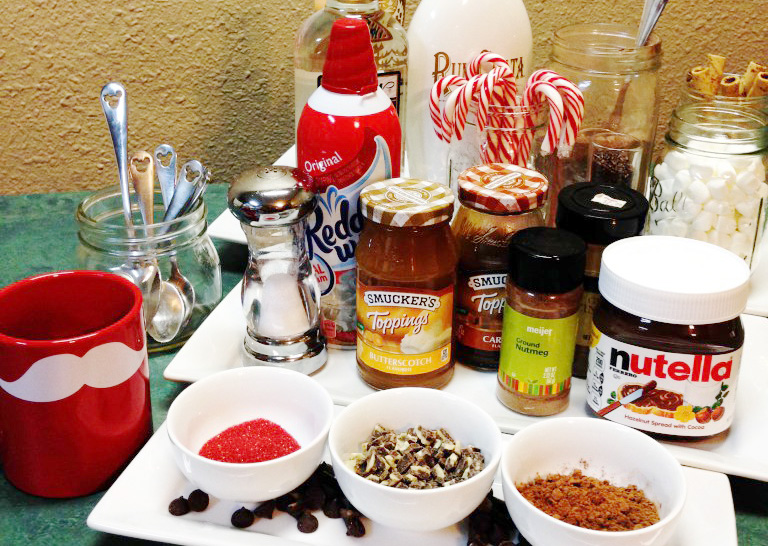 I'm a really big advocate of not celebrating Christmas until Thanksgiving is over. One holiday at a time, people! But once Thanksgiving is over and my fridge is filled high with leftovers from dinner, I'm all about Christmas. I can't get enough of the season's festivities! But I don't want to ruin them by drawing Christmas out for too long – I'm perfectly content embracing Christmas for the short time it's around.
And this year, we got to embracing it right after Thanksgiving. Elise had her boyfriend, Paddy, visiting from England for most of the month of November, and his flight is scheduled to leave tomorrow. I know it has to be a bummer to spend Christmas away from your significant other, so I set up a mini-Christmas party at our loft. Seth came up to visit and the four of us spent tonight decorating, watching Christmas movies and sipping on hot cocoa from the hot cocoa bar I set up!
So festive!
–
Suggested hot cocoa bar elements:
Caramel Smirnoff
Peppermint Schnapps
RumChata
Hot chocolate mix
Mini marshmallows
Pepperidge Farm pirouettes
Candy canes (you can crush them!)
Whipped cream
Butterscotch syrup
Caramel syrup
Chocolate syrup
Nutella
Salt
Trader Joe's Cookie Butter
Cinnamon
Nutmeg
Chocolate chips
Chocolate sprinkles
Colored sugar sprinkles
Crushed Andes mints
Cocoa powder
–
Obviously you don't need all of the above, but a nice selection helps! The four of us were able to try combination after combination. My favorite ended up being a mixture of caramel, salt and caramel vodka topped with whipped cream and chocolate sprinkles. Seth liked stirring his Andes mints into his drink rather than sprinkling them on top so he got a taste of mint with his drink.
To make things easy, I set everything out on our apartment bar, and used a clean coffee pot to heat up some water since we don't have an electric kettle.
We filled our apartment with decorations, and Seth put the ornaments on our tree.
Our apartment is ready for Santa, and we're ready for our trip to Frankenmuth tomorrow!
How do you kick off your holiday season?