The BEST work tote: Dagne Dover!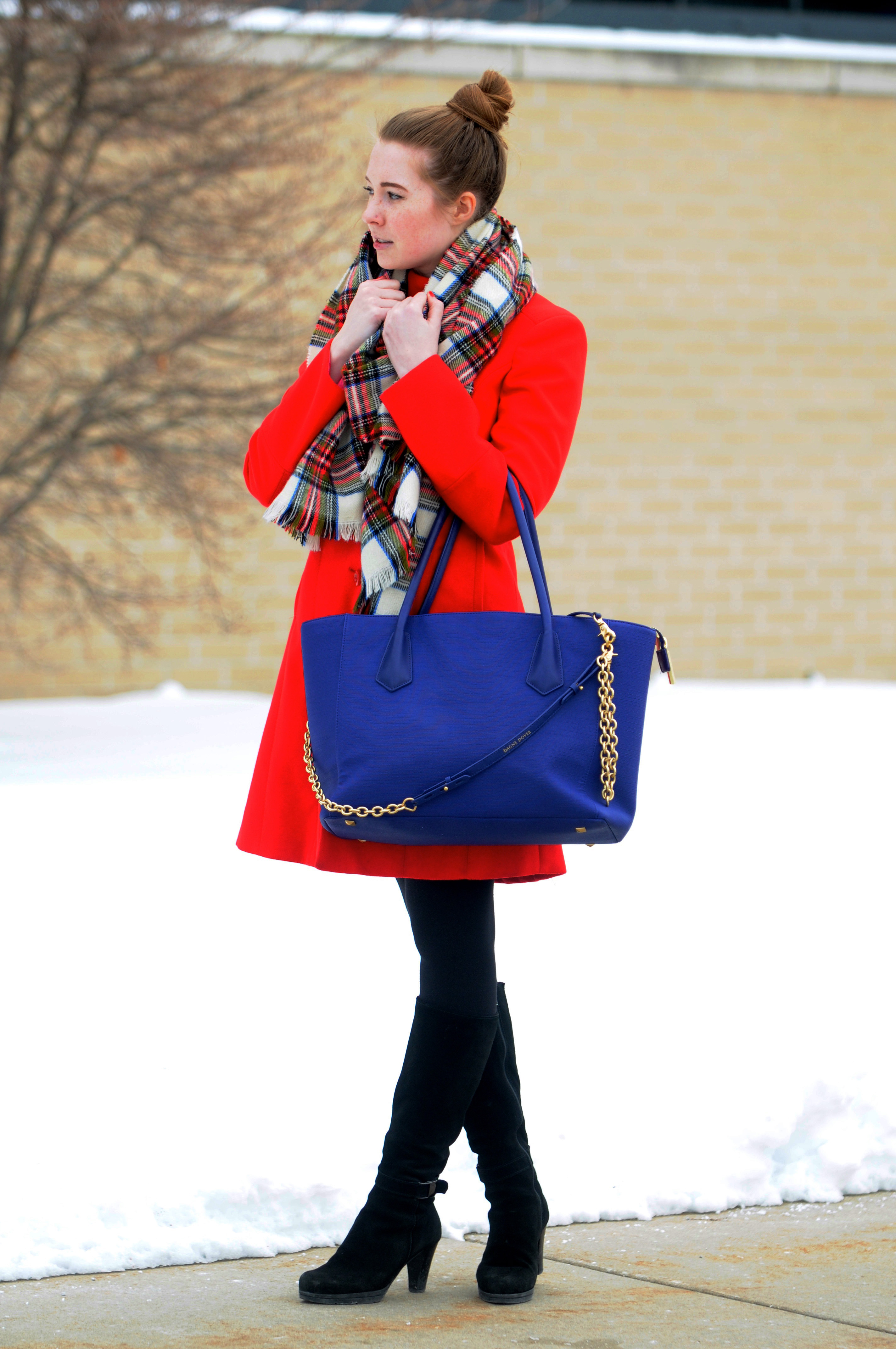 Hey, fellow eight-to-fiver ladies – have you heard of Dagne Dover yet?
If not, you should definitely drop everything you're doing and check it out.
I first heard of Dagne Dover back in February when I was desperately Googling every and anything that might result in a new work tote.
Best work purse.
Best work tote.
Best bag for work and school.
Etc.
I was so sick of carrying around a backpack for class, a briefcase for work, a bag for personal stuff, etc. Days I brought my lunchbox and gym bag to work with me were torture.
I can't quite remember how, but I stumbled across Dagne Dover and immediately wanted one. Dagne Dover had just started the process to move its manufacturing overseas and, as a result, was out of stock. I was devastated. So… I put my annual tax return into a savings account and waited not so patiently for Dagne Dover to restock.
They did at the end of the summer and I immediately ordered a tote in Dagne Blue.
boots | tights | scarf (old via H&M) | coat (old Pink Martini via ModCloth)
I am in love.
I really do not know how I ever fully functioned without this bag.
Dagne Dover's mission is to end the blackhole bag. My tote can testify to that: mission accomplished.
This purse has designated pockets for everything. There's a padded laptop pocket, a tablet pocket, a wallet pocket, pen and lipgloss compartments, a pocket that fits business cards or a metro card, an insulated water bottle holder, a cell phone pocket, a small side pocket, a keystrap, etc.
As a full time journalist, I haul a lot of stuff. As a full time journalist and full time graduate student, I hauled even more stuff. Luckily I've finished grad school, but during my final semester, this tote was a lifesaver.
I absolutely love how much it holds, and it still looks super cute!
I also love the clutch wallet, which, like its namesake, functions as both a clutch and a wallet, with straps that allow it to transition with ease. The clutch wallet has just as many pockets as the tote. It's great to pull out when I just want to run down the road for lunch at work, or when I just want to head out for a quick errand.
It has a lipgloss strap, holds my checkbook, and the card case is magnetic, so I can slip it out of my clutch wallet and into another purse with ease.
And, the clutch wallet comes with a strap, so it can be worn as a crossbody bag too!
The tote is coated canvas so it's waterproof and lightweight, and the top of it zips up to prevent anything from getting damaged by rain or snow.
The geniuses at Dagne Dover really have thought of everything, haven't they?
Dagne Dover has a mini tote and a tiny tote too, for anyone who doesn't need something quite as big as the original tote.
My Dagne Dover is hands down the no. 1 item in my closet I get compliments on. Not only is it completely gorgeous, but it's also beyond functional.
So, if you haven't ordered your Dagne Dover yet, get on it! You can order it here.
Do you have a favorite work bag? Leave it in the comments!
Photos by Paul Beroza.
This post contains affiliate links. For more information, please read my disclosure policy.