Winter beauty loves and needs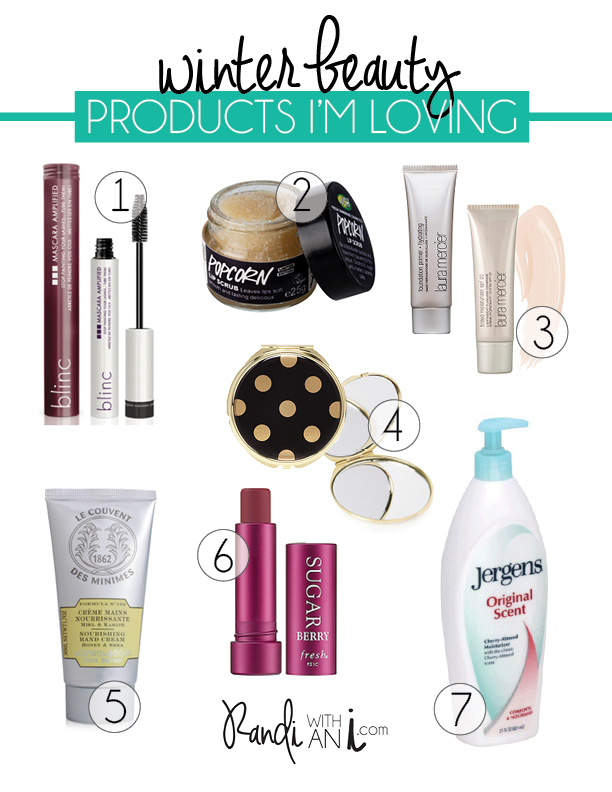 I need your advice!
Every single year, without fail, the daily beauty routine that I follow year-round begins falling apart. It always happens right around this time, too. Like, my skin, nails and hair just give up at the end of January when they realize a "quick" winter just won't happen and spring is nowhere in sight.
My body wants to hibernate. My work schedule won't allow it.
Winter's cold lack of humidity wreaks havoc on my body. Everything is dry and staticky and flat and depressing. It seems like there are never enough product recommendations when it comes to maintaining my appearance every winter!
Here are some of my daily lifesavers when it comes to maintaining my appearance in the winter, and I really, really, really hope that someone out there can help me solve some of my winter beauty needs!
–
Things I'm loving:
1. Blinc Amplified mascara. I picked a tube of this up late last year after a Sephora worker recommended it to me. So far, it's the only mascara I've found that doesn't leave smudges under my eyes halfway through the work day, especially when wet snow and blustery winds make me tear up and ruin everything.
2. LUSH popcorn lip scrub. It sounds weird, but tastes so good! Plus it's not made of nasty chemicals so there's no guilt. My lips are always chapped and peeling in the winter, and sloughing the dead skin off helps me refrain from picking at them. (Anyone else guilty of this?)
3. Laura Mercier primer and tinted moisturizer. This is the only thing that does not make my skin look cakey during the winter months. Plus SPF yunno.
4. These pretty compacts from Forever 21. They're slim and cute, so they look great, and they're cheap, so when I inevitably lose them, I'm not too heartbroken about it.
5. Le Couvent Des Minimes hand cream. My boyfriend's mom put an orange and cinnamon scent in my stocking for Christmas and my cuticles are so very thankful.
6. Fresh sugar tinted lip treatment. I have this in berry and it's awesome. It's just the right amount of color and is so smooth!
7. Jergens original scented lotion. I go through bottles of lotion every winter so it's something I'm always looking to cut costs on. I appreciate quality lotion but when you're barrelling through it like you're Charlie Sheen and the lotion is a fifth of hard liquor, you want the most cost effective product possible.
Things I'm needing:
A good volumizing spray for my hair. It looks so lovely when I blow dry it every morning but by 1 p.m. it's flat against my skull. Not good.
A good hair de-static-izer. Is that a word? Whatever. In addition to being flat, my hair is so staticky. I know experts say to refrain from washing every day, but my natural oils just pile up on my scalp making it greasy and leaving the rest of my hair as frizzy as ever! Sigh. Looking for solutions that aren't dryer sheets. Anybody?
A quality face mask. How is it even possible that my skin is so dry it's peeling off in sheets? How? HOW? I need something that will get rid of the little flakes of skin while simultaneously moisturizing. Is this possible? Is this possible at a reasonable cost?
A new waterproof gel liner. I've been using Smashbox Jet Set for the past six months but I'm not in love. It applies like a dream and the color quality is good, but it transfers to my lower lashline throughout the day and the container dries out when you make it halfway through. The Blinc mascara solved the smudging problem for my mascara, but my eyeliner is still lacking. Suggestions?
–
What products do you loooove to tame your winter beauty woes? What winter-induced beauty trauma do you need help combatting? Let me know in the comments!
This post contains affiliate links. For more information, please read my disclosure policy.