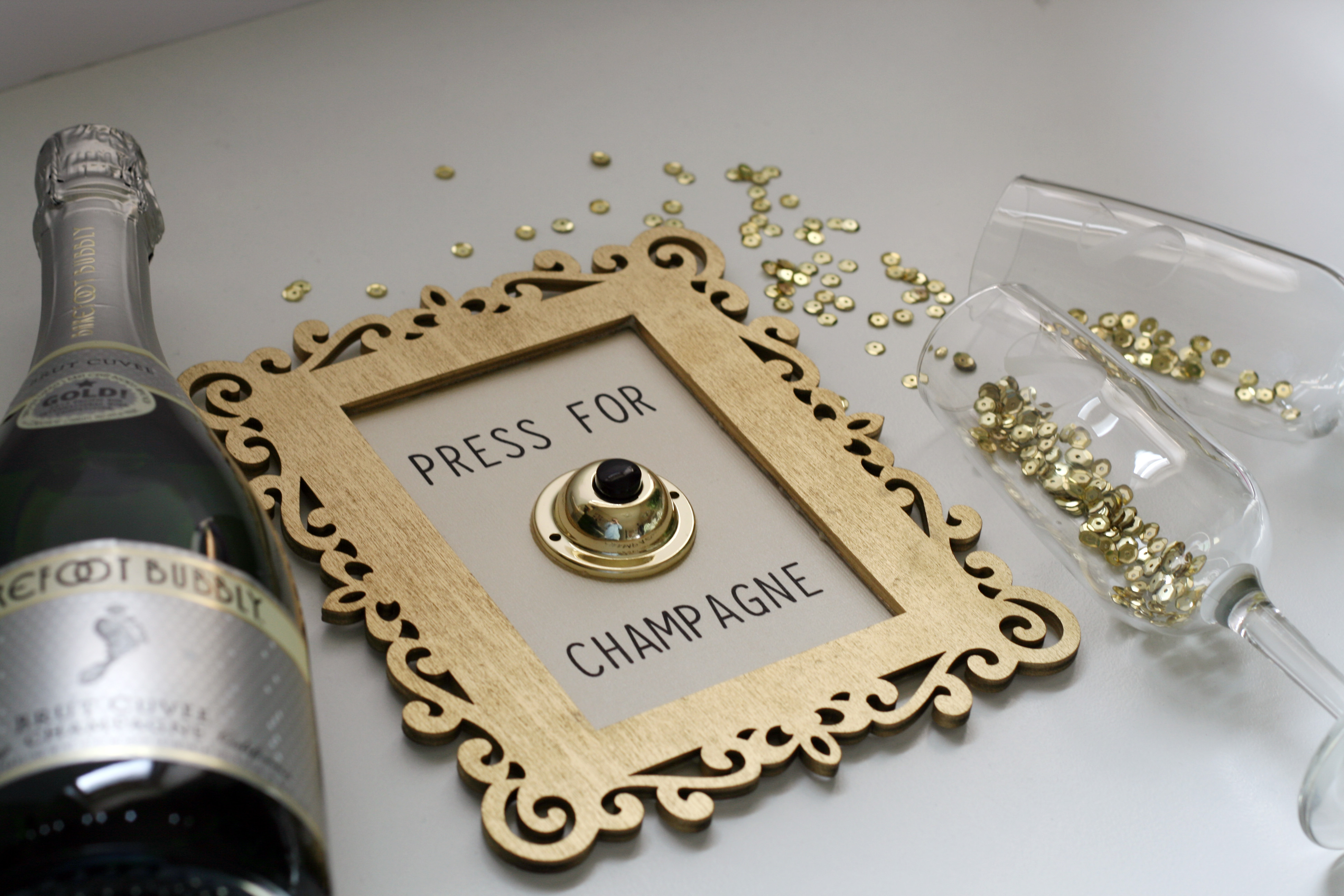 Wouldn't it be lovely if you could just push a button for instant bubbly?
I'd been seeing the Press for Champagne pieces making their rounds on Pinterest and thought they were absolutely lovely, and wanted one for the bar in my apartment. But at $92 a pop, my post-grad budget reeeeally couldn't afford one, no matter how adorable they were.
And for $92 a piece, that button better dang well produce champagne when pressed.
So, when I saw Ashley over at History in High Heels post a DIY version, I was over the moon. Ashley's version was just as cute, and only cost a few dollars!
There are directions on Ashley's blog so I won't go too in-depth with the process, but I did deviate a bit from her step-by-step instructions, so I'll explain my differences.
I got everything from Michael's except the spray paint (which I already had) and button- I searched "wired bell" on the Menard's website and found one in stock at my local store for less than $3.
I decided to stay with the champagne theme. I used my inkjet printer to print the "PRESS FOR CHAMPAGNE" print onto a piece of shimmery gold cardstock from Michael's. It's sold by the single sheet, so unfortunately there isn't a link online, but if you head to the scrapbook paper aisle, you should find it. The font I used is Typewriter Condensed by Da Font.
I initially tried Mod Podge-ing the shimmery cardstock onto a piece of wood, but the wood was warped and wouldn't adhere properly to the frame. I ended up Mod Podge-ing the cardstock onto some cardboard and using that instead. That worked much better. I used Gorilla Glue to adhere the cardboard to the frame, which I had spray painted gold. Two coats, like Ashley suggested!
I used very little glue to adhere the frame to the cardboard, and let that dry before I attached the bell to the frame. This was kind of tricky because the back of the bell is recessed and the only part of the bell that touches the cardstock is the outer edge. I used a cotton swab to apply Gorilla Glue to the outer edge of the bell, and then lined the inside of the bell with glue and set it down on the shimmery cardstock, letting it dry flat. It seemed to work! I glued a small picture frame hanger to the back in order to hang it near the bar.
And that was it! You can't see the shimmery champagne color of the print easily in photos since it's so subtle, but it looks really pretty in person.
The bell doesn't actually ring, but that's OK, since this is just a decor piece.
Here's a download in case you'd like to print your own.
If you're interested, you can find a tutorial for those etched glasses here.
Wouldn't it be lovely if you could actually summon unlimited champagne at the press of a button? I suppose that's a rich people thing.
What do you think? Is this a craft you'd try? Would you summon something other than champagne? Let me know in the comments!