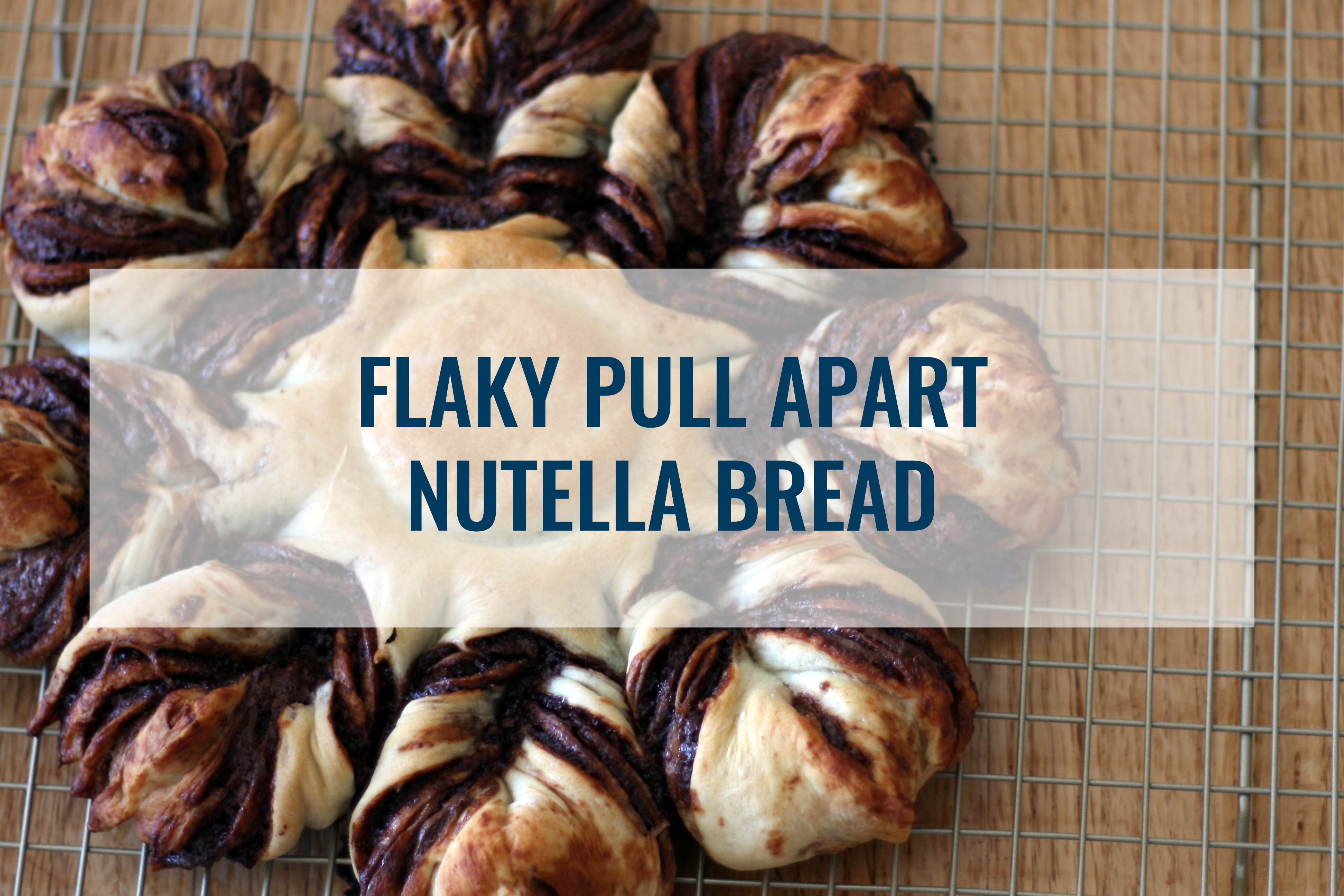 I mentioned in my last weekly recap that I went home to visit my parents/ get a new phone last weekend, and while I was there, my mom somehow roped me into being her baking assistant.
I don't hate it. Being the designated taste tester is super awesome.
I've mentioned it before, but my mom has her degree in culinary arts. She's retired, but she spends her free time baking practically non-stop. Her chocolate chip cookies are on point and she has her multigrain bread recipe down to a science.
Sometimes she shares quirky videos and recipes on her Facebook, and this one caught my eye. I commented on it "MOM MAKE ME THIS" and to my surprise, she had everything laid out on her kitchen counter to bake with me as soon as I got home.
Voila, pull apart Nutella bread.
The video she shared didn't have any recipe information attached to it, so we made it up as we went along. I think it turned out awesome.
Start with the bread recipe.
You'll need:
8 ounces warm water
1/4  ounce (1 package) yeast
12 ounces bread flour
1/4 ounce sugar
1/4 ounce salt
1/2 a jar of Nutella
Egg white or olive oil for brushing
Sprinkle yeast in warm (70 to 90 degrees) water and let the combination sit until it's foamy. Stir, and then add the bread flour, sugar and salt. Mix until the gluten forms. This means you test a small piece- make sure you can see through it without it tearing as you gently pull it thin.
Put the dough in an oil/ PAM covered bowl, cover with a damp towel and place in a warm draft-free area until it doubles. Fold it down, let it rise again and divide it into four pieces. Round the pieces and let them double once more, in a warm location with a damp towel over top.
Roll the dough out until it's the size of a dinner plate, then cut each of the four sections into a perfect circle. Layer the bread circles on a parchment-lined baking sheet, spread with Nutella, put a glass in the center, cut and make your twists.
You're going to want to have 16 pieces to twist, and then twist twice before pinching the edges together.
This video shows how to make the twists.
Cover and let the bread sit for 20 minutes before brushing with olive oil or egg white. Bake at 400 degrees until the top is browned and the bread is done.
Tips! Heat up the Nutella first- it's much easier to spread. Also, my mom and I cut the dough individually before layering, but it might have been easier to make the layers, spread with Nutella and then cut all at once.
And that's it! This was fantastic served warm with a cup of hazelnut coffee.
What are your favorite Nutella recipes? Let me know in the comments!