How to refinish IKEA particle board furniture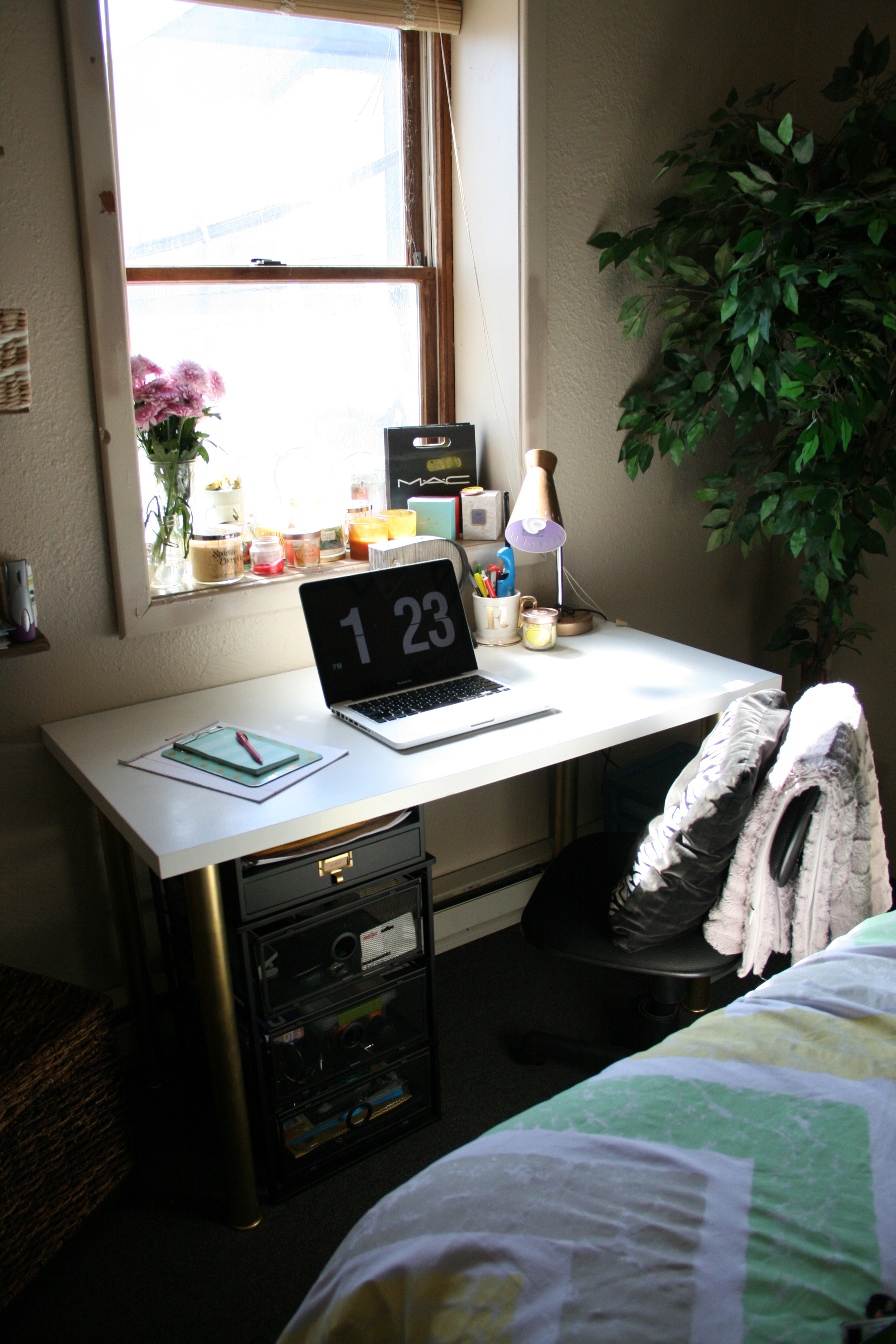 This post has been a long time coming and is finally here!
About a year ago, I decided my bedroom was in dire need of a pick-me-up. As a journalist with two degrees worth of student loan debt, I don't have any a lot of money, so I started trying to put together a plan that would give me a new look while using much of what I already had on hand in order to avoid breaking the bank.
And, it seemed to work! My old IKEA furniture looks eons better after a simple paint job facelift.
Here's what I started with. I don't have a picture of my dresser on file, but it's the same light wood-colored particleboard – "birch veneer" from IKEA. This is a photo from an old apartment that I vacated in the early summer of 2014.
Nothing against it, I just wasn't in love with it anymore. Because really, who actually loves the IKEA furniture they pick out for their first apartment at the age of 19?
As an aside: I took a trip to IKEA before I moved into my first student apartment at Central Michigan University. I bought an IKEA Malm desk, dresser, headboard, floating shelf and a Lack side table. All in that birch veneer color. Why, 19-year-old Randi, why?
I started researching ways to refinish IKEA particleboard furniture, since using what I already owned was likely the most cost-effective way of getting a new look for my apartment.
After a few Google searches, I came across this really nifty guide from Live Love DIY, who happens to be one of my favorite bloggers.
I modified the instructions to fit what I had on deck and went ahead with my project.
–
I used:
Sanding sponge in fine grit
Clorox wipes
White primer
White house paint (My parents gifted me a half-gallon of leftover Behr indoor paint)
Gold spray paint
A sample paint roller (I don't do a lot of painting so I just needed something small and disposable)
–
Virginia said that she used a specific primer just for laminate furniture, which worked for her. I decided to play it safe and sand my surfaces anyway. I sanded just enough to rough up the surface so the primer would have an easier time adhering. Then I used a Clorox wipe to clean all the sanded debris off the surface before using a spray primer. Nothing against the Zinsser brand Virginia touts – I just used what I had on hand. I primed every surface before letting it all dry, and then used gold spray paint to paint the desk legs gold.
At this point, I inadvertently ended up taking a year-long break. I had assembled my desk and brought it back inside since I live in a downtown area and nothing is safe if left outdoors. I had planned on finishing it up within the week, but then I ended up working late the next few days, and then I moved across town, and then school started back up and then life happened.
I used everything primed for a year before I finally got around to finishing the project a few weeks ago in my living room. (Sorry again, Elise). All I needed was three coats of Behr indoor house paint in white to finish up the entire project.
I let everything cure for two weeks (which was the hardest part) and it was finished!
I think the white just looks so much cleaner. It really brightens up my apartment too, since my rental has beige walls that look kind of drab.
My desk also looks so much better now that it's finished.
I also gave the drawers underneath my desk an update with a coat of matte black spray paint. I like the matte black because I feel like the color helps the drawers disappear underneath my desk. That's an old IKEA unit, but I'm not sure if it's in stock anymore because I couldn't find it on the IKEA website. It was gray before its paint job – you can see a glimpse in the "before" photo I uploaded.
I know IKEA sells all of the above items in white, but I was trying to be cost-effective here. I've been using both my desk and my dresser for a few weeks, and my paint job seems to be holding up fairly well!
(Next up is that old chair next to my dresser. It was a $4 purchase from Habitat for Humanity ReStore and I've already started brainstorming ideas for how to fix it up. Suggestions?)
I don't expect this furniture to last forever since my dresser is already six years old and starting to fall apart, but it's a nice temporary facelift until I can afford a newer and nicer bedroom set.
Have you ever rehabbed IKEA furniture? What was the experience like? Let me know in the comments!