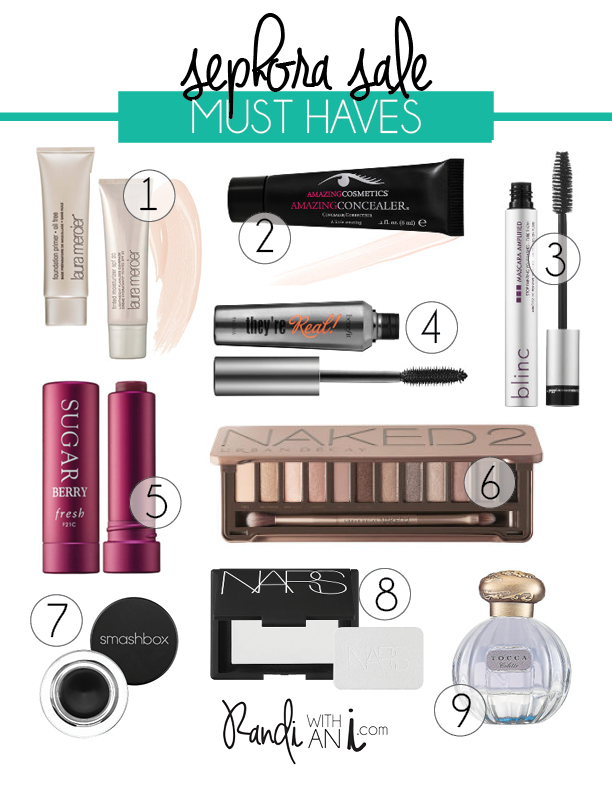 Public service announcement: Sephora has released its annual 10 percent off everything coupon for Beauty Insiders!
Sephora can get crazy expensive. You drop in to pick up a new tube of mascara and then suddenly you're being rung up for $350 worth of brushes, face masks and lip balms. How does that even happen? Am I the only person that happens to?
Right now Sephora is offering 10 percent off all purchases online and in stores through Monday! You can shop in-store if you're on the email list, or you can use BILOVE at check out.
And, if you have a Discover Card like me, you can also get 10 percent cash back when you shop Sephora online through the Discover Deals website. (I love my Discover Card and I am never, ever letting it go.)
To celebrate, I'm sharing some of the Sephora products I use daily.
–
1. Laura Mercier Foundation Primer – Oil Free and Laura Mercier Tinted Moisturizer. This is my holy grail go-to combination. The primer makes my skin feel so smooth, and the tinted moisturizer gives a light even coverage that conceals redness but doesn't completely hide my freckles. Consistency-wise, the tinted moisturizer feels more like a lotion than makeup, which is probably why I love it so much! I've never been one for base makeup, but when the Sephora associate had me try this combination a year ago, I fell in love and never looked back.
2. Amazing Cosmetics Amazing Concealer. This is the only concealer I've had that completely covered up my undereye circles during finals week of graduate school. Obviously that means this stuff means business. It's very thick but still spreads and blends like a dream. I have the small tube and throughout the last year, I've only used a quarter to a third of it. You won't need the large tube if you decide to take the leap and buy it.
3. Blinc Mascara Amplified. This is one of two mascaras I use. Blinc is my day-to-day preference. It's a tubing mascara, so rather than painting black gunk onto your lashes, it creates little tubes around them with fibers. It lasts all day (this is not an exaggeration) and does not smudge at all, even in the rain, and removing is a pinch – literally. You get your fingers wet and the tubes just slide off your lashes. It's amazing and entirely worth the price.
4. Benefit's They're Real. This one is a cult classic, and for good reason. I've never met another mascara that gave me better volume. The only reason I prefer Blinc over Benefit for my everyday mascara is the smudge factor. This one tends to smudge, so I usually only choose it when I'm either wearing a smokey eye, or not planning on wearing mascara for more than a few hours.
5. Fresh Sugar Lip Treatment. I loved Berry during the fall, but I think I'm going to pick up a new color for the spring. (Suggestions?) I'm entirely devoted to my MAC lipsticks for nights out and special occasions, but I love these lip balms for daily or work wear. They're super light and hydrating with the perfect amount of sheer color.
6. Urban Decay Naked2. This is the only eyeshadow palette I own and I see no reason to ever own another. It's incredibly versatile. For work, I wear Tease in the crease and Bootycall on the center of my eyelids. I love darkening my winged liner with Blackout, accentuating my brow bone with Foxy, and dipping a wet brush in Half Baked to create a double line of eyeliner for my alma mater's football games.
7. Smashbox Jet Set Waterproof Eye Liner. Honestly, I'm not IN love with this liner, but so far it's the best I've used. I'm a gel liner fiend, so I prefer a pot and an angled brush when it comes to applying my wings – no liquids or pencils. I've been using the same pot for almost a year at this point, and it does dry out halfway through usage no matter how tight you cap it, but still applies fairly well. It transfers a bit and my wings crease if I apply them into my eyelid's crease, but so far it's the best I've found. Totally open to suggestions if you have them, though!
8. NARS Light Reflecting Pressed Setting Powder. This is a completely sheer pressed powder I apply over my tinted moisturizer and foundation. It gives a matte finish with a little bit of luminosity. I love it because it sets my makeup perfectly without looking cakey at all.
9. Tocca Colette. I usually wear Coach's Poppy during the spring and summer, but Tocca's Colette is my go-to for the fall and winter season. Since this Sephora deal only runs once a year, I always stock up on favorites for all seasons. No shame in thinking ahead! I'd always struggled finding a cold weather parfum that isn't too powdery or heavy, but Colette completely solved all of that. It's a mix of bergamot, juniper berry, pink peppercorn, violet, jasmine, incense, amber, sandalwood and vanilla. It smells fresh without fruity or floral notes and is the best fragrance I've ever found for cold weather.
Other less glamorous Sephora products I love include this foundation brush, this concealer brush, this powder brush, this brow filler brush, this angled liner brush and this extractor tool.
–
Right now, I'm looking for a new matte blush (no shimmer please!) and a new makeup travel case. I don't wear much makeup on a daily basis aside from the products above and could really use a cute cosmetics pouch to carry all my stuff in. I'll be placing a massive Sephora order before this deal expires on Monday, so if you have suggestions, leave them in the comments. I'd love to hear them!
What are your favorite Sephora products? Are you going to take advantage of this deal? Let me know in the comments!
This post contains affiliate links. For more information, please read my disclosure policy.