DIY: Apartment guest packet for visitors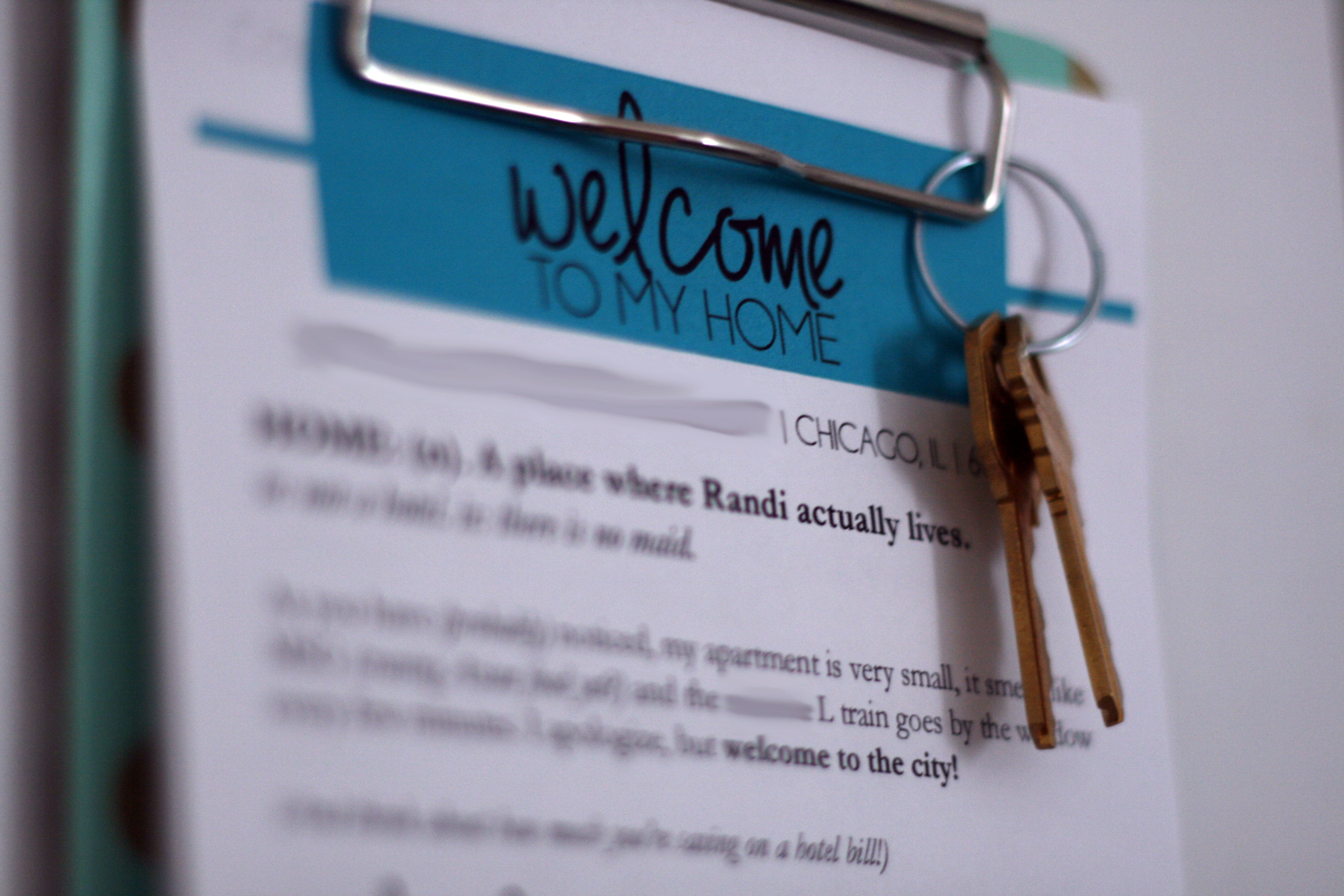 I have learned a lot about hosting guests since I moved to a tourist destination a few months ago.
It's really fun that my move to a new city has prompted several long-lost friends to visit me. I genuinely enjoy entertaining and putting on parties, so it's awesome that my new location gives me a chance to do that.
Since I've started AirBNB-ing my apartment out for free to my friends every weekend since I moved (no exaggeration: every. single. weekend.), I've been reading more on how to brush up on houseguest skills, both from a visitor and host perspective.
While I was Pinteresting ideas, I stumbled upon this this interesting idea for creating an apartment guest packet for visiting friends.
At first, I was a little conflicted on the idea. Was it too cold and informal? Too redundant? But then I decided to go with a modified version of it.
I used a clipboard from the dollar section of Target and designed a few pages of what I deemed to be pertinent guest information, both in my apartment and in my city. I ended up with seven pages detailing everything from transportation questions to apartment quirks.
I put myself in the mindset of a guest when creating it.
Where is the toilet plunger? Can I steal a tampon? What food is OK to eat, and what isn't? Is my host OK with me leaving my toiletries in the bathroom?
A lot of times guests have these questions, and even if they're really close friends, it can be kind of embarrassing to ask them.
And on my end, sometimes it's uncomfortable to present basic information face-to-face with guests, especially when it comes to money and basic household rules.
I created seven pages.
–
1. A welcome note and several in-home tips. I detailed what drinks and snacks are available for guests, where towels and bedding can be found, what toiletries are available should guests have forgotten something, where those slightly embarrassing items (ie: tampons, plungers and toilet paper) can be found and my restrictions on heating and cooling. I also mentioned the quirks of my apartment: it smells like Asian food, is kind of small and the L train runs by the window every few minutes. But hey, think of the money you're saving on a hotel!
2. Apartment access. Which keys go to which door? I gave guests "check in" and "check out" instructions, with friendly reminders to double check that my doors are locked, candles are extinguished and the stove has been turned off.
3. Morning notes. Chicago is in CST, and many of my visiting friends are coming from the EST time zone. I also work a little bit of a later shift and am not accustomed to waking up super early. I detailed the do's and don'ts of my kitchen; explaining how to use the coffee grinder and maker, which foods could be eaten and where the dishes are located. I even included a spot to swap sticky notes in and out with the coffee blend "on tap" for that morning. That way, guests don't have to wake up hungry and get anxious and grumpy while sitting on my couch for an hour or two.
4. Technology. A wifi network name and password are right up there with food and air on a houseguest's list of requirements these days. I included mine along with notes regarding Internet usage – ie: no illegal downloading or porn surfing. I also included a quick instruction manual as to how to use my remotes and entertainment system set-up.
5. Transportation. One of the trickiest things about a big city is its public transit system. I detailed information on where to park at my apartment should guests drive there. I also explained the CTA — where to buy transit passes and how they work. I included a list of useful Chicago-based apps for visitors to download in order to track trains, find parking and refill parking meters.
6. Dining suggestions. Chicago has more than 7,000 restaurants, which can get kind of intimidating. Some of my guests have made it clear that while they're happy to see me, they also have other things they want to check out and people they want to see while in town, which is totally fine by me. I included a list of my favorite brunch, dinner and coffee spots, along with their neighborhoods and quick notes about each. I also included a spot for guests to write in their own recommendations.
7. My rules and restrictions. I hate to be a buzzkill, but I always have to remind visitors that my apartment is not a hotel: it is my home and I do not have a maid. While I love them, visitors are a lot of work, and can often get a little expensive, especially when hosting every single weekend! I wrote down my hard-and-fast rules that I expect people to follow. No red wine on the white rug, please keep the toilet seat down, please let me know if you consume something so I can replace it — that sort of thing. I'm a very nice and non-confrontational person, so being able to write down a disclaimer that even though my guests are on vacation – I am not – was very cathartic.
–


I'm hoping that my visitor packet will be really helpful when hosting guests. It's not meant to be cold and informal, but rather, to give guests an additional resource, and answer the often embarrassing questions before they arise.
It'll also help guests remember a lot of information. I won't be using it as an excuse to ignore guests, but rather to assist them. Sometimes, certain places come with a lot of information, so it's useful to be able to put all of that information in one place for easy reference.
My visitor packet was placed on a clipboard, which has been Velcro-ed on the back of my unit's door with the keys attached.
(Edit: At the request of a reader, I've included the jpg files of the packet — in case you needed some inspiration to get you started!)
Do you host a lot of houseguests? What tips would you include in a packet? Let me know in the comments!