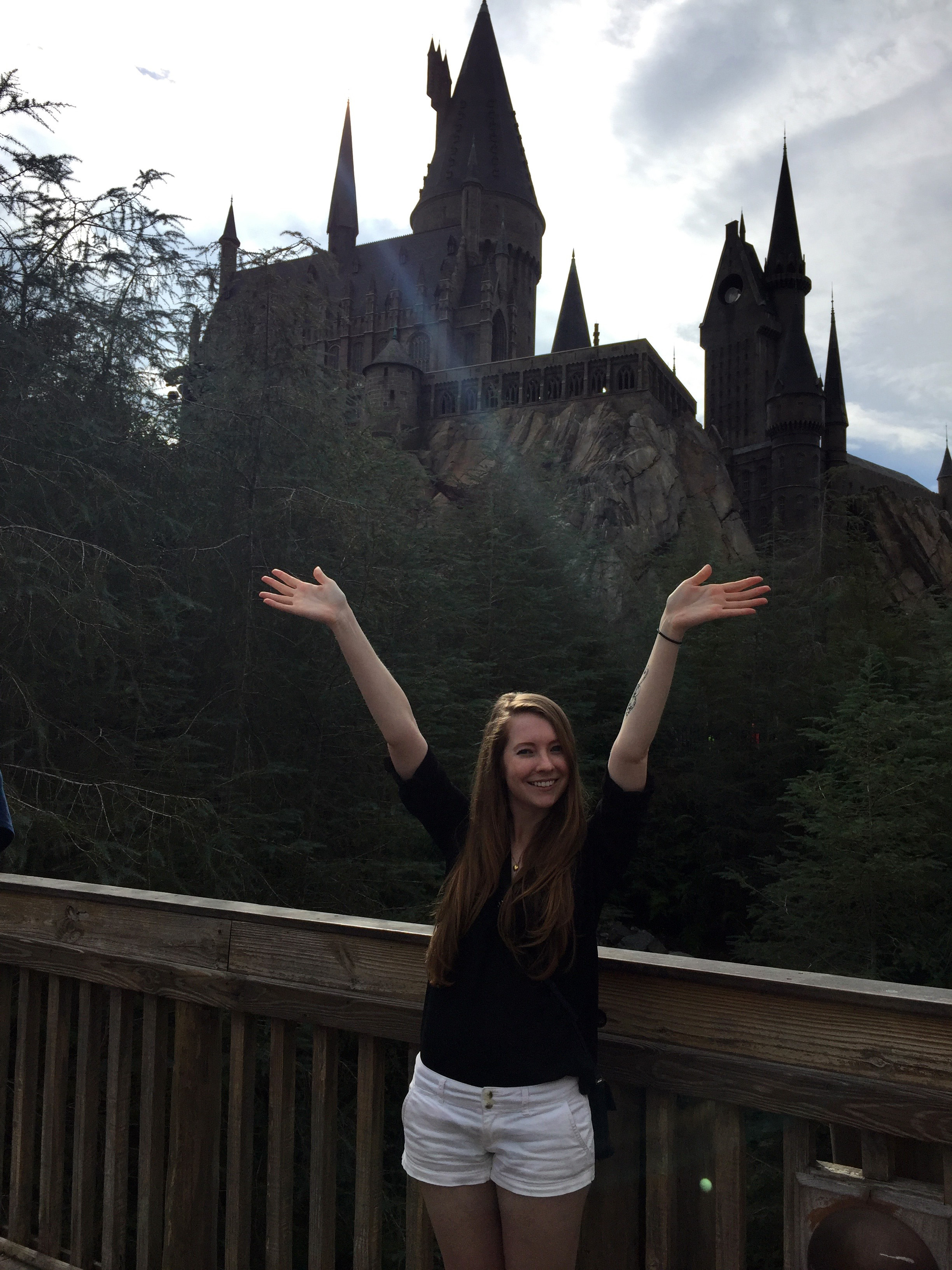 Hello!
I cannot believe how absolutely freezing it is in Chicago!
Like, seriously freezing. It's negative two. And that's before windchill is factored in. Brr. Taking two trains and walking back to my apartment in a jacket was miserable.
Next time I'll remember to bring my parka on a Florida vacation, I guess.
But anyway, the freezing journey back to my apartment from O'Hare was totally worth it, because I got to go to the Wizarding World of Harry Potter!
There are very few things I love more than Harry Potter. Maybe puppies, the First Amendment, Chicago and my family?
That sounds about right. My Harry Potter tattoo would agree.
This isn't the first time I've been to Harry Potter World. I actually went for the first time a few years ago. It was magical. I cried.
My really good friend from college, Kelly, had just come to Chicago to visit for New Year's Eve. She's originally from Michigan, so she flew into and out of O'Hare since it was more cost-efficient than flying directly into Grand Rapids, Mich., where she's from. So, I figured I was due for a visit! One of my friends recently told me about Sky Scanner (coolest thing ever!) so I plugged in "O'Hare to Fort Myers" — where Kelly lives — to see if there were any feasible flights.
I ended up finding a roundtrip weekend flight for a little over $100! I texted to ask what Kelly was doing on Jan. 9, and she said she was actually going to Universal Studios in Orlando for the day with another one of our college friends and would I like to join?! Um, of course!
I booked my flight two weeks in advance and started the countdown!
We actually fit so much into my weekend vacation because really, who relaxes on vacation? We had an ABC Family (er, Freeform?) and manicure night when I landed, and then woke up super early on Saturday to head to Universal!
We rode the Mummy ride first, and then headed to the Wizarding World of Harry Potter, where we spent most of our day.
I mentioned that I'd been to Harry Potter world before, but I hadn't been to the expansion yet! They actually announced it the day after I bought my plane ticket for my first trip. Bummer.
I thought the expansion was so cool.
Both parts of the Wizarding World of Harry Potter are actually constructed in both Universal Studios parks. You need a two-park pass to get back-and-forth between the two, which you do by riding the Hogwarts Express.

We started at the addition since it was the part I hadn't seen. You start by approaching a British-style phone booth, and you can see King's Cross station. The second you duck past a wall, you're immediately inside Diagon Alley!
My favorite part of the entire experience — both the addition and the original park — is the incredible attention to detail. You can hear Moaning Myrtle in the girls' restroom, you can watch Kreacher peeking behind the windows at Grimmauld Place, the rafters of Filch's Emporium are lined with confiscated copies of the Quibbler and goods from Weasley's Wizarding Wheezes and every single gift shop looks like something straight out of J.K. Rowling's mind.
As a journalist, I also loved the fake Daily Prophet "storefront."
The entire park is fantastic, and there's no possible way anyone can catch everything on just a quick walk-through.
That's why we spent most of our day in the park. It's amazing to just stand and walk around and soak it all in.
I really loved Ollivander's inside the Diagon Alley addition. The first time I visited, you could just buy replicas of character wands. Which is cool, I guess, but it's so much cooler when you can buy your "own" wand, like a replica of what you were assigned in Pottermore.
And now, you can! Plus, the new wands are interactive. You can wave them at certain exhibits at the park and things move. I didn't get a wand since I didn't want to worry about getting it back to Chicago, but I can see how the interactive part would be fun for a kid!
I also love the food. The menu is British-inspired, so my friend Aly, who studied abroad in England, was in heaven. I don't eat meat, so I settled for fish and chips at the Leaky Cauldron, since I ate at the Three Broomsticks the last time I visited.
I also had so much Butterbeer! The park originally served both iced and frozen. I honestly can't pick a favorite — I love them both. The new addition serves a hot version, but I didn't get it because iced, frozen and Butterbeer ice cream (served at Florean Fortescue's) is a bit of a sugar overload.
I guess I have to go back, right?

Even though I was most excited for the new Diagon Alley portion of the park, I still enjoyed the original Hogsmeade part, taking photos with the castle and riding the rides.
And, of course, the entire trip was made so much more enjoyable with the best company.
Because when you're at Harry Potter World, it helps to have equally Harry Potter-obsessed friends in tow.
It was such a fun time.
We also took very little some time to check out other parts of Universal. We rode the Men in Black ride twice in a row. It started raining by the end of the day, so the park cleared out quickly because rain + air conditioning = misery. But, if you can deal with it, you're in luck because shorter lines are awesome.
Thank you, Midwest heritage!
After we left the park, Kelly and I actually drove to Tampa to see another one of our college friends, Jordan!
We hung out and played with her new puppy, and then went to grab New York-style pizza (my favorite, sorry Chicago deep dish!) at Eddie and Sam's in downtown Tampa before stopping by a bar to say hi to Jordan's boyfriend, Freddie.
We went home, and woke up super early the next day to head to church in Naples, and then the beach back in Fort Myers. It was pretty cloudy outside, but still really warm. I loved seeing all the Florida-style houses on the drive between the two cities. The warm colors, terra cotta and pastels are so cute! I grew up with brick and siding, and now I'm surrounded by glass and steel skyscrapers, so I loved the relaxing architecture and scenery.
I could never live in Florida, though. It's way too slow-paced for me.
Kelly and I went to the beach for a few hours. We walked along the Gulf, collected seashells and waded in the water. It was really, really warm.
We stopped at Kilwins to get fudge (the sea-salt caramel is so good!) and walked along some of the shops on the beach.
I absolutely love that so many Michigan-based businesses make their way down to Florida. Thanks, retired Michiganders!
We stopped at Nervous Nellie's to eat, and the sun finally came out! We sat on the back patio at the restaurant, and had a really awesome view. There was a sign that warned about manatees, and Kelly said they'll actually get pretty close to the docks. Unfortunately I didn't see any, but I would have loved to. Manatees are adorable.
After we ate, we headed back to Kelly's apartment. We both worked on some stuff (I did some catching up on emails and she prepped for the week — she's a middle school teacher and is so good at what she does) and then we headed back to the Fort Myers airport so I could say goodbye to Florida.
I lucked out and had a window seat on the way home. I finished reading my book (Everybody Rise by Stephanie Clifford) and got to take in an amazing view on the landing.

My terrible potato iPhone photos don't do my vantage point justice. I seriously lucked out with my seat. We flew right past the skyline and over the city into O'Hare. My entire round-trip flight cost was entirely worth it just for the view. Whoa.
Then came the frigid train ride/ walk back to my apartment since I didn't bother bringing my parka to Florida with me. Whoops!
Overall, it was an amazing trip. I think I got a total of six hours of sleep during the entire two days I was in Florida. As a working professional, I don't really get a lot of vacation time, so when I go on trips, I definitely make them count with a ton of activities and even more coffee.
PS: Thanks for the Dunkin iced coffee, Kelly. And also for being a phenomenal hostess.
I already can't wait to head back to Florida for another visit, whenever that may be.