How to finish a tube of ChapStick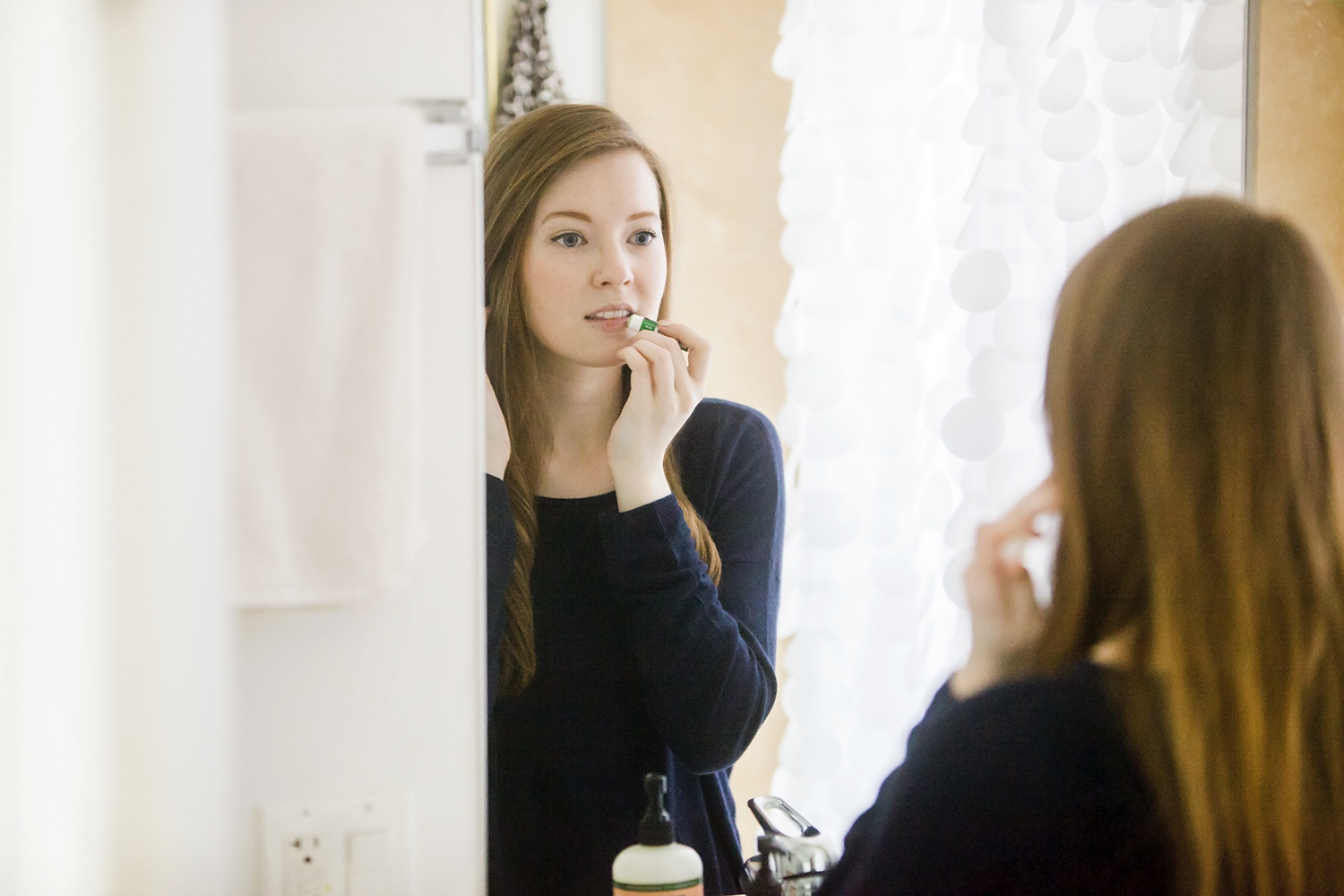 I have a pretty big accomplishment to share with you guys.
Ready?
I'm currently holding an empty tube of ChapStick in my hand right now.
I know, it's totally shocking, right? There are countless memes on the Internet about how seemingly rare it is to finish a tube of ChapStick. It's practically impossible. Tubes of ChapStick are like the hair ties and bobby pins of the cosmetic world. They always go missing.
But, there's totally a trick to finishing a tube of ChapStick.
Ready?
You just have to buy multiples, and then strategically place a tube in every location you would usually access it.
So easy, right? If you're not tossing your tube from your night stand to your vanity to your purse to your car to your desk, it's a lot harder to lose.
I stocked up a few weeks ago when Walgreens had the brand on sale for a dollar a piece.
I keep a tube within arm's reach of me at all times. I have a tube in my wallet, one in my purse, one on my desk at work, one on my coffee table, one in my coat pocket and several by my bed.
I also have a giant jar of the stuff in my bathroom, because I kid you not, I am obsessed.
I mean, ChapStick is more than 100 years old… so it's clearly doing something right.
wallet | compact | sweater | nail polish
phone case
parka
I already had a massive collection of ChapStick to my name, so when the brand reached out and asked if I'd like to collaborate, I felt totally comfortable saying yes.
My absolute favorite is the spearmint from the Classic Range collection. I like to carry it with me when I go out to bars or crowded areas. I layer it under (and over) my lipstick to keep the pigment from staining my lips, and as an added bonus, the super minty smell makes me feel a liiiittle bit better about getting all up in my friends' faces with beer breath.
Because you know that's basically inevitable when the club is totally bumping from the bass.
I like to carry the Medicated tube in my coat, because Chiberia is not fun in the winter, and cracked lips are not healthy.
I also like to keep the Medicated next to my bed to put on before I fall asleep, because I have the worst habit of picking at my lips when they get dry and start peeling. If I don't let them get dry, that doesn't happen. Easy fix, right?
I usually swap the Medicated tube for a tube of Sun Defense (SPF 25!) during the summer, carrying it in my beach bag when I hit up Lake Michigan. Since I was blessed with red hair, pale skin and freckles — I sunburn easily.
I'm also looking forward to trying the brand's Tropical Paradise line this summer, too. Sunblock doesn't taste good (duh), but Mango Sunrise and Aloha Coconut? Much better to accidentally get in your mouth. Plus, I imagine they'll complement my poolside Malibu-and-pineapples perfectly.
Thank you to ChapStick for sponsoring this post.
What's your favorite lip moisturizer? Let me know in the comments!
The ChapStick® product, information and gift have been provided by Pfizer Consumer Healthcare. All opinions are my own, and based on the actual experience I've had with the product — like, 20 years worth of experience. No joke.
This post contains affiliate links.
For more information, please read my disclosure policy.