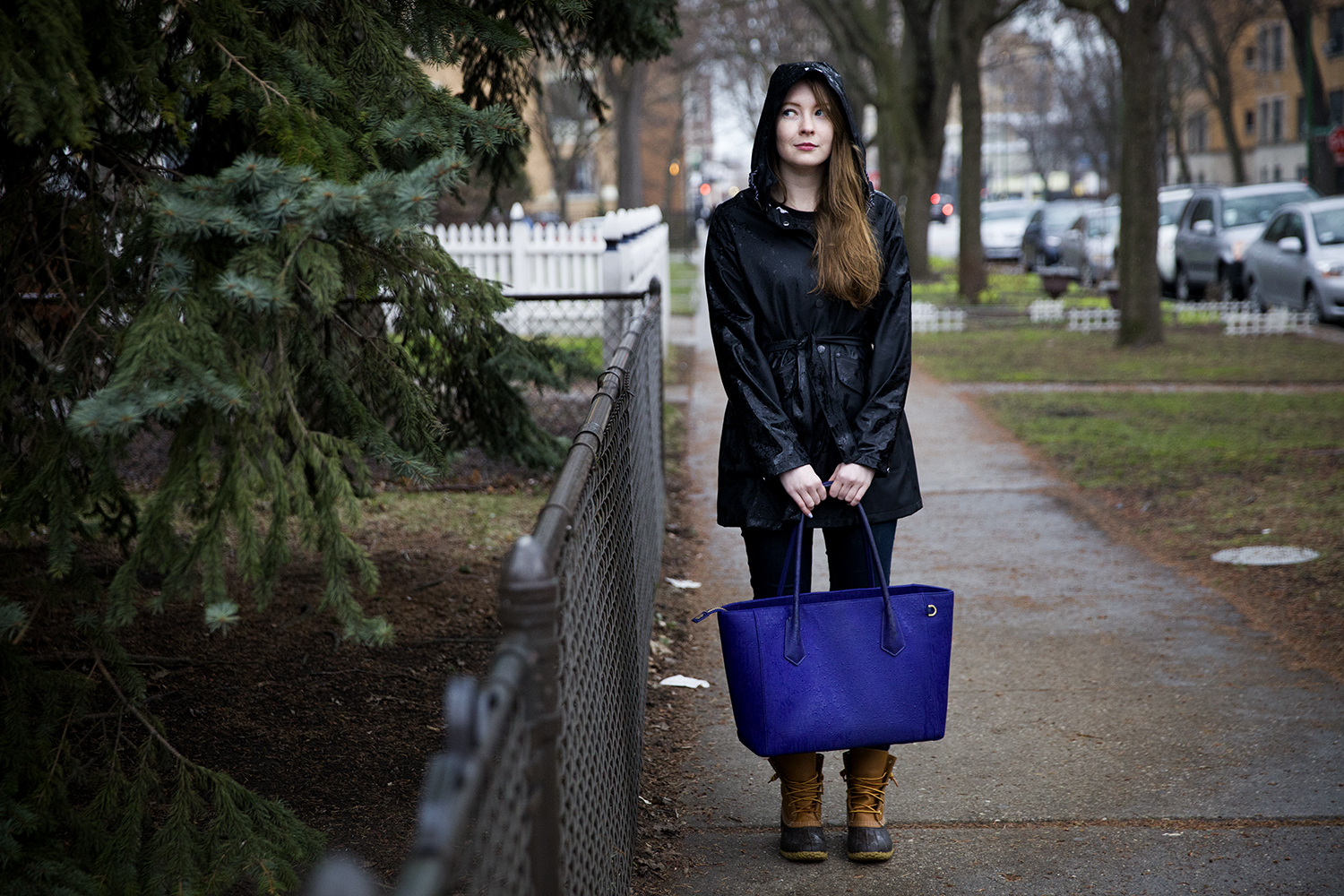 Rain, rain, go away.
During rainy days, I love to sit on my couch with a cup of tea and a book. But sometimes — like, yunno, work days — that can't happen.
I've touched on it before, but one of the biggest transitions I faced moving from Mount Pleasant to Chicago was the stark change in commuting. In Mount Pleasant, I relied on my car to get me from A to B in five minutes. Now, I use the L. And I walk. A lot. A 45-minute trek to get five miles is not uncommon at all.
Getting caught in a sudden rainstorm in Mount Pleasant wasn't such a big deal, since my car was always parked 20 yards away at most.
But getting caught in a rainstorm in Chicago? It was an entirely different story. Now, it's not uncommon to walk through a downpour four to seven blocks to the L, or wait outside for 10 minutes at an unsheltered bus stop.
I initially figured my coated trench would work fine enough. After two hours of shopping and brunching during a drizzle last spring, my shirt and hair were both soaked through the coat, and it became very, very clear to me that rainwear was not something I could skimp on.
So… I went shopping!
After two weeks of research, online shopping and in-store visits, I finally picked up this Helly Hansen "Kirkwall" raincoat in black last spring. I really, really like it. The hood cinches, the pockets are double-lined and it has a cute tie at the waist. The cuffs button tightly to keep rain out of the sleeves, and the jacket itself has a really fun and feminine cut.
Please excuse my hair. It was *actually* raining when we took these photos, and my hair + humidity = nope.
The Helly Hansen is a little too heavy for warm rains. The thick rubber is not-so-awesome during the summer. I had to take it off and carry it around with me when I filmed the Blackhawks rally at Soldier Field last summer for work, and my arms were drenched in sweat at the end of the day. But, for March and April showers? It's great.
I've been using it for about a year now, so I feel completely comfortable recommending it.
The rest of my rain gear? I prefer L.L. Bean's Bean Boots over wellies, which just aren't comfortable to walk in for me. I do have a pair of Kamik rain boots, which fit my small calves great — Hunter boots are just too wide. But, I reserve those for horrible storms, since my Bean Boots are much easier to walk in, and just as waterproof.
And, umbrellas? That's a strong nope. I really don't like umbrellas. The wind blows them inside out, and I can't even tell you how many times I've been hit in the face with an errant umbrella on my way to work on Michigan Ave.
Pedestrians, PLEASE pay close attention to where your umbrella strays off to.
I also like using my Dagne Dover on days when it's really rainy. It's made of coated canvas and zips closed, so I don't have to worry about anything getting wet or soggy during rainstorms. Plus, it's a super fun pop of color for my all-drab look!
How do you stay dry during storms? Do you have any recommendations for me? Leave 'em in the comments; I'd love to hear!
This post contains affiliate links. For more information, please read my disclosure policy.
Photos by Armando Sanchez.