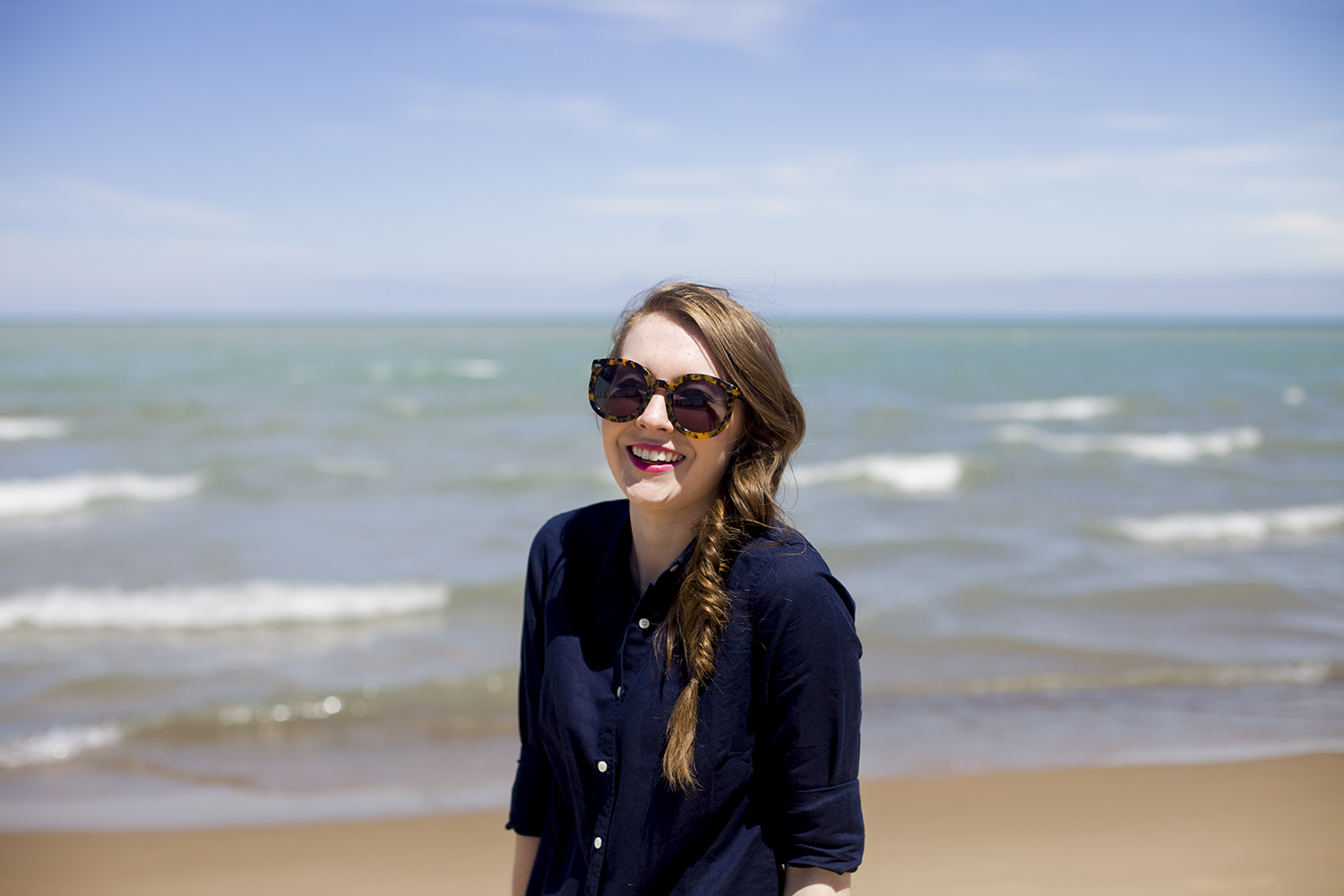 I cannot believe summer is finally here.
It seems like just last week I was complaining that spring hadn't made its appearance yet.
Oh, that actually was last week? Well. Never mind.
But regardless, it's Memorial Day, which means it's officially summer. Temps have topped 80, Chicago's beaches are open and I've been eating froyo like it's my job.
I've also given myself a sandal-ready pedicure, doused myself in self-tanner and started up a summer haircare routine.
I'm always the first to admit that I suck at all things hair-related. I usually wear my hair down and straight or up in a ponytail. I use shampoo, conditioner, heat protectant and dry shampoo in any given week and that's about it. I have a love-hate relationship with my hair straightener.
So, when b. A Salon on Armitage reached out and asked if I'd like to collaborate and learn some more about haircare and styling, I was totally on board.
(Plus, there's a discount code for products at the end of this post!)
(As a full disclaimer, I was NOT financially compensated in any way for this post. A friend reached out to ask if I'd be down and since I suck at all things hair-related, I was genuinely interested. I had my hair styled and received two small product samples in return.)
I sat down with the owner, Becki (basically the nicest person ever), to talk about warm weather haircare. She was totally not judgmental at all about the fact that I'm really bad at taking care of my locks and gave me some easy-to-follow pointers.
(Pst, there are some affiliate links below.)
Up your hair's moisture level. Sun, salt and sand can be incredibly drying to your hair. Because b. A Salon uses Kérastase brand products, Becki recommended two products to me: the brand's pre-conditioner (Ultime Metamorph'oil), the brand's shampoo (Ultime Oleo-Riche) and its conditioning mask (Ultime Oleo-Complexe).
Stop shampooing every day. This kind of goes along with upping your hair's moisture level. Washing your hair every day is super drying. I have really, really fine hair so I used to be a daily hair washer, but I've gotten much, much better about going two to three days between washes with the help of dry shampoo. Becki recommended that I wash my hair (copious amounts of really fine hair) no more than three times a week. She gave me a sample of the Shu Uemura Dry Cleaner shampoo to hold me over between shampoos. I think I mentioned before that Batiste is my favorite drugstore brand, but the Shu Uemura brand works even better for my hair. Just spray it on, let it sit and brush it out. It soaks up all the grease without drying out your scalp.
Wet your hair before going swimming. You know those "please shower before entering the pool" signs that used to be in every locker room at your rec center? Turns out, they were onto something. Becki said that it's a good idea to get your hair wet with fresh water before taking a dip in either saltwater or a chlorine pool. "Your hair's like a sponge," she explained. "If the sponge already has a lot of water it it, it's not going to soak up the water that's going to damage your hair." Becki said she likes to use the Shu Uemura cleansing oil shampoo after swimming too, since it detoxes your hair without stripping it of its natural oils.
Wear a hat or a scarf. There are a lot of SPF-infused hair products on the market, but the absolute best way to protect your hair from the sun is with a hat. Becki said that while SPF products work great for your skin and you should definitely use them, SPF hair products just don't work as well as a good old fashioned cover-up. I love repping my team with a baseball hat on casual days. Straw hats are great for beach days and I dream of the day I can be fancy AF with a silk Burberry scarf.
Fight frizz. Becki recommended another line of Kérastase products — Fluidissime, Fondant Fluidealiste and Bain Fluidealiste from the brand's discipline line — to tame unruly frizz.
Braid your hair. One of my biggest no-nos is throwing my hair up into a high ponytail once it gets hot. I always end up with a lot of breakage near the nape of my neck and around my ears because of this really bad habit. Becki advised to experiment with other updos in the summer — like braids — to prevent that breakage. This is also a really great hairstyle for between shampoo days to hide the greasiness.
And, because I'm so bad at self-styling, Becki showed me how to twist my hair into this really cool fishtail braid. I'm still practicing, but watching her do it made it look a lot easier than I thought it would be.
Isn't that cool? I loved how the braid keeps my hair out of my face, off of my neck, away from my skin and doesn't cause breakage.
I'm really looking forward to trying this hairstyle out again for beach days and second-day hair at the office.
And — if you're in Chicago and interested — b. A Salon on Armitage is offering 20 percent off all the products mentioned to readers! Just mention my blog name at the salon. It's right off the Brown Line Armitage stop in Lincoln Park at 1022 W. Armitage.
What tips and tricks do you have for keeping your hair healthy in the summer? Let me know in the comments!
This post contains affiliate links. For more information, please read my disclosure policy.