Healthy office cubicle snacks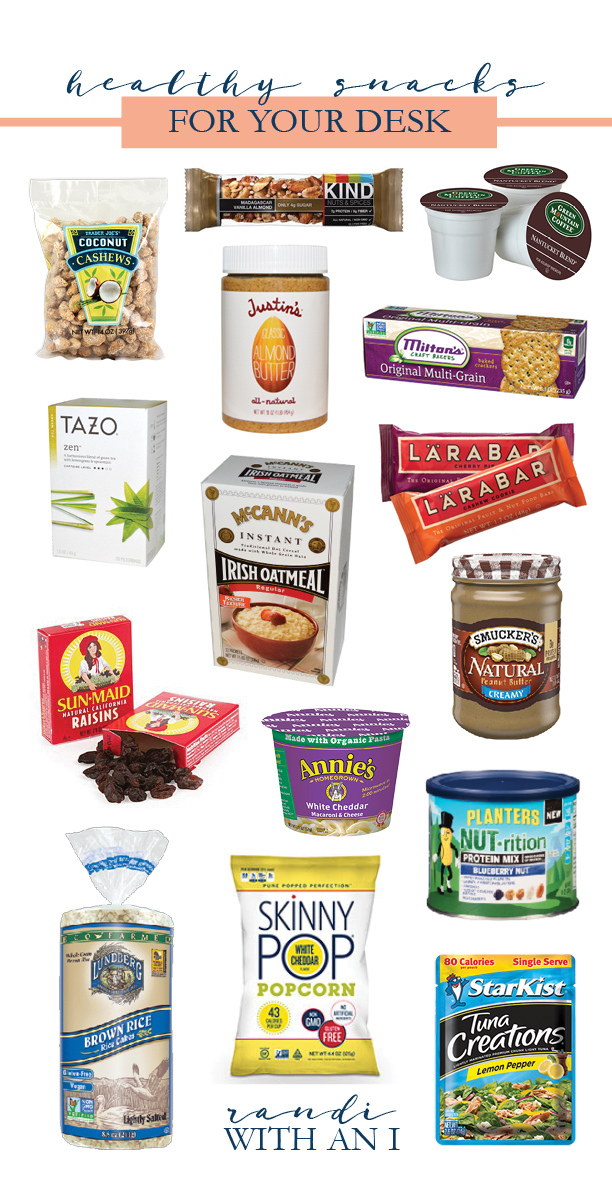 If you hadn't heard the B-I-G news of the month… I finally got a cubicle at work!
I'm still working on decorating it (I literally joked with my boss about how I'm going to be bringing in an overhead crystal chandelier), but that's totally fine. Decorations aren't really my priority anyway.
My actual priority is food.
Kidding, kind of.
But, really. Now that I have my own desk and I'm not borrowing/ sharing (like I had been for the past year-plus), I have a ton of room for yummy and healthy snacks, which is awesome, because it means now I'm much less likely to hit up the vending machine — saving me money and calories.

(Brief edit: As of last Friday, I lost my cubicle in a hostile takeover [kidding], and am back to floating around the newsroom. More on that later. But — I figured I'd share this anyway.)
I've kind of gotten into a little routine stocking my desk now. I love to meal plan, grocery shop and prep on Sunday nights so I'm totally prepared for the week. I usually pick up anything nonperishable — as well as apples, bananas and clementines — that I need to stock my cubicle with when I'm grocery shopping, and then I separate it into its own paper grocery bag when I get home. I buy some of the more expensive stuff in bulk from Amazon. Mando usually drives me to work on Mondays, so I just take my bag in with me then. That way, I don't have to carry it with me on the train, and for the rest of the week, I just have to grab my refrigerator snacks on the daily.
So, here's what I munch on at work.
Of course, the word "healthy" is relative. Obviously eating fresh kale is better for you than literally every option here, but when your only option is boxed/ packaged non-perishibles, these are much better than the Twix bar from the vending machine three steps to your left.
Snacks:
I am a huge snacker. One of my college friends once said "I don't really eat, I graze," and I think that perfectly describes me. Instead of having three big meals and three tiny snacks, I usually have six or so 200-300 calorie snack-meals every day… so I snack, a lot. I usually keep the following in my desk drawer.
Whole grain crackers and rice cakes.
Peanut and almond butters! These were the first things I brought with me to my new desk because they're so versatile.
Trail mix and nuts. I looove the Trader Joe's trail mix bags — coconut-covered cashews and Monkey Business are my favorites! I also keep a box of the Planter's Nut-rition protein blend in my desk, and I love plain almonds.
Pre-popped popcorn. The white cheddar Skinnypop is my favorite.
Dehydrated and freeze-dried fruit. I like raisins, apricots, banana chips and apples.
Lunch replacements:
I'm usually pretty good about making and bringing lunches to work. Zucchini noodles and overnight refrigerator oatmeal are two of my favorites for the summer, and I eat a lot of slow cooker stew in the winter. But, sometimes I forget to grab my pre-prepped meals out of the fridge before I leave for work, and other times, I don't have time to prep the day before. Luckily I work a few blocks from a Whole Foods and a Trader Joe's, but there are still times that I'm too busy to run out, or it's too cold, or I just don't want to spend money.
Salmon and tuna snack packs. These are really convenient and really healthy… but also really smelly. I take these completely out of my newsroom and down to the cafeteria to eat so I don't bother anyone in the office.
Annie's Mac & Cheese.
Larabars and KIND bars. I hate hate hate replacing actual food with meal replacement bars, but sometimes when I'm super busy or have back-to-back meetings, I adopt a "better than nothing" mentality and eat one of these with a ton of water to help me feel fuller.
Plain oatmeal packets. This is great topped with cinnamon, honey, peanut butter, trail mix or dried fruit. Just make sure you grab the plain variety. Anything flavored packs way, way too much sugar.
I would love to keep soup in my cubicle too, but I honestly can't find any vegetarian options that don't have crazy-high sodium levels. Suggestions?
Fridge stuff:
I've been seriously considering getting a mini-fridge for under my desk. Someone talk me out of this. We have two huge freezer/fridge combos in the break room, but this is a big office and they fill up quickly, so sometimes, it's hard to find room for your food. And then, once you do find room, sometimes it's easy to lose it!
I usually bring portion everything out and keep it in my apartment refrigerator so I can just toss everything in my purse and go on any given morning.
Hummus. I like the Sabra brand. I usually just bring a container of this to work every Monday to eat throughout the week… but I always put my name on it, because a dozen other people have the same idea, and by Wednesday, there are at least 10 Sabra containers in the break room fridge.
Cut up veggies. Cucumbers, celery, carrots and bell peppers are my favorite. I dip the celery in my peanut butter and pair hummus with everything else… or just go raw and plain!
String cheese and cheddar cheese cubes. I eat the string cheese on its own, but pair the cheddar with apples and/ or crackers.
Hardboiled eggs.
Yogurt. Chobani Greek is my favorite! I love both the Flips, and the fruit-on-the-bottom kind. I also like plain vanilla yogurt for its versatility.
Other stuff:
Keurig pods. I don't have my own Keurig at home because I think the pods are super wasteful, but they're kind of a necessary evil in the office. I usually have coffee in the morning at home while I'm getting ready for work, so I don't indulge a lot at work. But there are some days you need a second (or fifth) cup.
Tea bags, honey and lemon juice. I keep lemon juice in the break room fridge (even though it gets thrown out every month when they clean out the communal areas. More reason to get a personal fridge, I suppose?)
Condiments. I keep salt, pepper, cinnamon and garlic salt in my desk.
Mints and gum. Because I mentioned "tuna," "salmon" and "garlic" in this post.
A bowl, a small plate, napkins and cutlery. I have a big gallon-sized Ziploc bag of plastic silverware. I usually try to use actual silverware so I don't have to throw plastic away, but my office is pretty bad about keeping dish soap and clean sponges available in the break room, so it doesn't always happen.
A water bottle.
You can seriously make a million combinations with some of this stuff. With just the stuff in my desk alone, I can…
Top oatmeal with raisins or dried bananas, almond butter and honey.
Top oatmeal with dried apples and cranberries, peanut butter and honey.
Pair peanut or almond butter with rice cakes and dried fruit.
Top crackers with tuna for a last-minute lunch.
Left-to-right: image | image | image | image
And, if I bring my usual fruit, cheese, hummus, hard-boiled eggs, yogurt and veggies into the office like I do every Monday, there are even more combinations. I can…
Top oatmeal with apple, honey and cinnamon.
Pair crackers with cheese and apple slices.
Slice an apple and eat with peanut or almond butter. You can also top with raisins and/ or raw oatmeal.
Pair celery stalks with peanut butter and raisins. (Ants on a log!)
Spread hummus onto wheat crackers.
Top wheat crackers with tuna… and then add celery, hummus or cheese.
Stir peanut butter and honey into vanilla yogurt. Eat it plain or dip apple or banana slices into it.
Slice up hard-boiled eggs onto wheat crackers.
Top row, left-to-right: image | image | image | image
Bottom row, left-to-right: image | image | image | image
I'm sure I'm missing a ton of ideas… but that's the gist of it! I know this looks like A LOT, but it all fits quite easily in one drawer.
What food do you keep in your desk? Let me know in the comments!