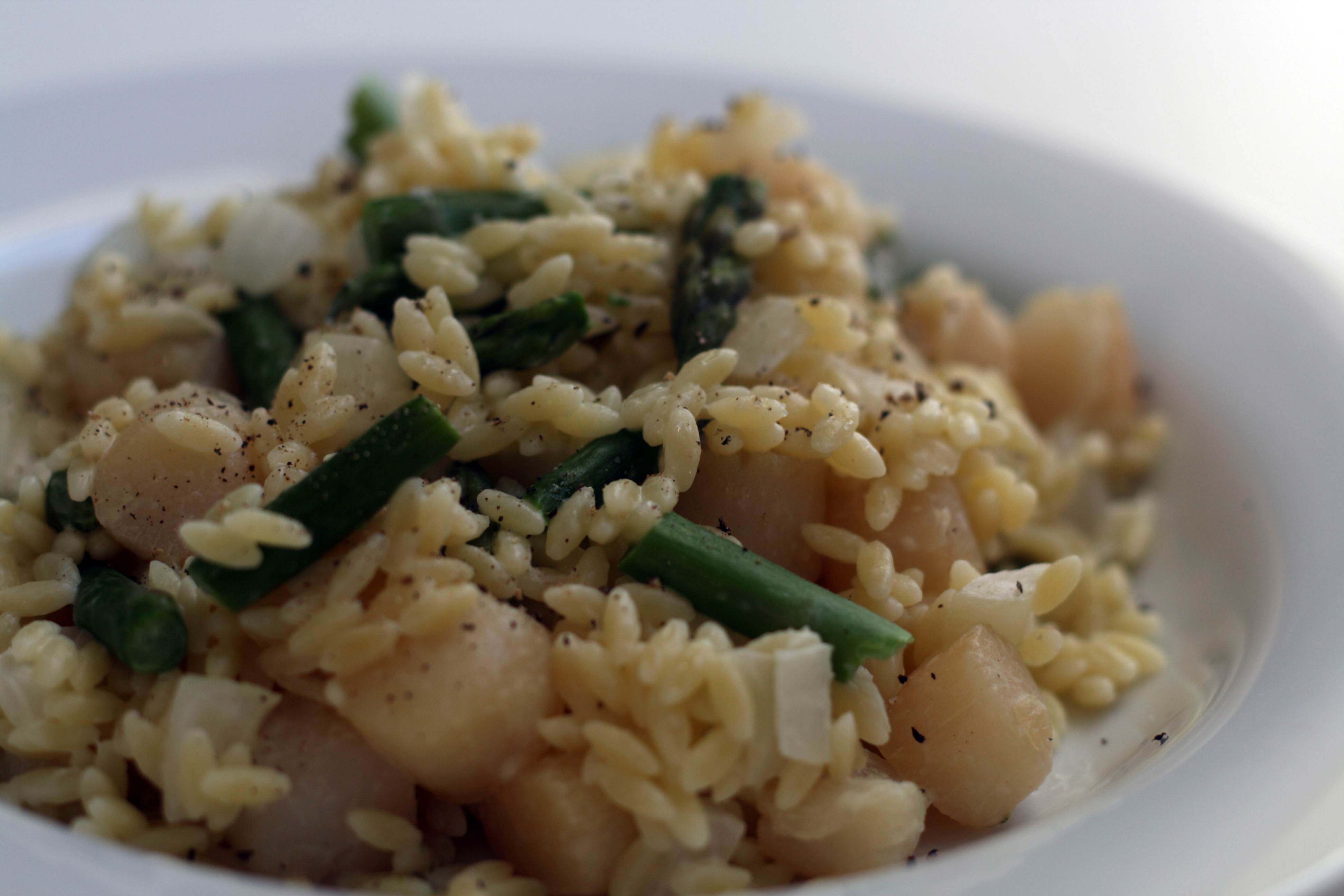 I have a somewhat funny story about the first time I ever tried scallops.
I was out on a date at a tapas restaurant, and one of the menu items was some form of bacon-wrapped scallops. The two of us had previously discussed which small plates to get and were in the middle of ordering when my date just tossed our server a request for the scallops — half without the bacon for me.
It wasn't until maybe 20 minutes after ordering that the date said "Oh, wait. You eat/like scallops, right?"
Well, now that you're asking.
I had actually never had scallops before, but I didn't want to be rude since it was only the fourth or so date I'd been on with this guy, and this was a preeetty nice restaurant. So, I just nodded and figured that, hey. Worst case scenario? I'd choke them down and smile about it.
But, I actually ended up really liking the scallops! Since then, I've started experimenting with these little bivalves on my own. I put together this 30-minute dinner recipe a short while ago (modified a bit from this recipe), and it was actually pretty successful!
You'll need:
1 pound bay scallops, rinsed and patted dry
20 stalks asparagus (about half a bunch), chopped into 1- to 1.5-inch pieces
3/4 cup uncooked orzo
1/2 sweet onion, diced
1 pat of butter
2 tbsp. to 1/4 cup parmesan
2 tbsp. half and half
Salt and pepper to taste
Olive oil
Start with the grains. Bring about five cups of water to a boil in a medium-to-large saucepan and add the orzo. Cook for about six to seven minutes, and then add the asparagus. Cook for another five minutes. Drain and set aside. (Tip: Start on the below steps while your orzo and asparagus cook.)
On a separate burner, heat about a teaspoon of olive oil over medium heat. Add the onions, and sauté for about four to five minutes. Set aside once they're slightly translucent and soft.
Add about a tablespoon of olive oil back into the frying pan and heat. Add the scallops and sauté for about four to five minutes. (Tip: Only stir the scallops around three or four times. You want them to rest so they develop a slightly browned surface. They're done once they start to crack!)
Once the scallops are cooked, move them aside. (Tip: I like to wrap them in paper towel-lined tinfoil so they stay warm. As an added bonus, this helps allow some of the water to drain out post-cooking.)
Bring your orzo and asparagus back onto a burner over low heat. Add in your parmesan, butter and cream. Stir until everything is combined, and then add in the onions and scallops. Mix until everything is evenly heated and you're done! Season with salt and pepper to taste.
And, that's it! This recipe made about four servings, which I happily ate for lunch over the course of the next few days, and I'm already excited to make it again. When I first started cooking with scallops, I was pleasantly surprised to find out how easy they were to cook with, since seafood can get a bit temperamental.
What's your favorite scallop recipe? Let me know in the comments!