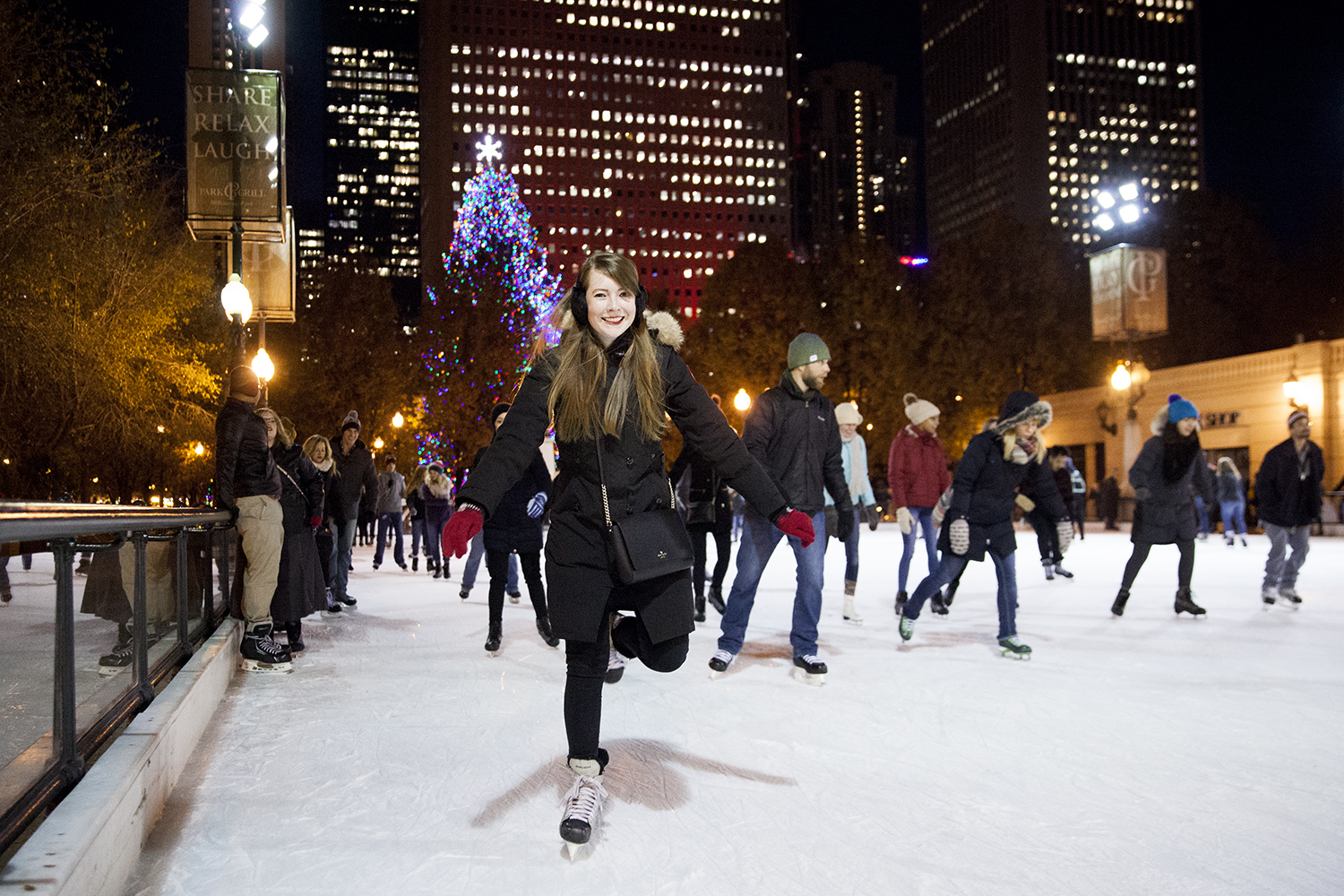 You guys, Chicago turned into a winter wonderland overnight! It's absolutely beautiful. It's been snowing on-and-off all night and day, and I kept taking breaks at work to walk over to the window and watch the flakes fall over Pioneer Court and into the Chicago River. It felt like Tribune Tower was located inside a snow globe today, and I absolutely loved it.
If I had it my way, it would start lightly snowing every Dec. 1, and continue all the way through New Year's Day. I honestly don't understand how everyone in the South does it — Christmas season just doesn't feel complete to me without a soft blanket of snow.
But, even if there's no snow, the holiday celebrations must go on! I shared my "Christmas bucket list" a few days ago, detailing all the fun holiday activities I try to get to every December.
Mando and I spent this past weekend braving the cold and galavanting through Chicago to celebrate the holidays.
I've always loved ice skating. I actually took lessons when I was a kid! Fun story — my mom filled out the application to enroll me in lessons back in the 90's. Boys took hockey skating lessons and girls took figure skating lessons. All a parent had to do was check the correct gender box, and the skating rink would put the kid into the appropriate class. My mom wrote "Randi" and checked "female," but because I have the name "Randi," the rink assumed my mom had erroneously checked the wrong box. So, I ended up in hockey skating lessons! I was switched to figure skating lessons the following week, but maybe my brief brush with hockey skating contributes to my inexplicable love of the Detroit Red Wings.
Regardless, ice skating is something that's stuck with me every winter season. I used to skate on a frozen pond in my parents' side yard in middle and high school, and moved to a community rink for midnight fundraising skates in college.
So, naturally, I've always wanted to go skating at the McCormick Tribune Ice Rink in Millennium Park. The rink is located right under Cloud Gate ("The Bean") in downtown Chicago. It's just south of the city's Christmas tree, which is lit as part of a ceremony every November. I've always walked past the rink and wanted to join, so I finally took the plunge and did it!
Mando and I rented our skates and glided a few laps around the ice. I'm always really shaky when I first get started with it, but I usually find my sense of balance pretty quickly afterward. I was pretty impressed with myself — I didn't fall once, and Mando has a pretty remarkable sense of balance as well!
After we were kicked off the ice by the scheduled Zamboni run, we crossed the street to grab drinks at Cindy's. We sat on the bar's rooftop looking at the skyline and huddling by the fire for a few minutes.
I've only been to Cindy's a few times, and always at night! I've never had a chance to check out this view during the day, but I imagine that it's just as beautiful as it is during the night. We got to look out at the tree, the Bean and the rink we had just finished skating on.
Then, we trotted further into the Loop to the Daley Plaza to check out the Christkindlmarket.
I'd actually asked Mando to go to the German holiday market last year before we started dating, but it was bad timing. I was planning on stopping at it after work, and he was heading out the door to an assignment.
So, I'm glad we got to go this year!
We immediately went straight for the food. I had a grilled cheese-stuffed pretzel and of course, hot mulled wine. Also? Churros and latkes!
Here, watch me stuff my face.
The food was obviously the best part, but I really liked looking at all the craft vendors. There was everything from intricate wooden cuckoo clocks to four-gallon beer stein boots engraved with German writing. There were children's toys, nuts and brittle, chocolates, scarves and sweaters, tree ornaments and gorgeous painted nutcrackers.
I'm definitely planning on going back to the Christkindlmarket before the end of the season, maybe during the daylight when it's a bit warmer outside. The only gripe I had aside from the cold was the sheer number of people! Most of them were a little tipsy, and though I can't really blame them (seriously, it was SO COLD), it was a little annoying to get around. I was cut in the food lines a few times, and a marketgoer ran into me at one point, spilling my wine down my parka and all over my knit gloves.
The lights, sounds and overall ambiance of the market at night were so perfectly Christmas, however, that I'm definitely willing to overlook the wayward crowds.
After the Christkindlmarket, we decided to grab dinner and warm up. We went to Howells & Hood, which is actually located in our office building! It's named after the architects that designed Tribune Tower. It's really weird — I've worked in this building for 18-plus months, and I'd never been to the restaurant.
We found out our Tribune ID badges actually opened a side door in the restaurant, so we were able to take the back way from the restaurants dining room down to the lower levels of our building and back out to the parking lot. Sneaky!
This is only my second holiday season in Chicago, but I really, really love spending December here. There's so much seasonal fun to partake in, and yesterday's addition of snow to the mix made it that much better!
I really can't wait for the rest of this year's Christmas celebrations in the city. Happy holidays!
What I wore (affiliate links!):

This post contains affiliate links. For more information, please read my disclosure policy.