Weird weather + a gray thrifted sweater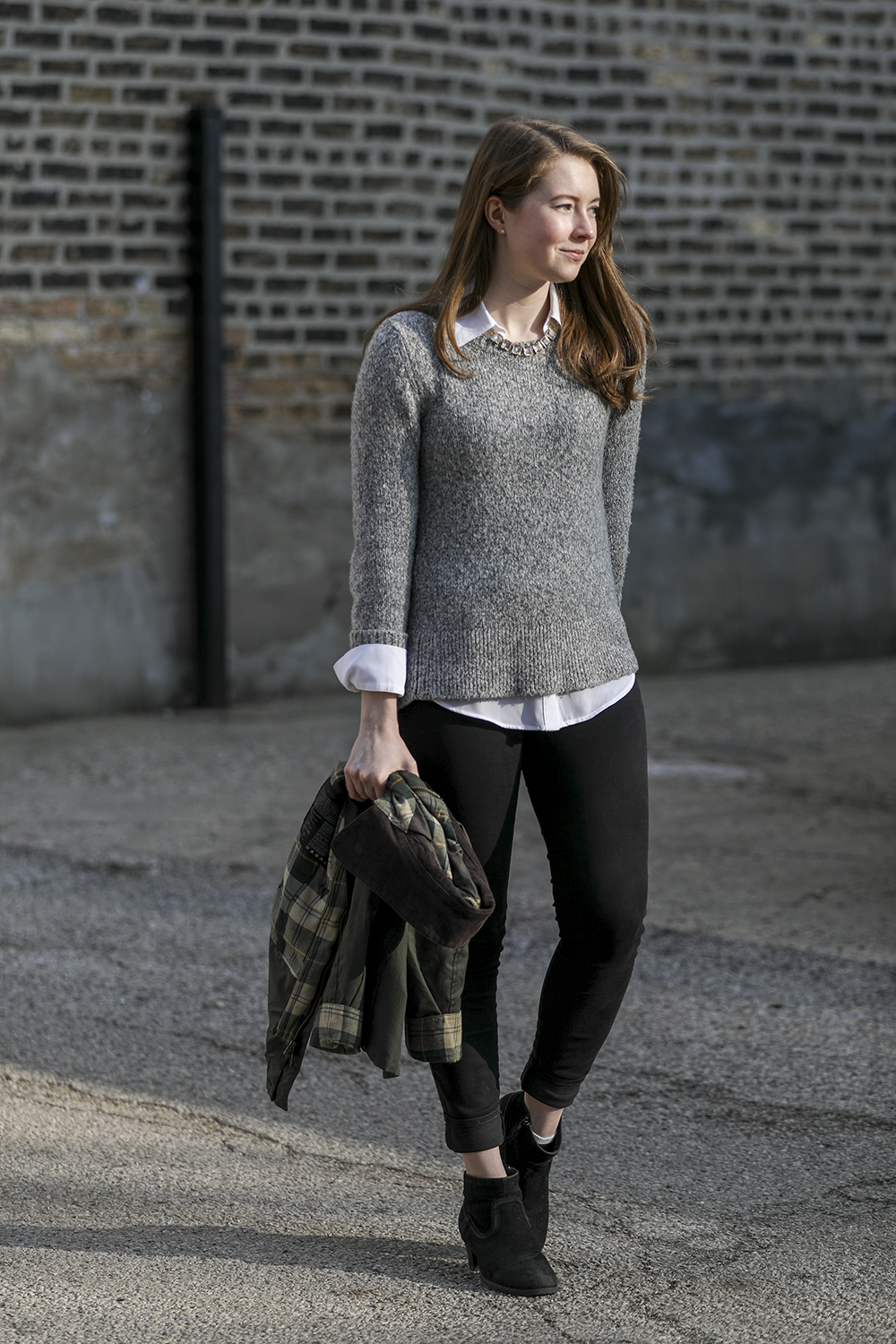 I know this is the 16th time I've said it and the 300th time you've heard it, but how freaking weird has this winter been here in Chicago?
We had a full blanket of snow for Christmas, a clear ground on Dec. 26, rain through January, sunny skies and 70-degree temperatures for February and now, midway through March, we're down to 20- to 30-degree temperatures and inches of snowfall.
I was ready to ditch my parka and break out the sundresses last week, but then we ended up with two full-out blizzards and 20-degree temperatures.
Luckily, we'll be back to 60-degree weather this weekend? I honestly don't know how to dress most days. Thanks, Chicago.
But, anyway. I digress. Let's stop talking about things that make us miserable (winter weather in the Midwest) and start talking about things that make us happy (successful resale store shopping trips).
(Pst, affiliate links below.)
sweater ∙ button-up ∙ jacket ∙ jeans ∙ booties (old, similar) ∙ necklace (old, similar)
I scored this amazing sweater for a casual $10 at one of my favorite resale stores in Chicago.
When it comes to thrift shopping, I tend to favor resale stores instead of traditional thrift stores. I just don't have the patience to sift through racks, shelves and piles of junk in hopes of coming across that one gem that just happens to be in perfect condition and in my size.
I would much rather spent the extra few dollars to pick up something easy-to-find that has been inspected. So, since I happened to be right around the corner from Crossroads Trading while out for dinner at Hopleaf with one of my coworkers a few weeks ago, the two of us decided to pop in and take a look.
I ended up finding a few goodies, including a new-with-tags silk dress from Madewell for $20 (serious score) and this amazing gray boucle Lou & Grey sweater.
I could probably wax poetic about this sweater forever. It's super soft, and it's the perfect shade of gray so it goes with anything. It's also probably the most flattering sweater I own. The back of it is longer and dips down like a shirttail, and since it's looser on the bottom, you don't have to worry about it riding up.
This sweater looks great on its own, but I found that it layers really well with my Express Portofino shirts. I'll wear it casually on the weekends with skinny jeans and booties, or I'll pair it with skinny dress pants and flats/ heels to wear to work.
Seriously, amazing thrift store find. But, the good news is that it's actually still available in stores! It's not $10, but it is less than $35 and available in five colors, so go go go!
Shop this post:
This post contains affiliate links. For more information, please read my disclosure policy.