To my little sister on her graduation day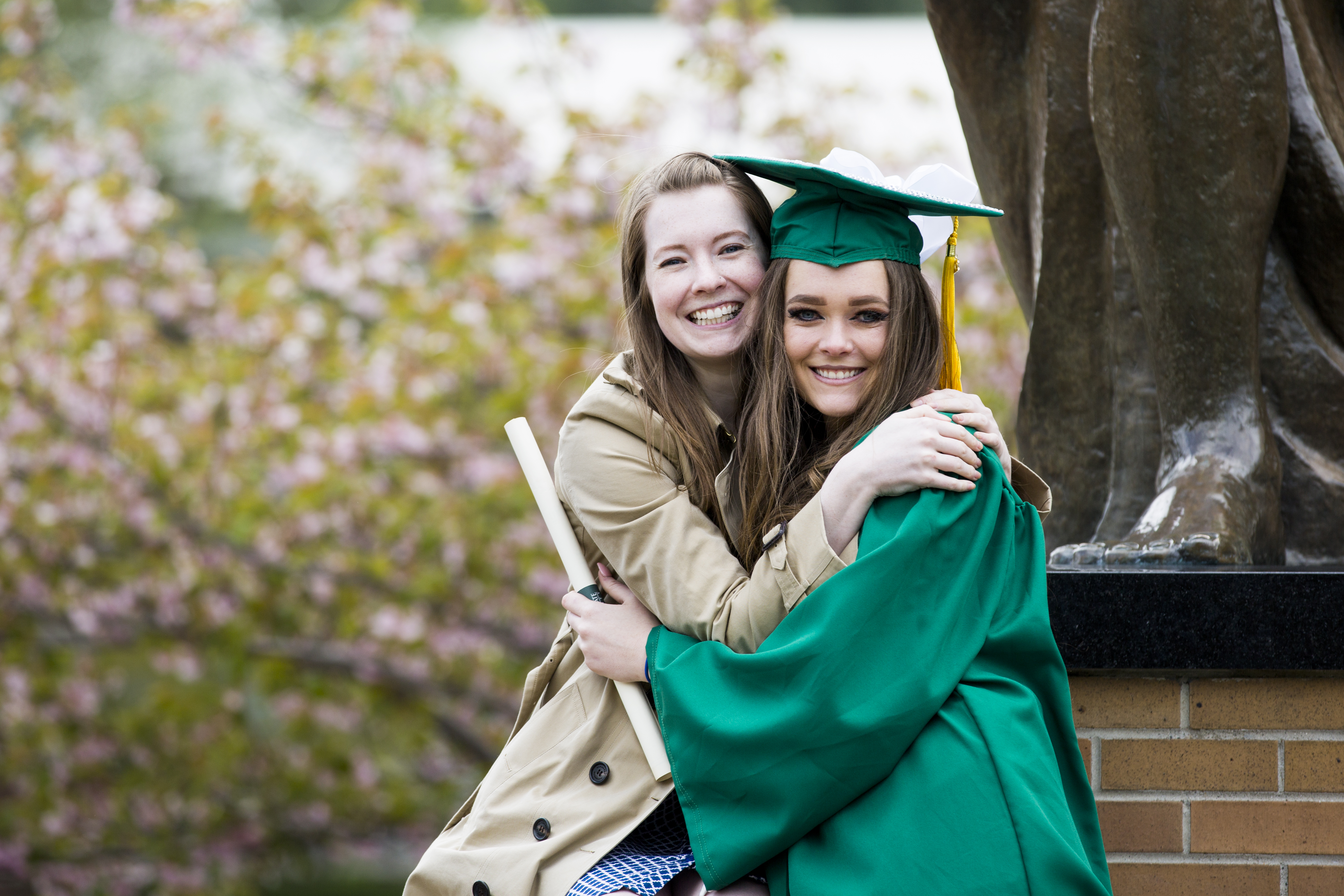 Excuse me while I take a second to gush over here. My baby sister is a college graduate! Kelly picked up her bachelor's degree in human biology from Michigan State University's College of Natural Science this past weekend, and I'm so excited for her. She's one of the smartest and most caring people I know, and I can't wait to see how she changes the biomedical field for the better.
I wanted to take a minute to heap tons of praise on her because she's brilliant and amazing, and even though the two of us are as different as night and day, I couldn't possibly love her any more than I do.
Photo: Armando L. Sanchez
Mando and I drove over to East Lansing on Friday to spend last weekend with my family. We started with a Cinco de Mayo dinner at La Senorita's, which is actually a small tradition between me and Kelly. The first time my sister visited me up at Central, the two of us went to get dinner at La's. She loved it, and we ended up going back again the next time she visited. The whole time, there was actually a La's near her school, but she didn't know about it until a friend spoiled the surprise. She joked about how she didn't need to visit me anymore as soon as she found out!
After La's, we drove over to Lansing for beer at Lansing Brewing Company before heading back to East Lansing to grab drinks at Crunchy's and stuff our faces with Conrad's.
The next day, we watched Kelly's commencement before a celebratory meal at HopCat (where she works) and then ice cream at the MSU Dairy Store, of course.
It was a great weekend celebrating a great person.
∙∙∙
Dear Kelly,
Congrats! You made it! Of course, everybody knew you would. You're intelligent, dedicated, fierce and passionate. More importantly, you're stubborn as all hell, so if just one person told you "no, you won't," that would have been all the motivation you would have needed to keep it going.
The next few years might be scary. They were for me. Of course, I'm a lot more timid, and I tend to overthink things and imagine the worst possible outcome of each scenario. You, however, plunge in headfirst. You're fearless. Capitalize on that. If you see the opportunity, follow it. Even if you think you're not ready, I promise you, you are. College may be over, but your youth isn't. You can still take risks, you can still gamble.  Now's the time to write all those crazy stories you'll have when you're retired. Make sure they're stories worth telling.
But, don't forget about what's important. Don't let your brilliance go to waste. School may be over (for now), but never stop learning. Read books, build your resume, add to your personal capital. Pay your bills, keep your credit score up, start a savings account. Show up on time, give everything your all. But, don't worry too much about mutual funds and investments right this very second. You have a few years.
Don't ever let your fears and self-doubt keep you from taking any and every chance that presents itself to you.
And, don't let anyone else's doubt hinder you. Screw anyone who says you can't. Because you can.
You are so, so much stronger, smarter and more powerful than you know.
Love, your big sister.