Interior design tips for small spaces + a sneak peek of my Chicago apartment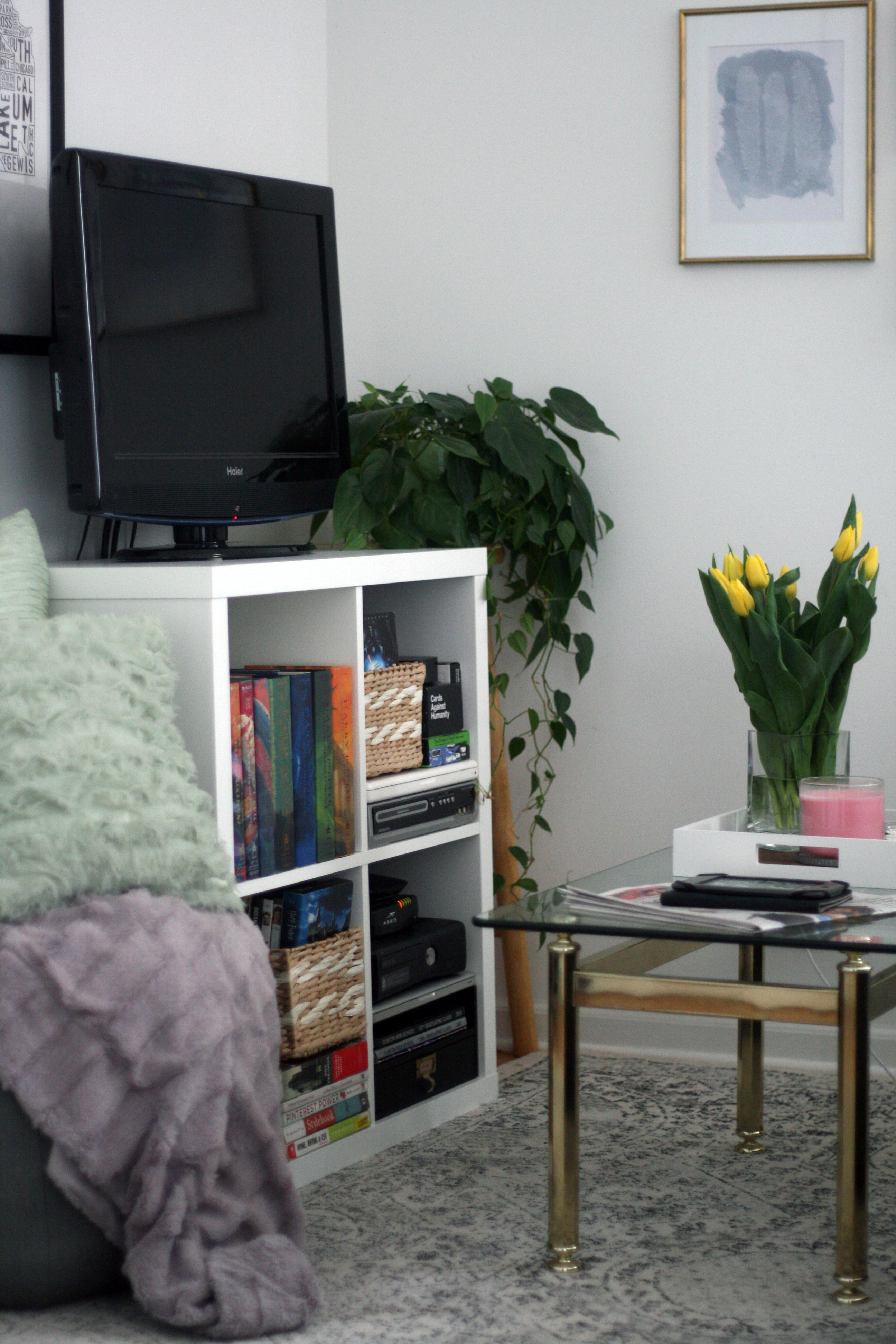 Yesterday marked my two-year anniversary in Chicago. Where has the time gone? It doesn't feel like it's been two years since I packed my boxes into a U-Haul and moved into my little apartment.
Oh, my little apartment.
There are so many things I love about the city, but real estate is not one of them.
You know what I'm talking about — the impossibly tiny closet-sized units that come with all the perks of big city living.
Seriously. Sitcoms are filled with totally unrealistic expectations of big-city apartment living.
I'm looking at you, Carrie Bradshaw.
When I up and moved to Chicago, I had two weeks to find an apartment, sign a lease and pay first-and-last — all while I was still living and working back in Michigan. It was a total headache, especially since a lot of places leased on a cycle beginning on the first of each month, and I had a mid-month starting date at the Tribune… in addition to a journalist's budget.
I ended up with a "junior one bedroom" apartment in a four-story building on the North Side. I consider myself totally lucky that I ended up with a bedroom, especially since so many of the units I looked at were studios with tiny closets and barely-there kitchenettes.
Seriously. One unit didn't even have an oven.
As soon as I figured out I'd be moving to Chicago, I immediately started compiling a list of small-space decorating resources to rely on when it came time to furnish and style my apartment. Some were common sense, but some were a little bit more out-of-the-box. My last apartment was spacious and cheap, and even though I owned a lot of furniture, it was all large and wouldn't fit into my new space. Most of it was either thrown out or put into storage, and I ended up having to furnish almost my entire apartment from scratch, just due to space constraints.
But, hey, I did it. I managed to turn this little corner unit into a functional space I love. In fact, I love this rehabbed former hotel room so much that I recently extended the lease on it for the coming year. I honestly probably could have moved somewhere a little bigger at this point in my life and career, but the thought of packing up and moving — especially right after taking on a new position at work as wedding and graduation season kicked off — was just so daunting. I actually really like my cozy little space, so I'm not too bummed about spending another year in it.
One last note before I launch into my spiel: Wayfair actually featured my little abode on a blog post about how to pick a TV stand for your small apartment! There are some really good tips and some pretty inspo photos from other bloggers with cute homes, so I'd definitely check it out. Anyway, here goes.
∙∙∙
1. Use white and other light colors. This one is one of the more obvious ones. Light colors reflect the light in your space and make it seem bigger.
2. If you have a single room, use furniture and rugs to partition it off and create separate spaces for everything. If you don't have a living room (or a bedroom) make one by sectioning off parts of your room with large bookshelves, curtains or couches.
3. Decorate with mirrors. This is another one of the obvious tips — mirrors will visually double your space to make it seem bigger.
4. Get your furniture up off the ground. Putting legs or stilts on your TV stand, and choosing an un-skirted couch will give the illusion that your space is bigger than what it is. Along those lines, fastening furniture to walls (think: drop-leaf tables instead of buffet-style furniture, or wall-mounted shelves instead of bookcases) can clear up floor space and open everything up.
5. Consider clear furniture. Ghost chairs and glass tabletops are awesome for furnishing small spaces. They have all the functionality of regular furniture, but take up zero visual space.
6. …But, keep a focus on functionality. If you opt to ditch your open-top coffee table for a glass version, and then have to buy a new shelf to store your DVDs on, you've just added more clutter to your space and have played a zero-sum game. It's all about balance, here.
7. Leave your doors open. This is a super easy tip. Keeping my bedroom door open allows me to see the other side of my apartment, making everything feel larger and more airy. And as a bonus, it forces me to make my bed every day.
8. Or… avoid doors all together. Opt for open shelving where you can, and floaty curtains where you can't. Try to avoid closing off space with unnecessary cabinetry. There's a reason everyone on Pinterest (including me) relies on that white Ikea Kallax — it does a great job at providing storage while sectioning off space, but without closing it off entirely.
9. Add plants and greenery to your home. Both invoke the feeling of being outside… where space seems limitless.
10. Draw eyes upward. Hang your curtains high and wide to make walls seem larger. Use tall shelves to store books and movies instead of on-the-floor media centers.
11. Keep it clean! Three or four items askew and out-of-place make a small apartment seem much messier than it really is.
∙∙∙
So, there we go! You can kind of tell from my teaser photo that I followed several of these tips in my own apartment. White paint, clear coffee table, drop-leaf table, vivid greenery, a dual-purpose media center, etc. Hopefully I'll get around to giving the full tour of my space soon, but until then, I hope these tips help.
And, if you like what you see and you're interested in following my home board on Pinterest, you can do that here.
Happy decorating!