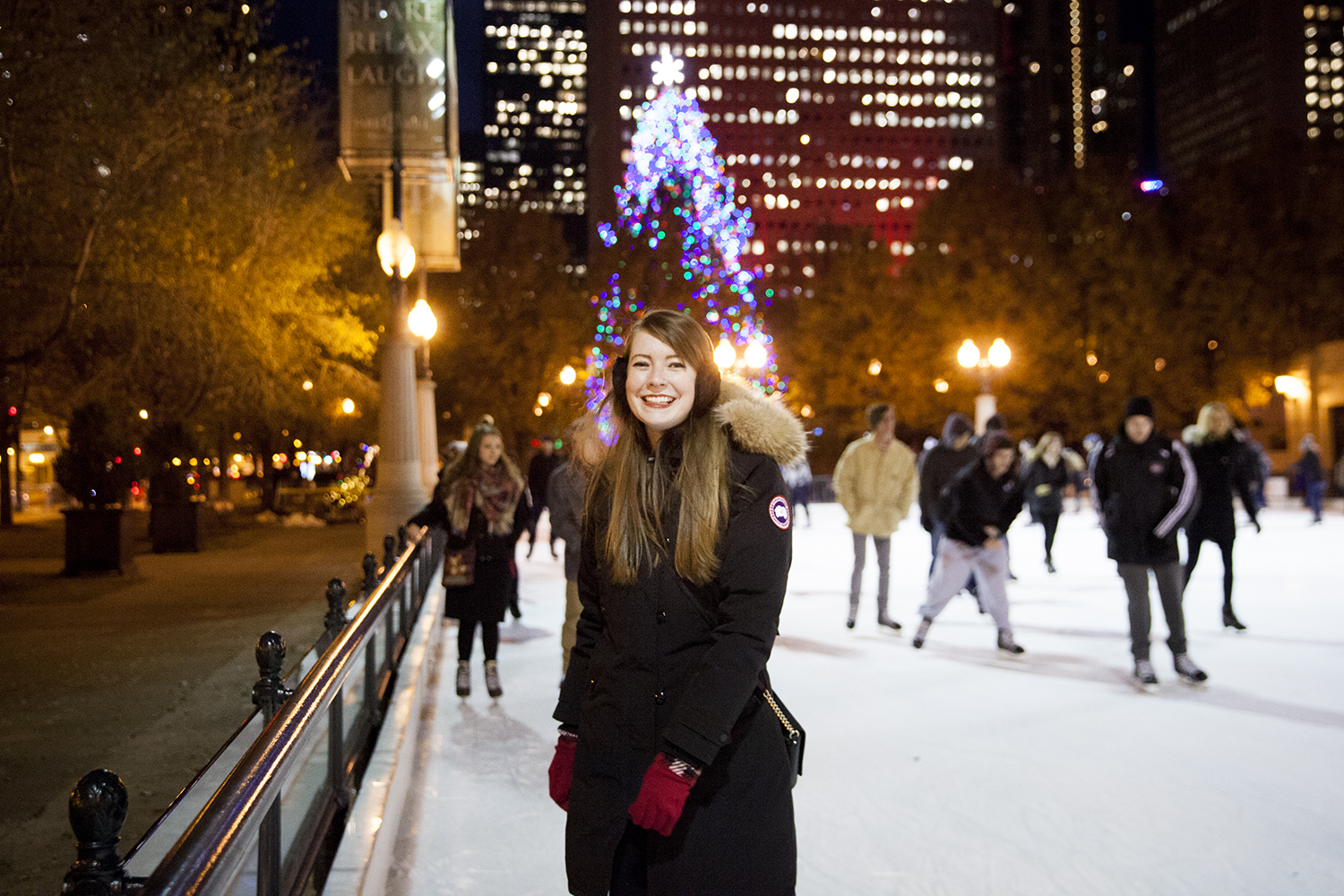 Starbucks is handing out (super controversial) red cups, Crate & Barrel has 20-foot Christmas trees on display, the CTA has activated the L platform heat lamps and I just booked an incredibly overpriced Amtrak ticket back to Michigan for late December.
Which can only mean…
Winter is coming.
It's so hard to believe! It was a breezy 70-degrees just last week, and I've never spent a winter in Chicago before. I've been living here for the past six months, and since I've never been in the city for the holidays, it still seems kind of like I'm on vacation and winter isn't actually a thing.
But, sadly, it is.
This is really strange to believe, since I'm originally from Michigan, but when I moved here, I didn't own a winter parka.
Michigan is pretty cold, but I owned a car and parked it right outside my apartment. I walked half a block to get to my car, dusted it off, drove a mile to my office, and walked 10 yards to get inside.
My $70 polyester blend peacoat worked fine for the limited time I spent outdoors when I lived in Mount Pleasant.
But now, I commute quite a bit. I walk to my L stop, stand on the platform for a good 10 minutes and walk several blocks to work. That's just work. Living in Chicago means I walk everywhere, and winter isn't an excuse to avoid grocery shopping or trekking across the city to run errands.
So, a high quality winter parka? Non-negotiable.
I bought my first "real" winter coat the spring after my senior year of high school. It was a waist-length bright green Columbia skiing jacket that my mom got me for college. I wore it during my first two years of college when I was living on campus without a car and walking. It didn't have a hood and was two sizes too big, so I never felt particularly warm in it and retired it as soon as I brought my car to Mount Pleasant and started commuting to campus. The commuter lot was right next to the building most of my classes were in, so I did't spend a lot of time outside. I started buying fast fashion jackets, like an Old Navy polyester coat for $40, a plaid Forever 21 coat for $30 and a really pretty (but ineffective) Express blend coat for $70. The Columbia ski jacket got lost somewhere during those seven or so years.
So, when I moved to Chicago, I knew I would need a new high-quality winter coat.
Good quality is not negotiable when you live in the Midwest — especially when you live in a city known for its lake effect wind, snow and cold.
The problem was that I honestly had no idea where to even start when it came time to look at winter coats.
I started googling "best winter parkas" and "best winter coats" in order to get reviews. I read reviews from OutdoorGearLab and I asked Chicago friends and co-workers, and asked my dad's Alaskan friend for advice. I ended up putting together a good set of guidelines for winter coat shopping.
Down-filled
Thigh-length
Waterproof
A lined hood, with a fur (real or faux) ruff if possible
I ended up searching for parkas that met most of my qualifications, and narrowed it down to these coats:
Good quality winter parkas are expensive! I hadn't realized that until I started my search, but unfortunately good-quality weather wear is not something you can skimp on.
I talked with my dad for a bit about which coat I should end up getting. He agreed with me that the Canada Goose and Patagonia were both great investments that would likely end up lasting me for a decade minimum. And, both companies had fantastic warranties that helped in my reasoning.
I ended up finding the Canada Goose parka on sale through Tuckernuck last month for 20 percent off, making it $620 with no taxes or shipping fees. I was sold on the OutdoorGearLab review, the lined hood and pockets, the fact that it is made in Canada, and the fact that the fur hood ruff is removable. I decided it was a good enough deal to justify the purchase, and my dad completely eased my worries by offering to buy it for me as a birthday present after I had already made up my mind about the purchase.
I am incredibly fortunate and unbelievably lucky. Thank you, Dad.
I am really hoping my parka proves to be one of those buy-it-for-life purchases that lasts me long enough to justify the cost.
Now, I just need to find myself some gloves and a head covering of some kind. Any suggestions?
I'm interested to know what winter coat you have, and how you went about deciding what to buy. It took me a month to make my decision, so if you have any advice, leave it in the comments!
This post contains affiliate links. For more information, please read my disclosure policy.