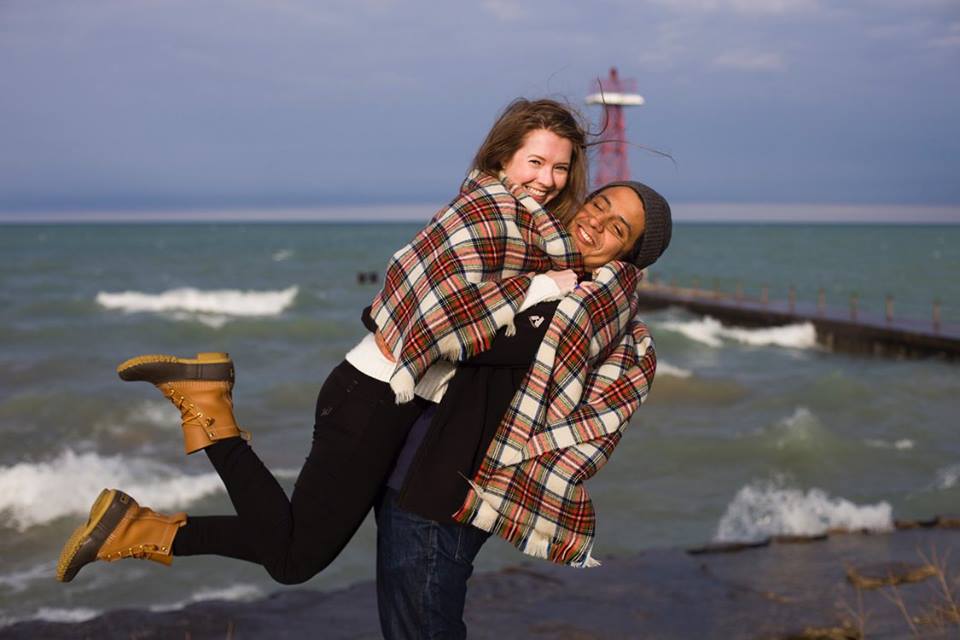 One of my all-time favorite shows — with the exception of the horrible ending — is How I Met Your Mother.
As cynical as I can be most times sometimes, I loved spending nine seasons listening to Ted tell his children the story of how he met their mother. I loved watching this fictional being live his life and talk about every minute detail that developed his character and led up to the moment he met the mother of his children.
Deep, deep down, I'm a pretty big romantic. I love listening to people tell the stories about how they met their significant others.
And, of course, if you have a significant other, it's a story you get to tell quite often as well!
I mention Mando quite a bit around here, so I figured it was about time I tell our story.
If you guys didn't know, Mando and I both work for the Chicago Tribune. I'm a digital news editor, and Mando's a photographer. So, like all great journalist love stories, ours begins at a bar.
…The Billy Goat Tavern, in fact!
If you're not familiar with Chicago journalism culture, the Billy Goat is right across from the Tribune Tower. The bar has a wall of fame dedicated to Chicago's media giants, and the entire space is covered with old newspaper clippings.
The Billy Goat — once made famous by a SNL skit — remains a huge part of Trib culture. It's a place for the newsroom to get together for going away parties, celebratory parties, birthday parties… or just really for anything because journalists actually don't need an excuse to drink.
But, on the night Mando and I met – which was exactly a year ago today, by the way – the excuse to drink was actually a Chicago media holiday get together.
A friend from another publication invited me, and I almost ended up skipping out because my mom and sister were in town for Christmas shopping, and that friend canceled last minute. But then a coworker asked if I'd be going, so my sister and I went. We got there super late so most everyone had already cleared out, but my coworker was still on her way so my sister and I sat at the bar and ordered drinks. And then… Mando said hi!
Our conversation went something like this:
Mando: Oh, you work for the Trib?
Me: Yeah! Do you?
Mando: Yep! I'm Mando!
Me: Mando?
Mando: Yeah, it's short for Armando.
Me: Oh! Well, hi. I'm Randi!
Mando: Oh, Randi Shaffer!
Me: Uh… yes?
As it turned out, he recognized me from Instagram, of all things. I was managing the Trib's weekly themes at the time and had posted a photo of my boots to our branded account. Mando saw it and liked my boots so he followed me, and then realized he had seen me in the office before.
Of course, because I am a jackass, I didn't follow him back and had no clue who he was. Whoops!
We ended up talking non-stop for the rest of the night before I went back to my mom and sister's hotel room.
I later found out that I intimidated him because I was "all put together" in a cable knit sweater and button-up. He had just finished covering Laquan McDonald protests and was all sweaty. He was eating a grilled cheese and ham and almost spilled his greasy potato chips on my sleeve and got super nervous about it. I didn't even notice.
The timing of it was pretty funny. I had actually just deleted my Tinder account a few days prior because I decided I needed a break from dating.
But, since when does life ever actually go according to plan?
Left to right on the night I met Mando: Alex, me, Haley, Mando and Whitney.
Then, that was kind of that. We spent the next few weeks talking and hanging out as friends, until I left to spend Christmas in Michigan. When I got back to Chicago after the holiday, Mando was waiting for me at the train station, and that was that.
It's kind of funny. We never really had a conversation about the label on our relationship. It just kind of happened! Three months or so later, we decided to make it Facebook official.
Mando is one of the most genuine and kindest people I've ever met. He's also insanely talented. He's really dedicated to his job and is an incredibly hard worker. It's not uncommon for him to wake up at 5 a.m. to shoot part of a photo story for work, volunteer to embark on a feature hunt, take a nap, and then head out to work the 8 p.m. to 6 a.m. overnight crime coverage shift.
Mando grew up in Texas and went to school in Kentucky before he ended up here in Chicago. He makes crazy good breakfast tacos, but makes really, really bad dad jokes and puns.
And also, if you hadn't guessed it, he's totally the #instagramhusband that's behind the camera lens for me most of the time.