When you watch too much Netflix and start dressing like Rory Gilmore…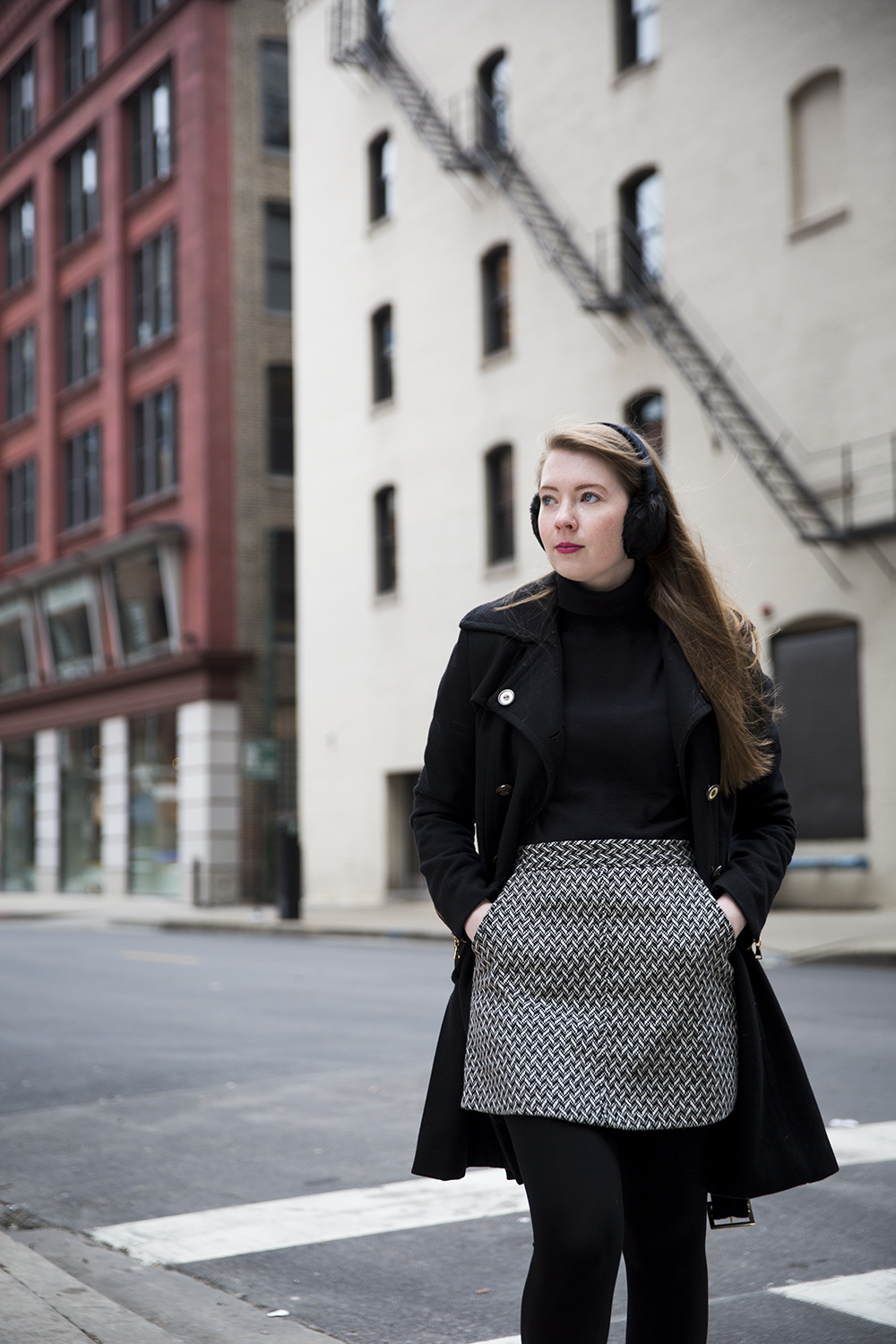 Do you ever find yourself binging a TV show, and then suddenly — a few days or weeks later — you realize you've been inadvertently borrowing wardrobe tips from said show's costume department?
I swear, it happens to me all the time.
I spontaneously started sporting headbands after a Gossip Girl binge session a few years back, and I think I unintentionally wore a either a cardigan or polka dots every day during the last season of New Girl.
It's not really a secret that I cruised through Gilmore Girls reruns in the weeks surrounding the Netflix revival. And — since the release of the revival just so happened to coincide with the biggest shopping weekend of the year — not only was I dressing full-on Rory Gilmore, I was shopping her, too.
skirt | sweater | tights | coat (old, similar) | booties | lipstick
Timing aside, I do really like Rory's style — post-Chilton uniform, of course. The later seasons of the original series are more than a decade old, and while most of Lorelai's outfits already look super dated (hello, Juicy tracksuit!), so many of Rory's cable knits, sneakers, tweed skirts, party dresses and enviable jackets wouldn't look out of place at all in a 2017 wardrobe. See: Exhibit A, Exhibit B and Exhibit C.
And, Rory's style in the revival somehow became even more enviable. It was still conservative, polished and just a little bit preppy — but with a bit more of a modern twist. She still chooses classic cuts and spends her money on investment pieces, and, like me, Rory seems to have a penchant for picking up Burberry in London. (Pst, that link is definitely worth a read if you're super into TV show costuming departments.)
Plus, as cheesy as it is, I always love seeing the style choices that fictional journalists end up making. Even though — if we can all agree — Rory kind of totally sucks both as a journalist and a character in general in the revival.
Regardless, when I picked up this skirt, I couldn't help but couple it with a classic coat and a plain black turtleneck, a la Rory Gilmore.
Also, this skirt was one of those extremely rare quality Forever 21 finds. Thick material, fully lined, pockets, concealed side zipper and only $8. What a steal.
(Also, yes, that's Doughnut Vault in the background, and it was totally closed by the time we got there. Dang it! We went to Firecakes instead.)
Shop the post (affiliate links!):
This post contains affiliate links. For more information, please read my disclosure policy.