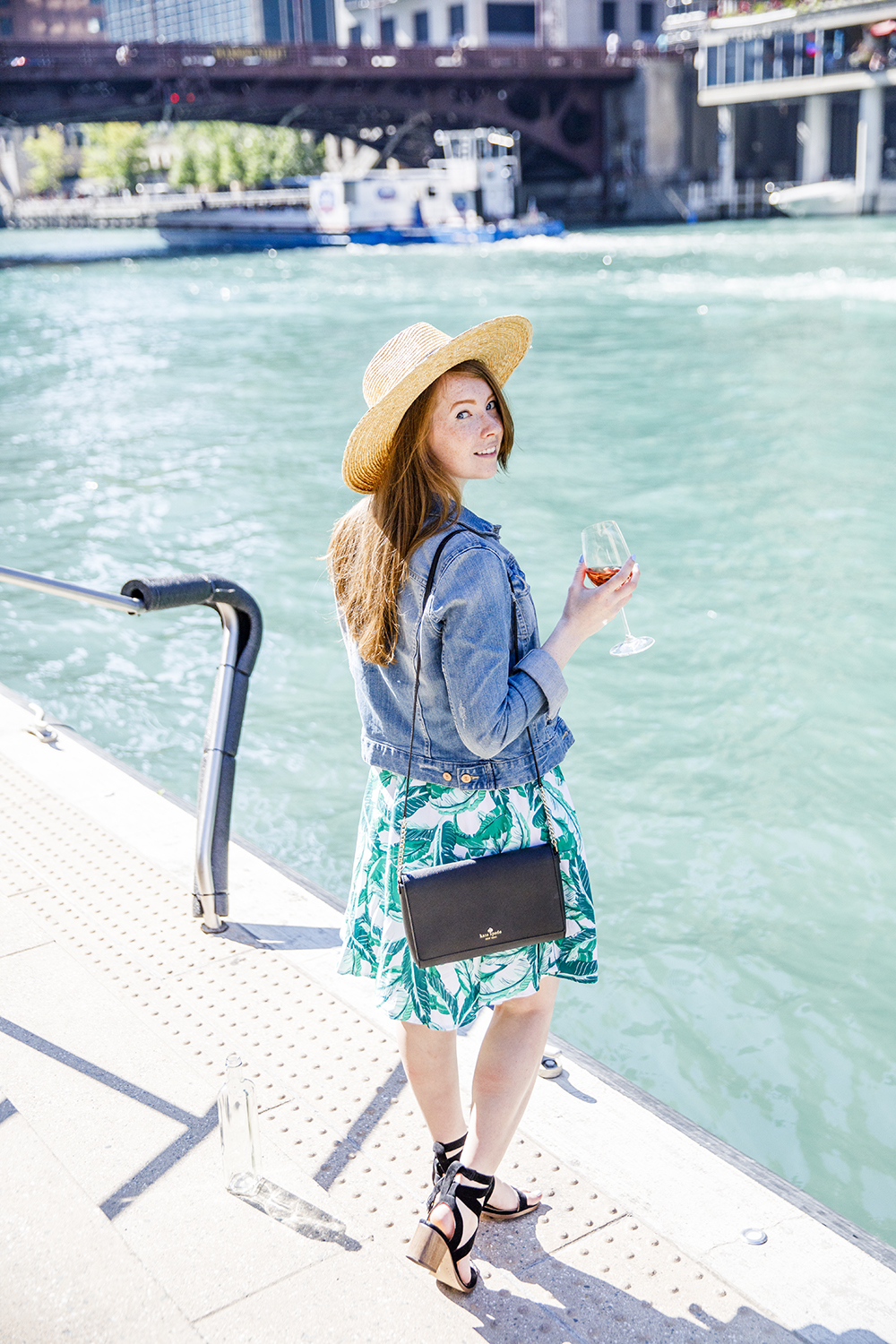 Ask any Chicagoan which city is the best to spend a summer in, and you're sure to get a biased answer:
Here.
I'll join the chorus: Chicago is a wonderful summer city. Once we've all stowed our parkas and rain boots for the cold and wet seasons, the good vibes are infectious. It's impossible to not get caught up in the #summertimechi glory. Some cities spread their warm weather activities out throughout the year, but in Chicago? We have four months — five at most — to cram absolutely everything in, from markets and block parties to parades and street festivals.
And of course, if you happen to miss your favorite event — be it Lollapalooza, Taste of Chicago, West Fest, Windy City RibFest or Chicago Pride Fest — there's still plenty that can be done day-to-day during the Chicago summer.
Like, playing tourist for an afternoon downtown, soaking up the Chicago River and the Riverwalk.
hat ・ jacket ・ dress ・ shoes ・ bag
Mando and I recently spent a beautiful Friday wandering around downtown Chicago. We started with drinks at City Winery along the Chicago Riverwalk, splitting a carafe of rosé and making idle chit-chat with the crew of a Chicago Police boat on patrol.
We grabbed sandwiches at Pastoral Artisan (one of my absolute favorites!) and then hopped aboard an architecture tour boat, making our way east, west, north and south along the Chicago River and out to Lake Michigan, learning about the buildings and waterways as we cruised.
I'd been dying to take an architecture cruise, but it was just something I'd never really gotten around to. Needless to say, it was well worth the wait. I learned so much about so many of the buildings lining the Chicago River. Mando was particularly enthralled while hearing an outsider's perspective of both of our company's buildings: Tribune Tower and the Freedom Center. I loved hearing about the smallest details in the city's skyline remaining from the 1893 Columbian Exhibition.
We took our cruise with Wendella, but we've heard so many great things about the tours hosted by the Chicago Architecture Foundation that we're already planning a second excursion. Yunno, for science.
After our afternoon out on and along the river, we capped off our evening with dinner at the Billy Goat Tavern (another favorite) followed by rooftop frosé at Celeste with some friends from work.
Summertime Chi, you never disappoint.
Shop this post:
This post contains affiliate links. For more information, please read my disclosure policy.