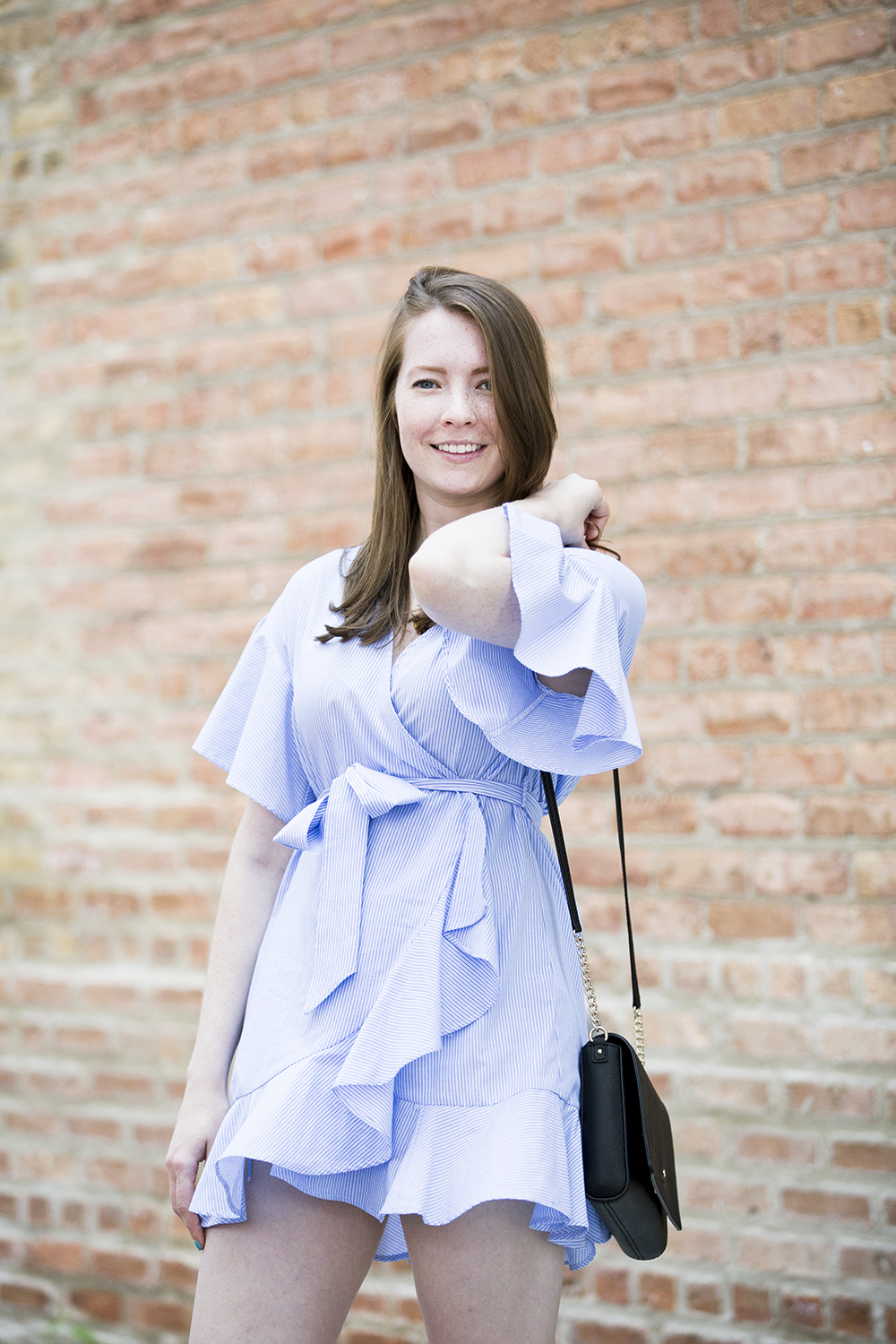 So, I know I went on a minor tangent a little bit ago about how much I hate the fact that everything — E V E R Y T H I N G — is off-the-shoulder/one-shoulder/cold-shoulder and covered in giant ruffles this season.
So, I kind of have to eat my words because I found a cute dress that has — wait for it — ruffles.
My bad, guys.
But, I still can't get behind the weird shoulder trends. Don't you guys get sick of those weird cold-shoulder tan lines?
wrap dress ・ shoes ・ necklace (old, similar) ・ purse (old, similar)
Anyway. I absolutely fell in love with this dress when I saw it on the Topshop website, and held off on buying it because 1. it's a little too trendy for my tastes, 2. it's not completely work appropriate and I usually hesitate to buy items that can't be repurposed for the office and 3. at $90, it was expensive for something that's going to look really dated really quickly.
But, the dress was knocked down to $45 recently, and I snatched it up. The little "only two left!" icon that appears when you select your size is always an inadvertent call to action, I swear.
Anyway, I got it and I was a little hesitant on it. It's a little short and low-cut, and it's just a little bit too big on me. I was kind of doubting the purchase, but Mando convinced me to keep it.
I wore it out last weekend for some errands and shopping, brunch (Kingsbury Cafe), a movie (Baby Driver) and dinner (Purple Pig) and got tons of compliments on it. So, good call Mando!
I might be able to repurpose this for the office with a strategically-placed safety pin and a pair of white jeans, but I'm not entirely sure yet. I do know this dress will more than likely end up as a beach cover-up in the coming seasons.
Shop the post:
This post contains affiliate links. For more information, please read my disclosure policy.