Slow cooker root vegetable and lentil stew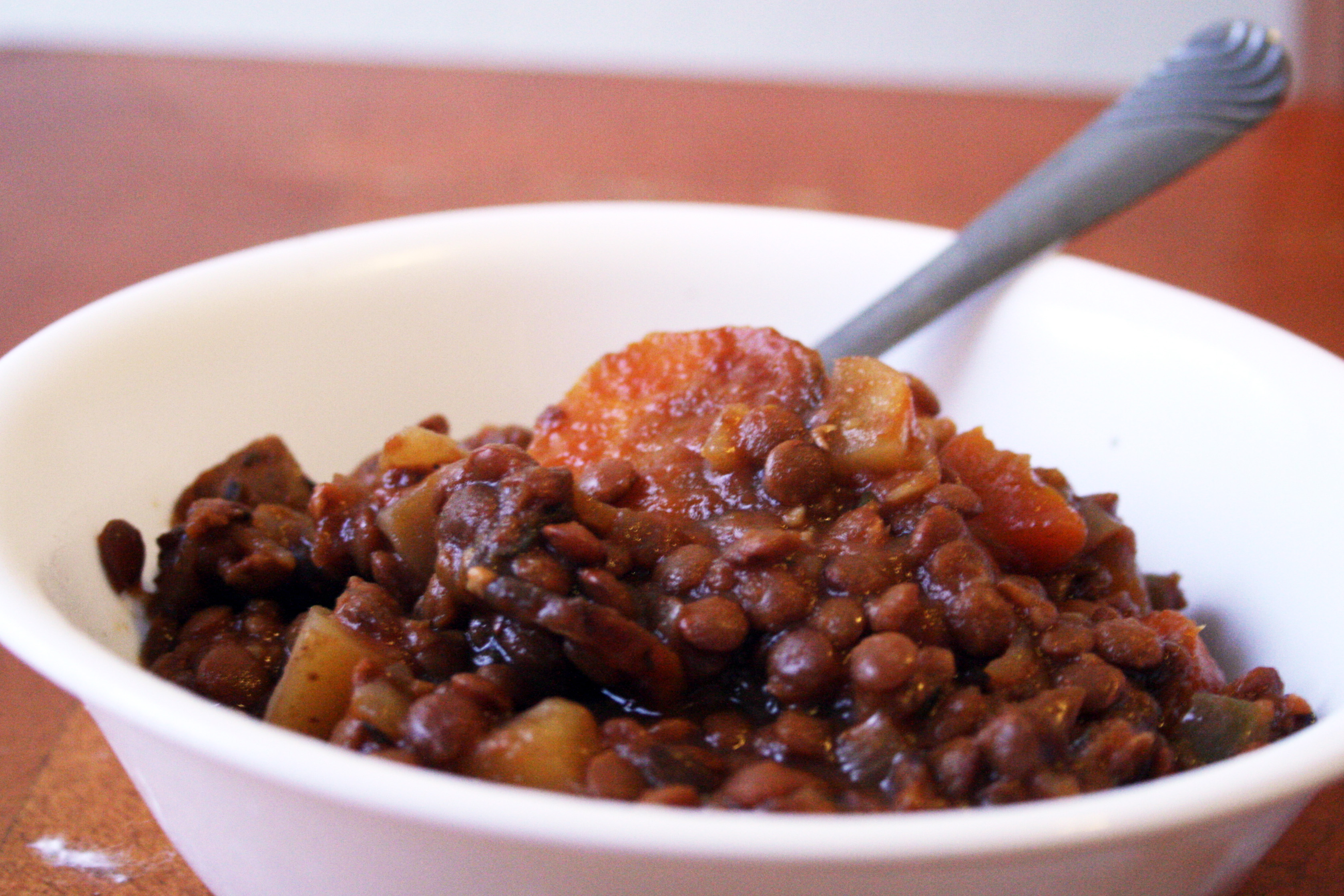 It's a pretty indisputable fact that one of the best winter meals is a thick bowl of warm stew. But, since I'm a vegetarian, I usually pass on the beef and barley and lean toward hearty vegetable based stews. After a bit of trial and error, I've melded a few recipes together to create this dish. Since we're on a slow cooker binge lately, I figured I'd share it with you guys! Root vegetables are always so flavorful, and by the time late fall or winter hits, my parents are finished with the fresh apples and gourds and there's an abundance of root vegetables resting in the cellar. It's a great make-ahead dish, so I'll usually make it on a Sunday, and bring a huge container of it to work with me to lunch on during the busy work week.
Also, when the furnace at my boyfriend's apartment broke and I suffered through a 47-degree apartment for a weekend, this root vegetable and lentil stew was an absolutely perfect dish.
You'll need:
3 carrots
1 parsnip
1 shallot
1 medium yellow onion
2 red potatoes
1.5 cups green lentils
2 celery stalks
3 cloves garlic
1 container vegetable stock
1 can tomato paste
2 bay leaves
1 tsp. dried thyme
1 tsp. red wine vinegar
1 tsp. fresh ground black pepper
1/2 tsp. ground cumin
Olive oil
Start by mixing the vegetable stock, bay leaves, tomato paste, thyme and garlic in the bottom of your slow cooker. Use a whisk to break up any chunks of tomato paste. Start chopping and add your veggies: carrots, celery, parsnip and potatoes, and lentils.
Over a stove top on medium heat, heat your olive oil, and then saute your diced onion and shallot pieces until they're translucent. Add them to the pot as well.
You can cook on high for four hours, or on low for six to eight hours. The finished product should yield six servings and look something like this:
About 15 minutes before you're done cooking, add the pepper, cumin and rice vinegar.
Do you have a favorite stew recipe? Leave it in the comments!