My Mount Pleasant loft apartment tour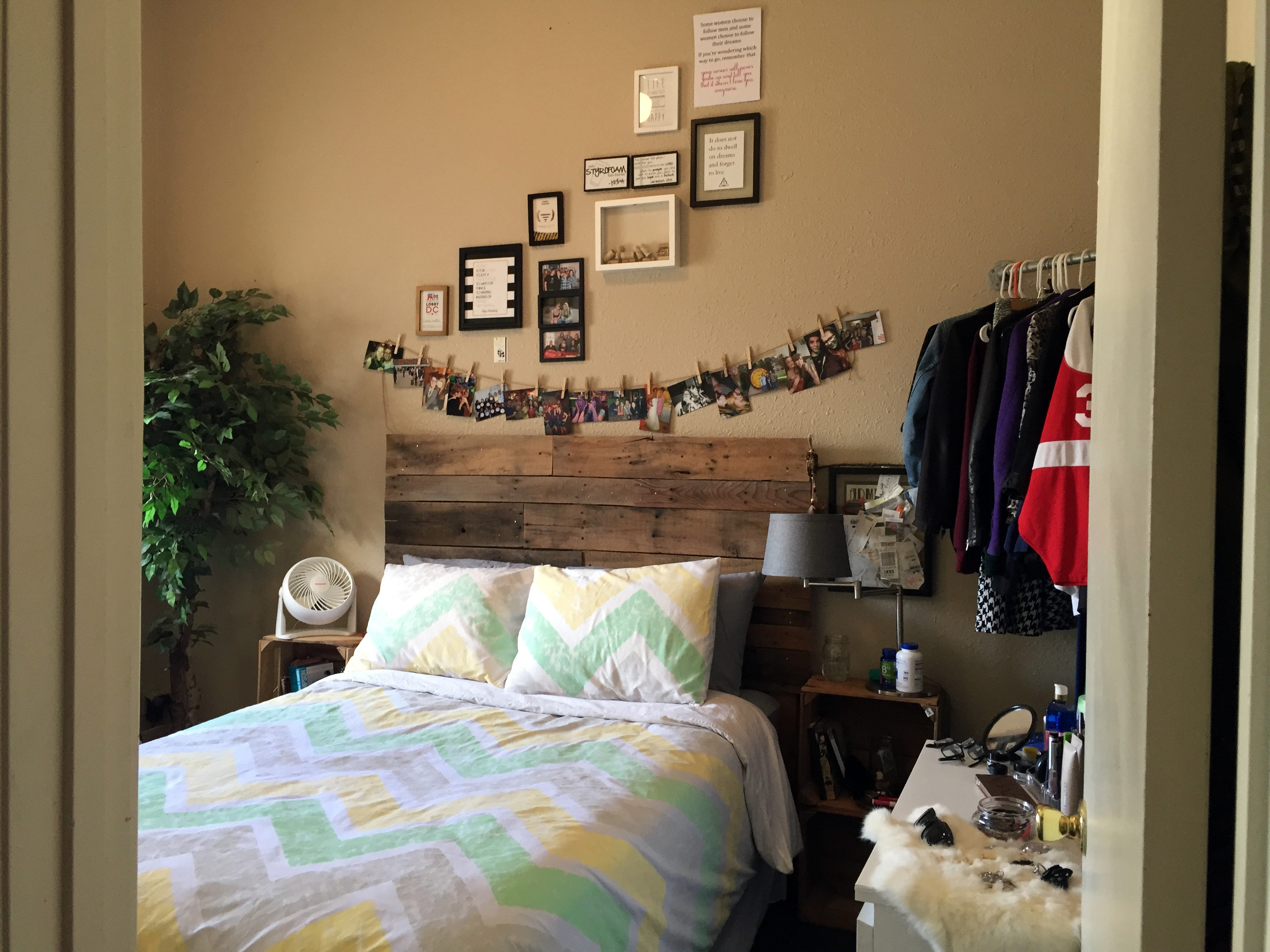 This is kind of a bittersweet post. I recently accepted a new job in a new state, so at the moment, my Mount Pleasant loft apartment is packed up into boxes, bags and bins.
But, I still wanted to share it with you. One of my biggest pet peeves is the "blogger apartment tour." Whenever a blogger I follow touts an apartment tour, I always get really excited. I know a lot of these girls live in small studio or one-bedroom spaces, just like me, so I get eager to see the small space solutions. I'm curious to see how said blogger maximizes storage or makes use of a confined layout. But, nine times out of 10, the post ends up being a 12-photo set of high bokeh detail shots of accessories, faux fur, stilettos and a table setting. This always ends up as a complete letdown.
It's misleading and unrealistic.
I've always been pretty open about what my post-graduate life is actually like. I think a lot of us young women are in similar situations. We're just starting off in the workforce with jobs that pay a decent amount more than minimum wage, but nowhere near enough to fund a lavish lifestyle, especially when you factor in student loan payments. Some of us live in small studios, some of us live with family members or significant others and some of us have roommates. It's totally unrealistic to expect a plush airy city loft or spacious suburban sun-soaked mansion right out of college, and I hate that a lot of young female bloggers feel the need to portray a life different than the one they lead.
So, that's why I decided to share my full apartment and its layout with you.
I'm pretty proud of this space. To start, Mount Pleasant is a college town. Half of the city's 40,000-some residents are students at Central Michigan University, so the median age of this city is well below average. Most of the city's non-college residents work for CMU, so people of my demographic (20-something single young professionals) are hard to come by.
Of course, that means finding housing is a whole new challenge. Mount Pleasant offers two options:
a. You can buy a permanent home in town, or-
b. You can rent a shoddily-constructed college-student oriented apartment in a rowdy complex.
When you're 22 and straight out of college, you don't want to buy a house. But you also don't want to live on the Greek street corridor with 10 roommates who go out drinking until 2 a.m. on Tuesday nights when you work at 8 a.m. the next day. Bigger cities cater quite well to the in-between Millennial/ young professional market, but Mount Pleasant? Not so much.
So, when I found this apartment available for lease, I jumped on it. It's a two-bedroom, one-bathroom loft with an open layout located in the city's downtown area. It's on top of a cute shop, across the street from both a sushi restaurant and a sandwich eatery, and walking distance from five of my favorite area bars as well as the city's park and trail system. The location was the prime reason I chose this apartment.
The price wasn't bad either. The benefit of living in a middle-of-nowhere college town is the incredibly low cost of living. A two-bedroom about this size in Manhattan runs about $3,500 a month. We pay less than a fifth of that. Also, dollar drafts are totally a thing here.
And secondly, I really love the layout. It's an open concept, with one main room and a kitchenette. I wasn't sure whether I liked it at first, but I soon warmed up to it after I used furniture and rugs to section off different areas of the apartment.
I love thrifting. The gold and glass coffee table was a Habitat for Humanity ReStore find – it was less than $20! We love it because it doesn't take up much space visually, but is still super useful to have.
You can also see a little bit of our White Barn candle hoarding problem, and also the merlot stains on the rug. Seriously- nobody has a picture perfect apartment. It's all an illusion.
Our throw blankets were Christmas season purchases from Restoration Hardware. They were hands down one of the best finds I could have possibly made and less than $30 a piece! Our coffee table decorations include this tray and this candle in peony, both from Target. We also have these coasters, which I love.
Elise and I both love our vintage Underwood typewriters, which is why there are two of them.
Rather than invest in a Roku or gaming system, we actually hooked up an old MacBook to the TV. The screen on the MacBook is broken, so the TV serves as its external monitor. That's how we watch our Netflix. We don't have cable.
The contents in the glass apothecary jars rotate out throughout the seasons. We had pinecones in them during the fall season, ornaments in them for Christmas and Easter grass for spring.
Our gallery wall is also ever-changing. We swapped the art out for leaf prints during fall and Christmas prints during the winter. Now it's kind of a hodge podge of things we love. There are a few frames missing from the wall during this shot – you can notice one under the coffee table. I was swapping some of the art out. I'd also love to eventually get some new throw pillows. The current ones came free when I purchased the couch set. Our apartment has always been a work in progress.
The print above the sink says "Dishes will wait. Life won't." We're pretty good about following that philosophy. Most of our frames are from Goodwill, Salvation Army or the ReStore. Most have been repainted or just cleaned and hung.
We installed the pallet shelves above the coffee bar ourselves, and the mason jars are filled with dry goods. I love cooking when I have the time, so I like to buy ingredients in bulk from the cooperative grocery store down the street.
The wicker basket (another Goodwill find) underneath the coffee bar (a Craigslist purchase) holds extra blankets and pillows for guests, and all of our Internet cords, routers and modems are hidden behind it.
The bar was built into the apartment when we moved in, and it's been very useful. The entire back of it is hollow, so we store extra Tupperware and our food beneath it.
I also love the closet. The two bedrooms are closet-less, so Elise and I share this large walk-in closet for both clothes and general storage. Yes, it's always this messy. The other side houses several large Rubbermaid containers, a ton of shoes, my bike and other junk we don't actually need. But really, aside from Rachel Parcell, is anybody's storage closet ever actually a focal point?
I also love my bedroom. It's quite small, but I think I've done an efficient job of using the space.
Like the rest of the apartment, it isn't perfect. My desk is usually messy, my gallery wall is always a work in progress, I have "that chair" that every girl has – stacked full of clothes – and my dresser is usually cluttered with makeup.
Much like candles, I also hoard nail polish. My bedside lamp is a Craigslist find with a Target lampshade, and my desk lamp is a repainted Target find as well. My metal initial is a half-off find from Michael's.
Because there isn't a closet in my room, I had a good friend help me install a small corner closet of sorts. It's really useful for hanging jackets and bridesmaid dresses, or for using to plan outfits in advance.
The frame for my latest college degree hasn't come in yet, so my master's degree never got an actual home.
I made both my bedding and my headboard myself, and the desk and dresser are both IKEA refinish projects.
My side tables are apple crates, my fake tree is wrapped in clear lights and those shelves are made of pallet wood. I also made the ticket stub shadow box between my bed and corner closet.
I'm not showing you Elise's bedroom, but hers is right next to mine.
Of course, the apartment does have its downfalls. There aren't windows in the main room, and the bedrooms overlook an alley we share with a bar and a late-night hot dog restaurant, so it gets incredibly noisy on weekend nights.
We didn't have a say in the color of the carpet or the paint and the floor creaks.
The walls are thin, so we often get impromptu concerts (and the accompanying scent of illegal drugs) from our wannabe musician neighbors.
Sometimes Elise and I get lazy and don't do our dishes for days at a time. There are red wine stains on our area rug and the apartment is filled with half-finished DIY projects, like the chair in my bedroom and the coffee bar.
But, I feel so incredibly fortunate that I was able to find this space to decorate and call my own with Elise, who is quite possibly the best roommate I have ever had.
Finding a quality apartment is hard. Finding a quality roommate is harder.
I'm really sad that my apartment has already been packed into boxes since I will be vacating it next weekend. But, at the same time, I'm excited for the new decorating possibilities (and storage challenges) that will come along with my new apartment in Chicago! I'm assuming those challenges will be real, because I'll likely end up in a very small studio apartment.
What does your apartment look like? How do you make use of your space? Let me know in the comments!
This post contains affiliate links. For more information, please read my disclosure policy.