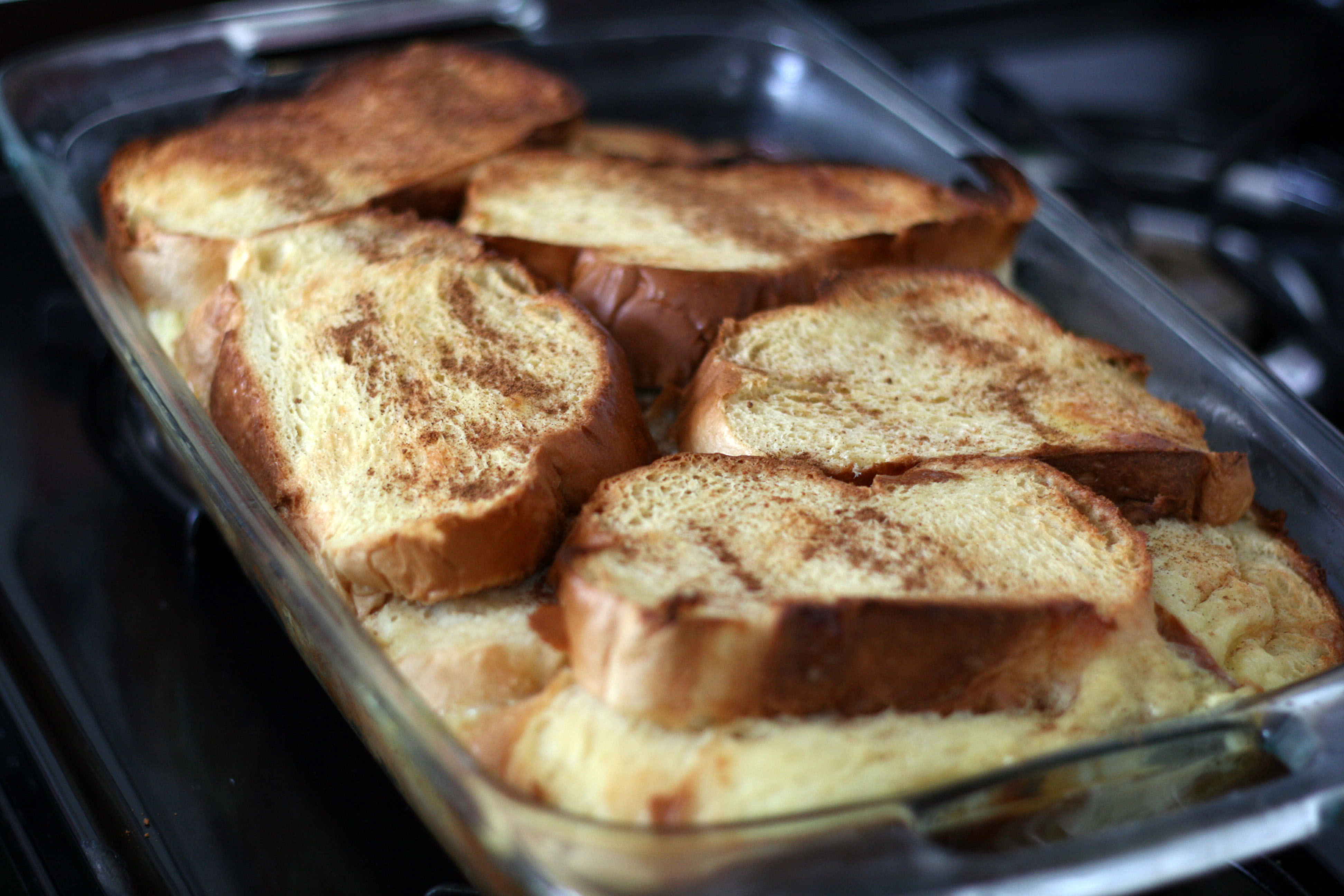 I'm a sweet breakfast kind of person.
It's a habit I'm trying to break — because consuming mass amounts of sugar before noon (or at all) is probably not the best habit — but if I sit down for brunch, dammit, I'm getting that red velvet French toast with cream cheese frosting. Just the description on the menu is making me drool.
And you know what else I'm getting with my brunch?
Booze.
One of my faaaavorite boss chicks ever, Chrissy Teigen, posted a photo on her Instagram the other day captioned "making adult French toast."
Booze literally IN your brunch? Count me in.
I wasn't willing to wait for Chrissy's cookbook to give me her recipe (seriously though, how is she using those Frosted Flakes in there?), so I googled "alcoholic French Toast" and found this recipe from Smitten Kitchen.
Simple enough. And since my college friend Emily was visiting this past weekend, I figured this would be a great chance to try out the recipe. It's made the night before, so it was super easy to wake up and pop it into the oven with minimal work required.
Short of pouring mimosas on the side.
You'll need:
A loaf of Challah bread (mine was from Trader Joe's)
3 eggs
3 cups milk (I used vanilla soy in place of regular since it's what I had on hand)
3 tbsp. sugar
1/2 tsp. salt
1/3 cup booze of your choice (I used RumChata)
Cinnamon
1/2 tsp. vanilla extract
Grease a 9-by-13-inch baking dish with butter, and then fill the dish with two layers of the Challah bread, sliced between 3/4 of an inch and 1-inch thick.
Whisk the milk, booze and eggs together in a measuring cup, and then douse the entire baking dish with the mixture. (Add half a teaspoon of vanilla extract to your mix if you'd like — I omitted it because I used vanilla soy milk.)
Cover your creation and let it soak overnight.
In the morning, pop it into a 425-degree oven for 30 minutes. The French toast will absorb all of the liquid (so don't worry if there's still some pooling in your dish in the morning) and will puff up and turn golden brown. Sprinkle the top of the dish with cinnamon. Cut and serve.
Bam. You're done. It's super delicious and easy. The sweetness of the Challah bread combined with the fluffiness of the eggs was absolute heaven.
We served ours with plain maple syrup, but I also imagine this would taste super awesome served with cream cheese, whipped cream or literally anything sugar-based.
Maybe a frap on the side?
How do you make your French toast? Have any other great breakfast recipes to use when feeding houseguests? Leave them in the comments!