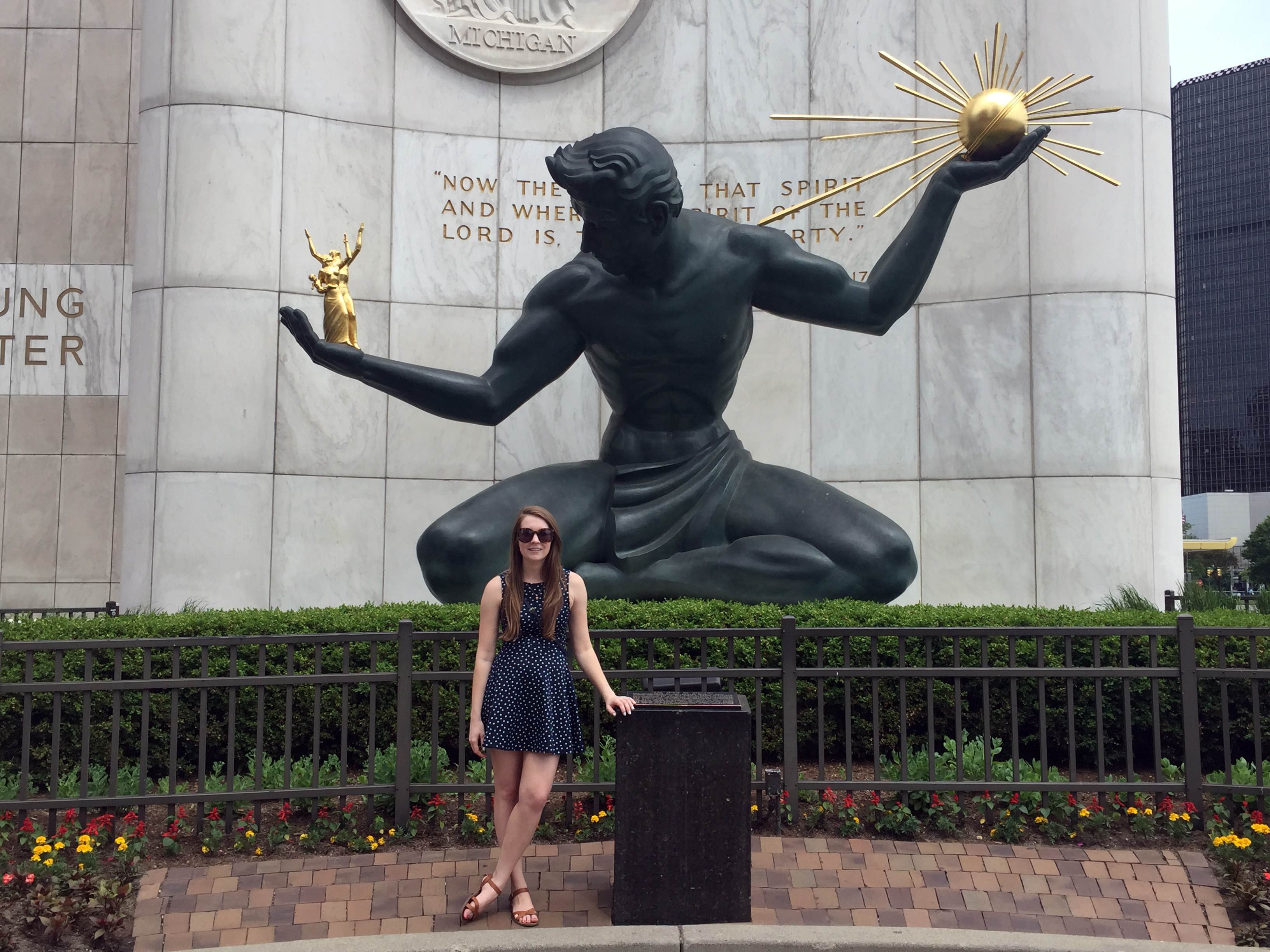 It feels kind of weird to consider a trip to Detroit a "vacation," or to consider it "traveling." I grew up in the Ann Arbor area, about an hour away from Detroit, so I've been to the city plenty of times.
I even flirted with the idea of moving to Detroit after college. I applied for a few jobs downtown after undergrad — and again after grad school — but life had other plans for me, and I ended up taking a job over here in Chicago.
No qualms, though. Love this city and love my job.
I gave up my car when I moved here, which makes getting out of the city a little tricky sometimes. I realized it had been about a year and a half since my last trip to Detroit, so I pitched the idea to Mando. He was down, so we looked at the MLB calendar and picked a weekend that the Chicago White Sox played my Detroit Tigers for a visit.
The "Spirit of Detroit" statue downtown on Woodward Avenue.
This city has changed so much in the last few years, and even more since the last time I visited. One of the things I wanted to do was check out some of the new places that didn't exist the last time I was in the city. And, since Mando had only briefly visited once to shoot the Bears at the Lions for the Trib, he was interested in seeing more of the city than he had his first time around.
We started our trip with breakfast at Brooklyn Street Local. I always love vegetarian-centric restaurants! I had a hash bowl with tempeh and it was amazing.
Afterward, we went to the Detroit Institute of Arts. I'm not really an art-type of person, but a lot of the exhibits were pretty cool. Mando was bummed that the photography exhibit was closed until this fall, but we both really loved the huge Diego Rivera mural in the Rivera Court. It was absolutely stunning. I also loved seeing some of the Egyptian artifacts, like hieroglyphs and even a real mummy. Creepy and unsettling, but also cool.
This is the grand entryway into the museum. Stunning!
This was the Diego Rivera mural. It went all the way around this room on all four sides, and paid homage to Detroit's background as an industrial city.
Hieroglyphs as part of the Egyptian exhibit at the DIA. This was part of a book detailing how an Egyptian should maneuver the afterlife. 
Afterward, we went downtown to grab coffee at Roasting Plant. I am a huge coffee snob, so I really loved this place. The center of the shop was filled with coffee dispensers. Half of them were full of raw beans, and half were filled with roasted. The raw beans were roasted on site, and then shot up through clear pipes to the baristas, who ground them fresh into drinks. It was so cool.
We drank our coffee while sitting at Campus Martius before walking over to Townhouse Detroit for beers. I really liked the restaurant's patio area, but the food was overpriced and left something to be desired.
Campus Martius — the park in the middle of downtown. It fills up with food trucks and live music during the day, and has — depending on the season — sand volleyball or an ice skating rink.
This was the patio at Townhouse. It had a retractable roof and was super cute, but totally not worth the $40 I paid for a cocktail, a beer and one piece of goat cheese toast.
Mando and I walked to Belle Isle after that. I was kind of disappointed, because most of the attractions — the conservancy, aquarium, etc. — were closed because it was Grand Prix weekend. Bummer! We ended up walking across the bridge anyway to catch the view of the Windsor and Detroit skylines, and actually ended up taking an impromptu guided tour of the Detroit Boat Club. I modeled in a photoshoot for my insanely talented friend Daighna there once a few years ago and we had to sign waivers when we went inside, since the building was so dilapidated. It was really cool to see all the improvements that had been made.
Windsor, Canada on the left and Detroit on the right.
The view from the back of the Boat Club. That's the bridge back to downtown in the background!
Then, we headed back downtown and checked into our hotel. I usually stay at the Renaissance Center when I stay in Detroit overnight, but it was completely booked — presumably for the Grand Prix. In fact, basically every downtown hotel was completely full. Mando and I took a gamble and ended up staying at the old Corktown Inn. The old motel recently received a facelift and rebranding (I told you, so much has changed in Detroit!) and is now called the Trumbull & Porter hotel. It had concrete floors and a subway tile shower. It was pretty cute for being a work-in-progress.
We walked across the street and had a drink at Batch Brewing Company while we waited for my sister, Kelly, to get into town for the Tigers game. I had a Handsome Stranger, which was a hibiscus saison. It was really good. Mando had a sour, and he really liked that too. Plus, I loved the atmosphere of the brewery. There was a sign up saying that it would be closed down the next day for a wedding, and I can see why. The space was gorgeous.
Then, we Ubered over to the Tigers/ Sox game at Comerica Park.
The weather was so perfect — not only for our game, but for our entire trip. The baseball game started off in the low 80s, and declined into the low 70s as the sun set.
Me and Kelly / Me and Mando. I was drinking a Bell's Oberon, one of my summer favorites.
After a Tigers W, we closed out the day by walking over to Firebird Tavern in Greektown to meet up with my brother, some high school friends and a college friend for drinks.
Me, my brother and sister at the bar. Sibling love, you guys.
We kicked off our next day with breakfast at Parks & Rec, a cute diner in the old Detroit Parks and Recreation Department building. The tables were made of old park checkerboards, and there was a repurposed shuffleboard court on the wall. Plus, the food was so good. I had corn pancakes and Mando had the french toast.
Afterward, we went to the Eastern Market and explored some of the nearby stores in the neighborhood, including DeVries & Co., the seafood market and a massive antique store. I was really surprised at how big the market was.

The market had indoor and outdoor vendors. There were so many vendors selling flowers, hanging baskets and fresh produce, but also some unique booths selling iced coffee, shoe repair servicing and hanging terrariums!
After that, we went to check out the Heidelberg Project. This was one of Mando's favorite parts of our trip. Again, I'm not really a big art person, but it was still interesting.
The project takes abandoned houses along a residential street in Detroit and turns them into street art projects. I'm kind of bummed I didn't get to see all the houses since they keep falling victim to arson, but even the rebuilding was cool to see.
After the Heidelberg project, we took a trip down to the river. We walked up and down the Riverwalk, said hi to Canada, took some photos with the Spirit of Detroit and grabbed lunch at Central Kitchen + Bar before heading out of town.
Me and Mando along the Detroit Riverwalk with Canada in the background.
Ford Field — where my Detroit Lions lose.
Like all of my two-to-three day weekend trips, it was over way too fast. There were a ton of places I would have loved to check out, but we just ran out of time. The best part is that I know when I head back again, there will be even more new places to check out thanks to the city's rebuilding.
I had such a great time in Detroit. I'll always be cheering for my home state's largest city, and judging from this past weekend, I'm cheering for a pretty great force.
I already can't wait to go back.