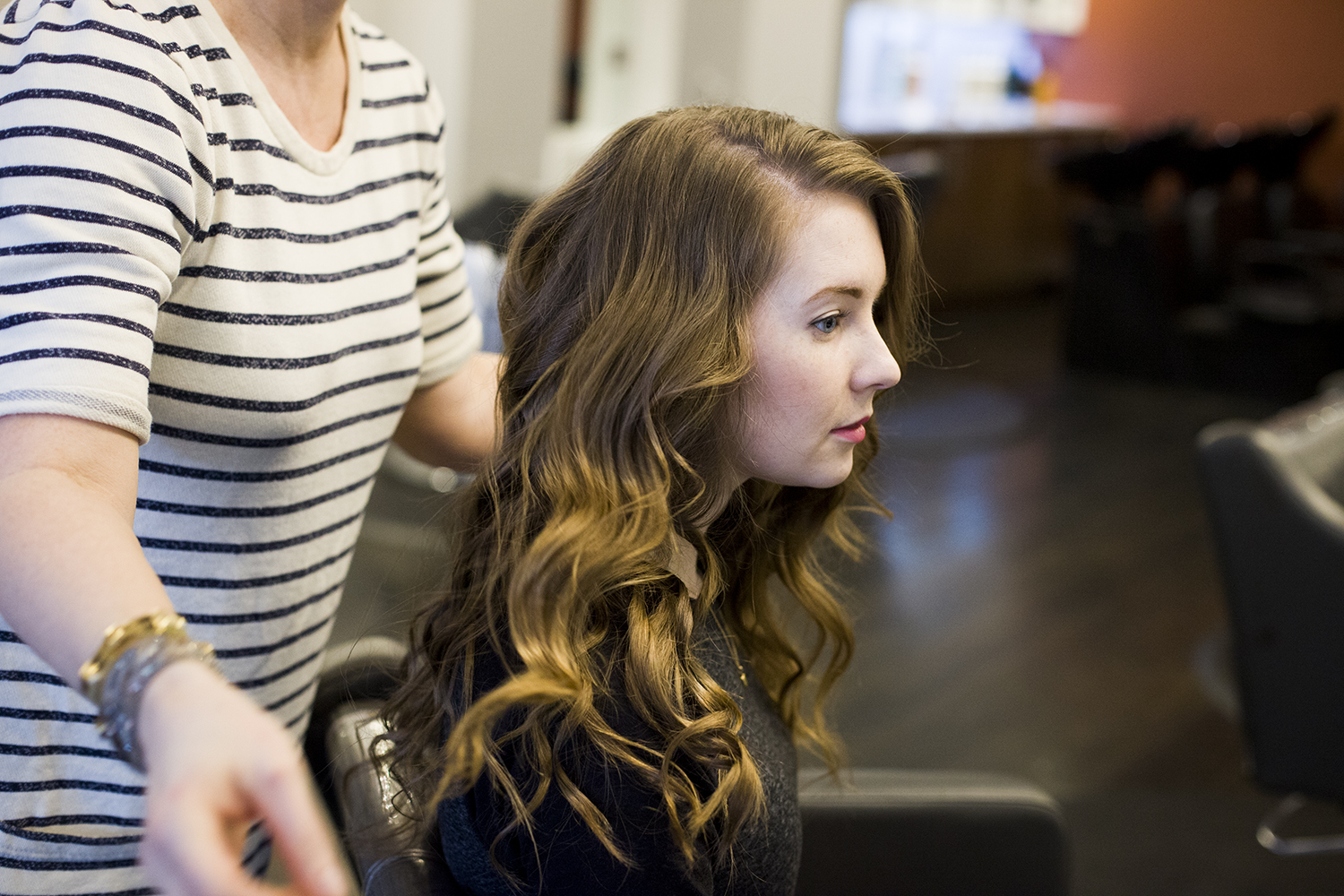 Thank God it's Friday!
I know, you guys say that basically every week, but usually, Thursdays are my Fridays. And my Fridays are my Saturdays. Which makes Saturdays Sundays and Sundays Mondays and that means no Saturday night drinks and no Sunday morning brunch.
Bleh.
But, thanks to a few last-minute schedule changes, it's your Friday, and it's also my Friday! Which means I can do normal people weekend things like drinks and brunch and beach days on a normal people schedule! This Saturday's weather is supposed to be sunny and 80s (knock on wood), so I'm really excited to get some much-needed Lake Michigan time in.
And, speaking of beaches, I'm also really excited to show off a new hairstyle I learned: easy summer beach waves!
(Plus, scroll down for a discount code on products!)
Remember how I teamed up with b. A Salon on Armitage a few weeks ago to talk about summer haircare? While I was there, Becki also taught me how to style amazing casual beachy waves that stay in place.
I kid you not these waves stayed in for three. full. days.
They're actually really perfect for day two or three hair, or for an active lifestyle. Or for a beach day! The longer they wear and the more wind they take, the more textured and natural they look.
So, let's get started.
(A full disclaimer. I was NOT financially compensated for this post. Also, there are affiliate links below!)
Becki started by brushing my hair out and sectioning it out. She started giving it some texture by using Shu Uemura Detail Master to spray big chunks of my hair, and then used smaller pieces to curl.
She used a 3/4-inch Hot Tools iron set at 350 degrees, which is ideal if you have fine hair like me. Becki said she would go hotter for thicker hair, but never anything above 425 degrees.
Some of my hair was wrapped around the iron while flat, and some was twisted beforehand to give the curls a bit of texture. Becki never clamped down on the iron — just used the rod of it to curl.
(Have I mentioned that Becki is basically the nicest person ever? She was so easy to talk to, which is the second best thing about a hairstylist! First is obviously good hair skills, and the stylists I've talked to at b. A Salon have both talents locked down.)
After the curling process was done, Becki finished the entire style with a spray of Kérastase Laque Couture hairspray in medium hold. It's a pretty brush-able spray, which is good because it's 2016 and really, who still uses hairspray that sticks or crunches?
After the spray, Becki coated her hands with a thin layer of Kérastase's Elixir Ultime spray before working it all through my hair to add a bit of shine and nourishment.
This is what really transformed the perfect Goldilocks ringlets into casual beachy waves.
Then, one last product: sea salt spray! Because are beachy waves complete without a sea salt spray? (No.) This little blue bottle is Kérastase's K Spray Á Porter.
Also, it smells a m a z i n g.
And, that was it!
I'm not kidding when I say these waves lasted for three days, and only looked better with wear.
I have never had a style last three days before. Having straight, slippery hair is both a blessing and a curse, but this style lasted for three straight days with just a little bit of dry shampoo at the roots on day two. Day three went up into a big voluminous ponytail. I wish I had photos because I felt like a dang rockstar.
I'm really looking forward to doing this with my hair more now that I know how to make curls that actually last! This is such a versatile hairstyle. Beach days, weddings, work, everyday wear — you really can't go wrong with tumbling, tousled waves.
And — if you're in Chicago and interested — b. A Salon on Armitage is offering 20 percent off all the products mentioned to readers! Just mention my blog name at the salon. It's right off the Brown Line Armitage stop in Lincoln Park at 1022 W. Armitage.
How do you style your beachy waves? Let me know in the comments!
This post contains affiliate links. For more information, please read my disclosure policy.