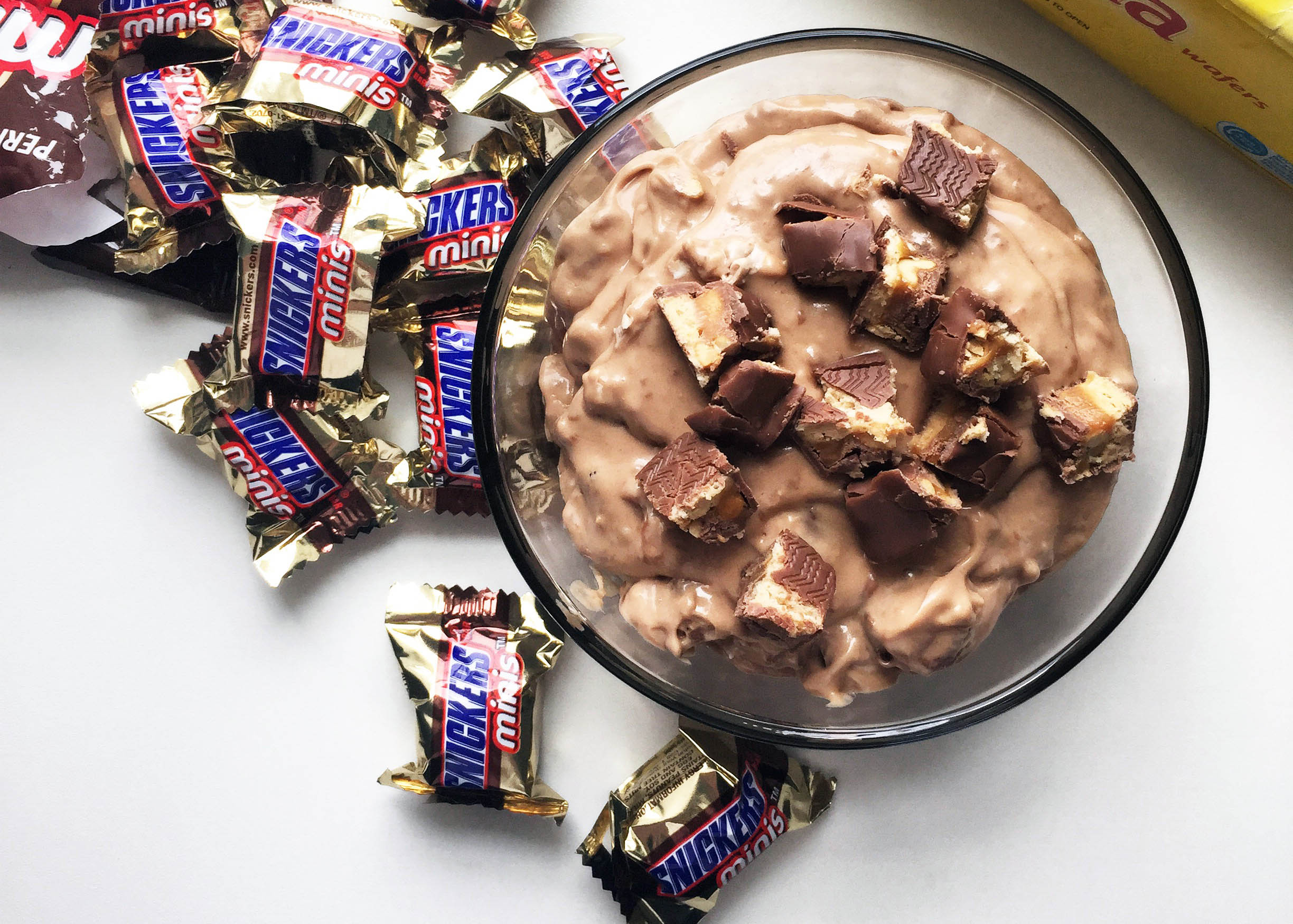 Fellow sugar addicts, it's the best day of the year!
Discount Halloween candy day!
While I am not above shoveling an entire bag of $.49 candy corn into my face in one sitting, sometimes it's fun to bring a little twist to the same treats that are eaten year after year.
One of my favorite fun size candy-based recipes is this super easy Snickers dip!
I'm not really a big fan of Snickers themselves. There are just so many other chocolate-based candy bars I'll grab before Snickers — Milky Way, Twix, Three Musketeer, etc.
But, I do really love this dip! It's really easy and rather impressive, and it only takes a few minutes to toss together. My friend Mickey holds a dip party every so often, and this is usually my contribution.
So, get to it. Grab a half-priced bag of trick-or-treat-sized Snickers from the store. Raid your kid's — or your, I'm not judging — candy bag. I mean, you could probably even hit up the office vending machine in a pinch.
You'll need:
-Snickers bars (3 full size or 15 fun size)
-1 tablespoon butter
-4 oz. cream cheese
-1/3 cup marshmallow fluff
-1/4 cup brown sugar
In a saucepan, melt the butter. Add two of the full size Snickers bars (or 10 of the fun-sized ones) and melt down. In a separate bowl, mix together the marshmallow fluff and brown sugar. Use a mixer so it's extra creamy!
Then, fold together both bowls. Chill for an hour, and then chop up the remaining Snickers bar and use it to top your dip.
That's it! I've seen iterations of this recipe that swap Cool Whip for marshmallow fluff, so that's always do-able.
My absolute favorite pairing for this dip is Snickers bars Nilla wafers, but you can also dip pretzels or apple slices into it.
What do you do with your leftover Halloween candy? Let me know in the comments!