A bachelorette party in Nashville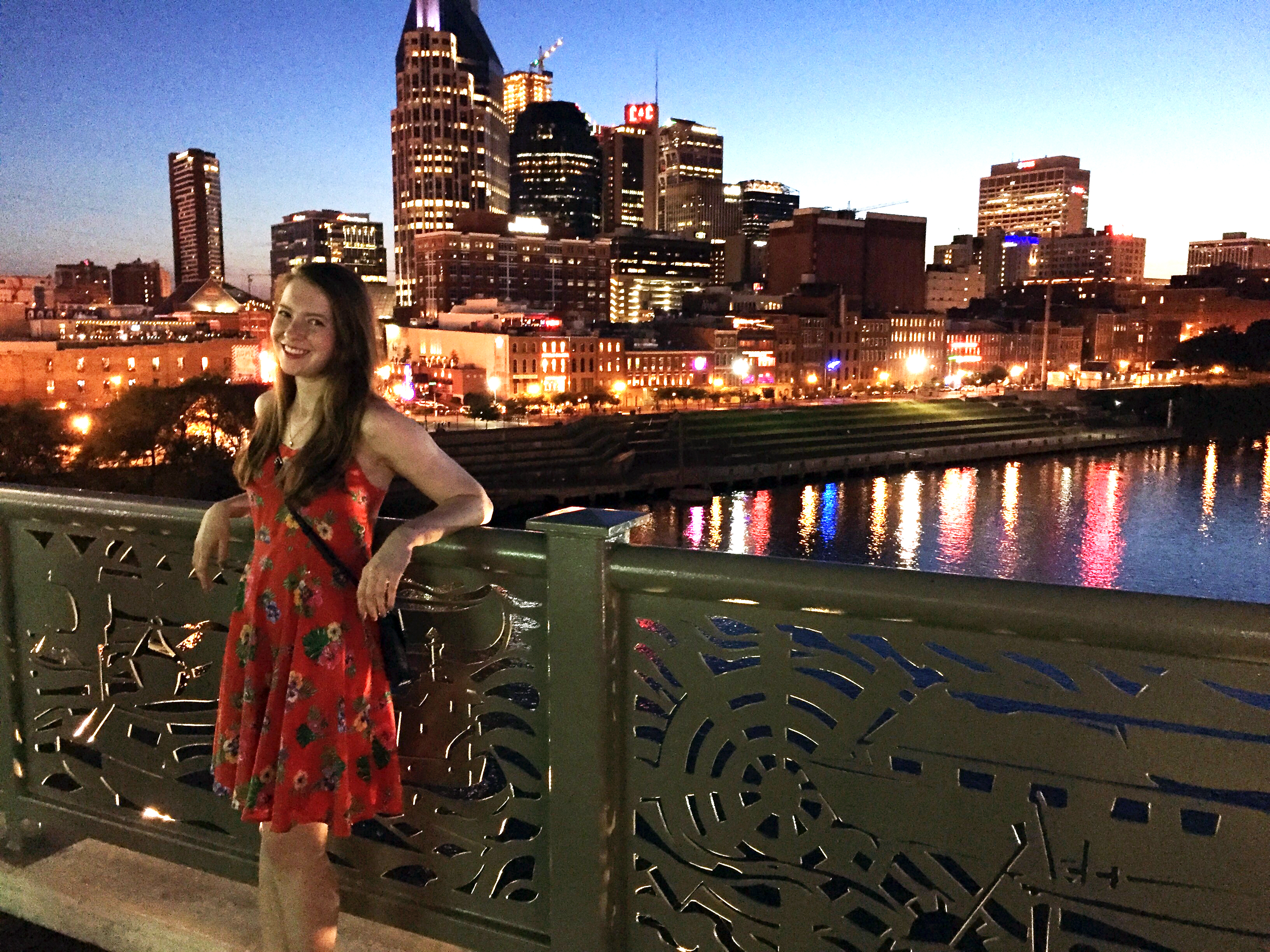 Pop quiz! If a 20-something girl tells you she's going to Nashville for a weekend, why?
If you guessed "bachelorette party," there's a pretty good chance you're right. So, I'm sure absolutely nobody will be surprised when I say that I just returned from an extended weekend trip to Nashville for my college roommate's bachelorette party. It was a complete and total blast!
Because I have an unconventional work schedule, I decided to head down to Tennessee a few days early to explore on my own, since I'd actually never been to Nashville before. I'd found a convenient Southwest flight, so I departed Midway right from work last Wednesday, and stayed in Nashville until Sunday afternoon. The bachelorette party started Friday afternoon, so I had an evening, a day and an afternoon all to myself before anyone arrived.
I stayed in the Nashville Downtown Hostel, which I checked into right after my plane touched down at BNA at about 7 p.m. Wednesday.
I walked around for a bit before meeting up with Mando's friend, Jon, for a drink at Melrose Billiard Parlor. Jon actually does the same thing as me — digital news production — but for the Tennessean! So it was really cool to talk about how our newsrooms worked over a beer… and plus, he has a great taste in bars.
Thursday morning, I went for a walk along the John Seigenthaler Pedestrian Bridge before heading to breakfast at Biscuit Love by myself. I got the biscuit french toast, and it was definitely worth the wait! Then, I walked up and down Broadway checking out some of the boot stores, and grabbed a coffee at Crema.
After I got my coffee, I made my way over to Hatch Show Print to take a tour I booked online. As it turned out, I was actually the only person that signed up for my tour! I ended up getting an hour-long personal tour, which was so cool. I took a printmaking class in college, so I was really excited to watch the historic letterpress shop in action.
I also got to make my own print in a back classroom of the shop, and look through stacks of old artwork and learn more about the process. This was definitely a highlight of the tour.
After the Hatch Show Print tour, I walked over to Puckett's to grab a late lunch of fried catfish, mac and cheese, and sweet potato fries. You guys, this catfish was delicious.
Then, I took an Uber over to the 12 South neighborhoods to check out some of the shops — like Draper James and the Frothy Monkey! — before I walked (yes, walked) the 3.5 miles back to the hostel. Had to burn off that biscuit french toast and catfish somehow!
I was planning on taking a nap, but some of the really wonderful ladies in my hostel invited me out… and who could say no? We walked to the pedestrian bridge to take some super touristy photos, then grabbed drinks and sushi on Acme's rooftop before heading over to Broadway. We ended up dancing to some serious '90s and '00s throwback music at Crazy Town and then calling it a night at 1 a.m.
On Friday morning, I checked out of my hostel and then went over to Arnold's Country Kitchen with the ladies from my room. I went with the "meat and three" combination of fried shrimp, mashed potatoes, mac and cheese, and green beans… plus a biscuit, sweet tea and pie. The three of us that went to Arnold's ended up trying just about every dessert on the menu… our table looked absolutely hilarious by the time we were done!
After lunch, we toured the Gulch a little bit more, peeping the blooms at Amelia's Flower Truck, wandering through the Downtown Antique Mall and taking photos with the Kelsey Montague #WhatLiftsYou street art. Then, I said goodbye (tears!) and hopped an Uber over to East Nashville to meet up at the rental house for the bachelorette party.
I actually had a really great time during the hostel portion of my trip. I'd figured I'd just end up making my way down the touristy list I'd compiled for the trip on my own, but I completely underestimated how willing the ladies in my hostel room would be to hang out. I loved having the chance to go outside my comfort zone by dining at Biscuit Love and Puckett's alone, but it was also so much fun to make friends with the hostel ladies, who hailed from Arizona, Germany and the U.K.
Once I got to East Nashville, the bachelorette ladies and I toured some of the shops around Five Points, which is right where our rental house was. We ordered Five Points Pizza for dinner, and then got all dolled up (yes, cowboy boots included!) for the night.
This bachelorette party was kind of insane, but in the best possible way… there were 20 of us! I lived with the bride — Amanda — during my senior and super-senior years of college. The other "1018" roommates that showed up for the Nashville bash included Kendall, Emily and Tiffany, so it was really cool to see everyone, and meet some new faces as well.
It was so hard to coordinate 20 of us… especially after shots and drinks. A lot of us ended up splitting off and running into each other as we made it up and down the streets. We were dipping in and out of bars so quickly that I couldn't keep track of which ones we ended up at. It was crazy, and there was a lot of country music. By the end of the night, my roommates (and Amanda's future sister-in-law) were the only ones left standing.
We went home to stuff our faces with leftover pizza (doused in ranch dressing) and then went to sleep.
By some minor miracle, the 1018 girls woke up Saturday morning before anyone else. What. We had planned on setting up beer pong and corn hole for the day, but it was absolutely down pouring. So… we cracked open a bottle of rosé, played Cards Against Humanity, napped and gossiped until the weather cleared.
Then, we walked down to Barista Parlor for coffee, and stopped at an adorable hot dog stand and a few bars before getting ready at the house, spending a few more hours on Broadway, and then heading to a really late dinner of boozy slushies and hot chicken (a catfish poboy for me!) at Party Fowl.
After that, a few of us went back to the house, me included. I was so tired!
But, the up side of completely passing out at midnight was that I was up early the next day. We checked out of the rental house, stowed our luggage in Emily's car (the rest of 1018 drove down from Michigan) and spent the rest of the day exploring. We dined on brunch with bloodies at Husk, slurped milkshakes at Soda Parlor (it was #nationalicecreamday, after all!) and then ventured to Germantown. There, we sipped coffee at Red Bicycle, dipped into some more antique stores, wandered through the mall in front of the state's capitol building and poked around the farmers market before we sped away from the skyline and toward the airport to end the extended weekend Nashville trip.
A few more things:
I initially thought I overpacked… but as it turns out, I didn't. I brought way, way more clothes than I thought I needed since I couldn't choose between outfits, but it actually ended up working out! My entire stay was a hot and humid 90 degrees, and I ended up showering and changing three times the first day alone I was in Nashville. I wore almost everything I brought!
If you're planning on relying on public transit when you get to Nashville, don't. I had planned on using the MTA to get around, but I forgot how spoiled I am with the CTA here in Chicago until I got to BNA and realized there was an hour and 20 minute wait for the next bus. Uh, nope. I walked and Ubered everywhere. Nashville's public transit is horrible.
I honestly wasn't sure what to expect in Nashville. I don't eat meat and I hate country music, but Mando — who used to live in the city and work at the Tennessean — convinced me that I'd love the city. And I did! I wasn't a big fan of the honky tonk/ Broadway Nashville, but I did love hipster neighborhood Nashville, and I'd definitely love to have an opportunity to come back and explore some more.