"Everything fall in a squash" squash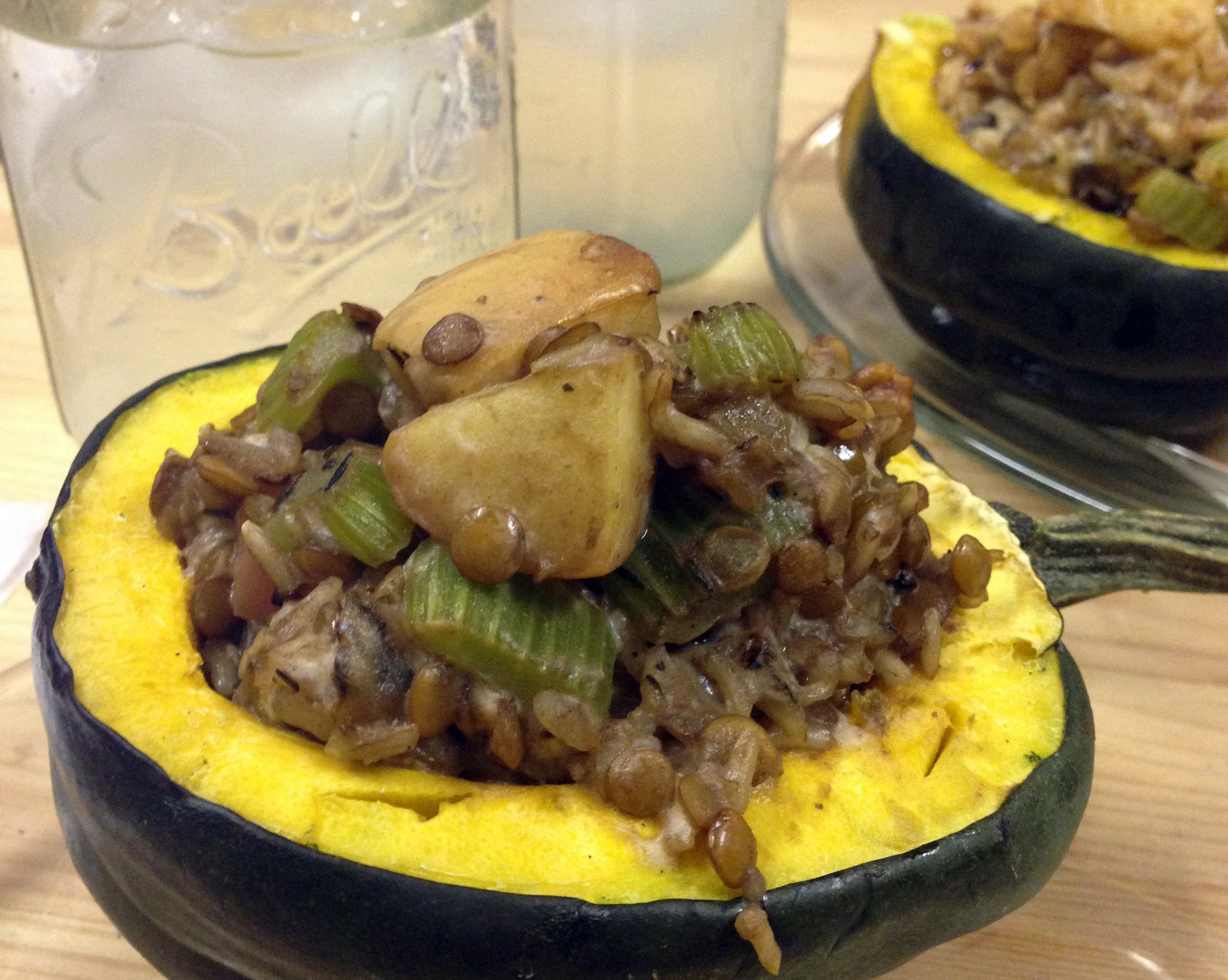 There's almost nothing more fall than the recipe I'm about to share with you. When I say "almost," I mean that the only fall comfort food this recipe is missing is pumpkin. It has the savory and sweet fall tastes of dried cherries, buttery acorn squash, tart apples and hearty walnuts. Hard to get more Autumn in one stuffed squash!
I'm actually pretty proud of this recipe. This is the first time I've made stuffing from scratch without any recipe to base my creation on, and I like to think I succeeded. (At least, my boyfriend said I did.) We used two squash to make four servings, but the stuffing will feed eight easily.
You'll need:
3 stalks of celery, chopped
1/2 white onion, diced
1/4 cup dried Michigan cherries (I say Michigan because I'm partial to my mitten state, but use whatever type you would like.)
2 Gala apples, cored and diced
Apple cider
1/2 cup green lentils
1/2 cup brown rice
3 oz. goat cheese (I used herb and garlic, use whatever you would like)
1/2 cup chopped walnuts
4 acorn squash
Thyme to taste, fresh or dried
Salt
Pepper
(Notice the onion is missing. The onions I had were rotten, so I had to send my boyfriend to the store to grab some fresh ones.) Preheat your oven to 375. Cut each acorn squash in half and scoop the seeds out of the middle. Fill a shallow baking pan with just enough water to cover the bottom, and set your squash inside, hollowed side up. Fill each with a pat of butter and some brown sugar, and bake for 45 minutes.
Get started on the stuffing by boiling your lentils and brown rice together in the apple cider over medium high heat. I'm never good at boiling rice and the directions on the box seem to hate me, so I just tossed everything in the pot and set it to a low boil.
Once the apple cider was boiled up and the rice and lentils were soft, you're free to add the apples and a little more apple cider, just enough to keep the rice and lentils from sticking to the bottom of the pan while your apples and walnuts steam.
(Yes, my stuffing was just halved. My boyfriend won't touch anything with nuts in it, so I had to separate the stuffing before putting nuts in my half only. Sigh, picky eaters.) While your rice, lentil and apple cider mixture is cooking, you can prepare your sautéed mix. Add a teaspoon of olive oil to a frying pan, and add the celery and onion, as well as salt, pepper and thyme to taste.
Once your veggies are semi-transparent, add the cherries and sauté a little more.
Once your cherries are warm, add the sautéed mixture to the lentil and rice mixture. Stir together and add in your cheese. I used three ounces. I thought it was way too much cheese, but my boyfriend actually would have preferred more. It's personal preference, I supposed.
Load your squash and pop them back into the oven for another 20 minutes.
And that's it! This is such a complex dish with a lot of flavor, so my boyfriend and I chose to eat these on their own. A lot of incredible fall flavor in one dish. Let me know if you give this one a try, and if you do, what you thought and what modifications you made.
As always, thanks for reading! Have a great weekend.