DIY university pennant print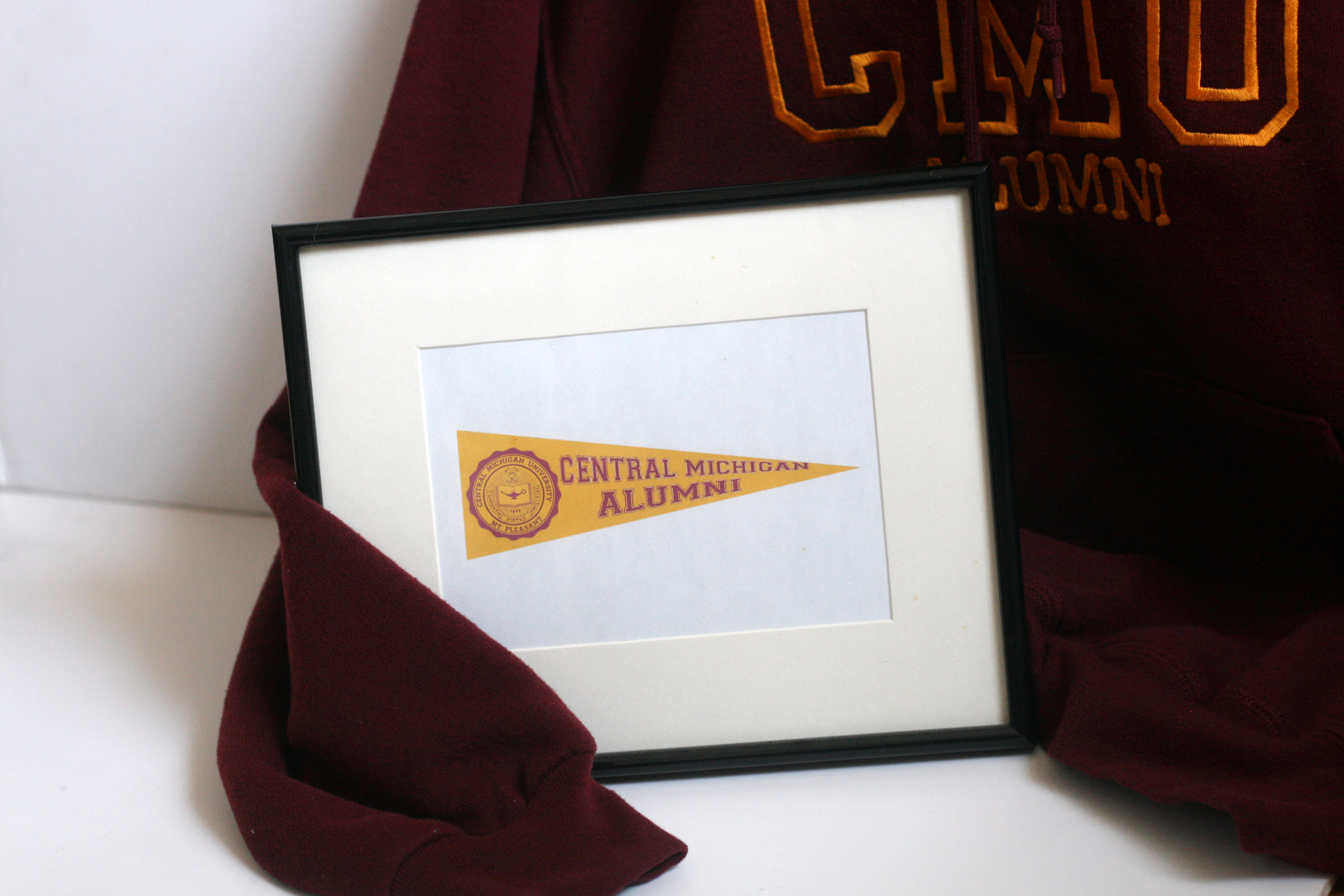 Anyone who knows me can totally testify to the fact that I obsess over love my alma mater.
(Seriously, I will yell at other alumni friends who wear swag from other universities. Don't come near me in your gaudy MSU gear. I will get very angry.)
After seven and a half years and two degrees, Central Michigan University and I have an incredibly strong bond, and I have a lifelong loyalty to the college that turned me into the person I am today.
I'm incredibly proud to be a Chippewa (Fire Up!) and I wanted a cute way to represent that in my apartment!
I glanced at Carly's apartment tour post on The College Prepster yesterday and the little Georgetown pennant print that's part of her gallery wall caught my eye.
I knew I wanted to translate this look to my own apartment! I looked for CMU pennant prints, but unfortunately couldn't find any that had a high enough resolution for me to print.
So, I decided to make my own!
I used a combination of Illustrator and InDesign to make my print. I started by opening an 8.5-inch by 11-inch landscape file in InDesign, but you can make whatever size you'd like.
I started by making the basic shape of the pennant using the polygon tool – three sides and 0 percent star inset. I rotated it 90 degrees clockwise and dragged it out until the triangle resembled a pennant.
Then, I placed my university's seal onto the pennant and used the eyedropper tool to match the color in order to get the exact shade of gold as my pennant's background.
Specifically:
Click your pennant shape
Click the eyedropper tool
Sample whatever color you'd like your pennant to be
It's a good idea to type out your text now as well so you can sample the color and then cut and paste it into Illustrator. I used the font "Varsity" from dafont.com.
Now you'll need to move over to Illustrator. Open up a new file, the same size as your InDesign one, and paste your text. Center your letters. Make sure the entire type is selected group it all together. Then, go to Effect -> Distort & Transform -> Free Distort.
Move the little black boxes around, and you'll watch your words distort into a pennant shape. 
You can separately adjust the font size, spacing, etc. here. Then, save your Illustrator file and head back over to InDesign.
Place the Illustrator file into the InDesign file and then adjust it accordingly. And that's it!
You can play around with a border, or add mock punch holes and tassels on the side. When you're finished, export your pennant as a JPG, print it and frame it!
I'm so glad I have this little piece of CMU spirit in my apartment. It's not as garish as a full-sized flag, but is eye-catching enough to spark conversation.
Why yes, I AM a CMU alumna. And yes, we ARE better than Western. Thanks for noticing.
Right now, my pennant print is on that Ikea shelf I'm still figuring out to do with, but I'll likely move it over to the gallery wall once Elise and I get around to swapping out the Thanksgiving Christmas prints that are still gracing our apartment walls.
Just a heads up – a lot of universities have their seals, logos and other official graphics branded, so make sure you know what is and isn't OK by your university's standards when it comes to using collegiate logos.
How do you rep your university pride in your home? Let me know in the comments!