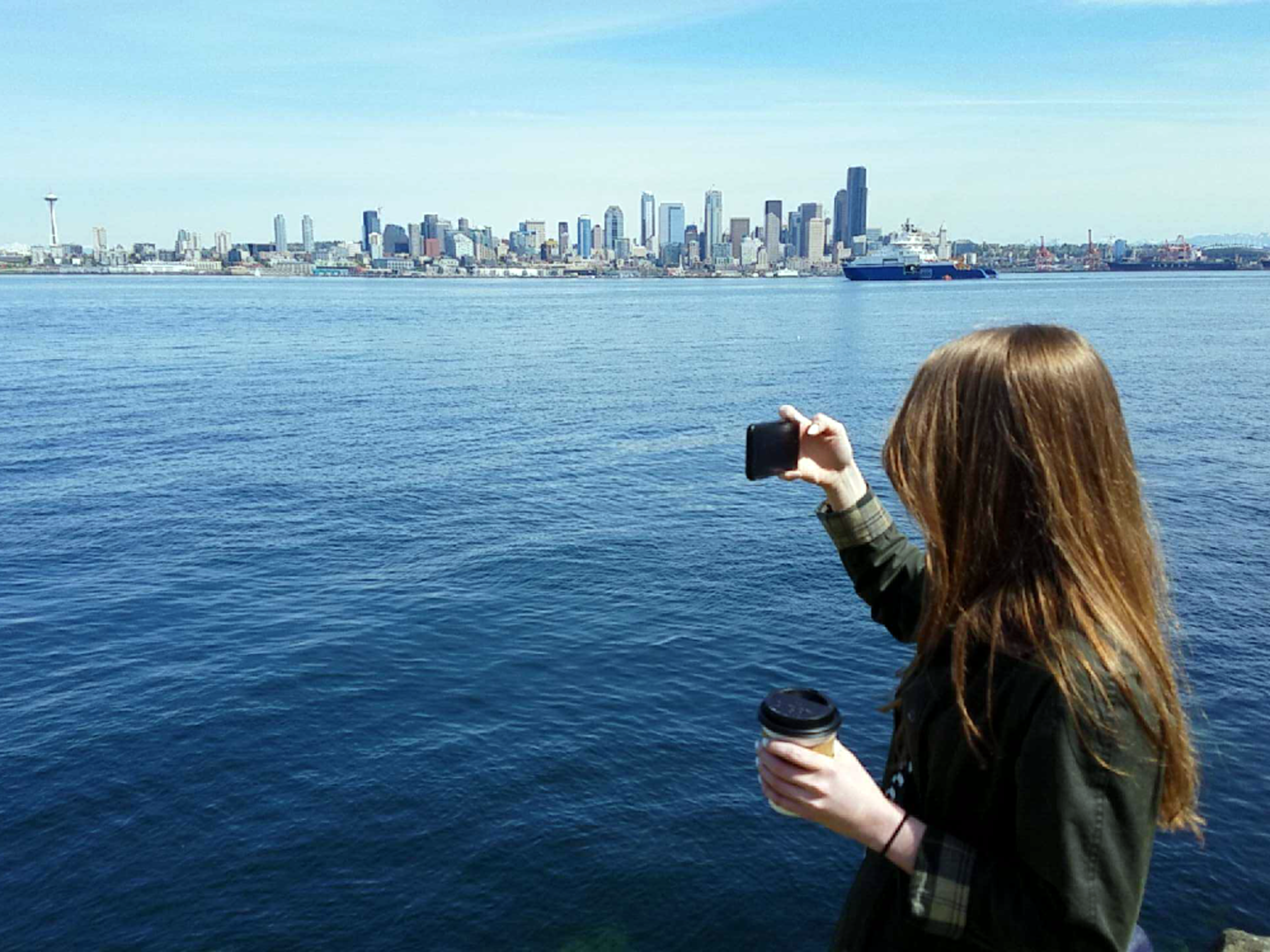 Hello from PDT! EDT? CDT?
I'm feeling quite a bit jet lagged right now (I'm back in Central time after hitting up Pacific and Eastern all in a 24-hour span), but the complete-and-total exhaustion is totally worth it. I spent this past Friday and Saturday on the other side of the country in Seattle, and it was one of the most amazing trips I've ever taken — even though it was way shorter than I would have liked.
Photo by Alex Van Der Stuyf
I know I've mentioned it before, but when I take trips, I prefer to travel to easily-accessible locations (short drives/ major metropolitan cities near airports) for short periods of time (two to three days/ weekends) because of my crazy work schedule.
My college friend Vandy has visited me a few times in Chicago for various music festivals (he's addicted) and told me that, hey, should I ever want to visit him and his girlfriend Breanna in Seattle, he'd be totally down to host.
And, I mean, you can't just put that offer on the table and not expect me to pick it up. I booked off a weekend, bought a ticket and hopped on a plane from ORD to SEA.
My flight left Chicago at 10:30 p.m. Thursday and got into Seattle at 1 a.m. Friday, so I spent my first night chatting on Vandy's rooftop (skyline view!) until about 2 a.m. Super low key. The next two days were so busy. Good busy, though.
Day One
We woke up and grabbed brunch at Alki Cafe before driving downtown. We stopped at the Starbucks headquarters to check it out (pretty boring really) before we headed picked up coffee at Zeitgeist. I really dug the industrial vibe of the cafe, and my coffee (latte art!) was really good and also reasonably priced, which was a total surprise. Then, we toured the Pioneer Square neighborhood. I loved the food trucks that lined up in Occidental Square! We were there on a Friday at lunch time, so they were all over the place.
We walked to Columbia Tower to check out the view from the observatory. It was a little hazy, so I couldn't really see any of the mountains in clear view… but the view was still absolutely incredible.
Photo by Alex Van Der Stuyf
After taking way too many photos from 73 stories up, we went down to Pike Place… because is any Seattle trip really complete without a trip to Pike Place? I know it's the most cliché tourist thing, but I absolutely loved the market. I've always found myself supporting local farmers and grocers when possible — I did write my master's thesis on my college town's cooperative grocery store, after all.
We went during early afternoon and it wasn't too busy. I was so amazed at the rows and rows and rows of fresh flowers. A good third of everyone at the market was carrying a huge paper-wrapped bouquet of flowers. All the arrangements were different and all absolutely gorgeous. I was surprised at how costly a lot of the produce was, though. Four ears of corn cost $5 — and since I'm a farm town girl at heart, I'm used to picking them out of the back yard and shucking them right then and there! Ears would cost $.10 at most at the local grocery store.
We checked out the original Starbucks (of course) before grabbing drinks and pizza at Von's. Von's is one of Vandy's favorite places. It has an entire wall of liquor — including a bottle that will set you back a casual $1,000 per one-ounce shot. (Stipulations to purchase include a 35-year-old marriage and your wife's written permission.) Afterward, we toured Vandy's office before heading back to West Seattle to pick Breanna up from work.
Then, we headed to Capitol Hill. We popped into the Starbucks Reserve and Roastery to watch the beans get roasted. It was — by far — the fanciest Starbucks I've ever been to. There were several large bars you could taste different brews/ blends at, and you could watch the beans get roasted. There was also a gift store, of course.
Then, we capped off our night with a slew of bars. We hit up an arcade bar downtown and went to a circus-themed bar. Then, we went back to West Seattle and grabbed drinks and snacks from a bar called The Chupacabra and had another round at Shadowlands before calling it a night.
Day two
My Saturday started off on a pretty bad note — Midwest seafood has been forever ruined for me. I'm kidding! Kind of. But ohmygod Seattle had some of the best seafood I've ever had. We started our day with a brunch at Salty's, which was an all-you-can-eat seafood buffet. You don't even want to know what I crammed into my face.
Fresh fruit, fresh salmon, bagels and lox, spiced catfish, crab legs, shrimp, mussels, clams, oysters, Belgian mini-waffles topped with raspberries and hand-whipped cream, chocolate and caramel fruit fondue, death-by-chocolate cake, peanut butter cake and a raspberry jam-filled scone. Whoops.
As a bonus, we had an amazing view of the downtown skyline and Puget Sound from our table!
After we practically rolled ourselves out of the restaurant, we grabbed lattes at a local organic coffee shop before we walked over to Seacrest Marina Park to catch the water taxi across the sound. And… then we missed the taxi. Bummer! Except… not really? We ended up walking up and down Alki trail to check out some of the views. We walked along some of the beaches and took in the gorgeous scenery – the skyline and the mountain ranges. I'm actually really glad we missed the taxi, because walking and checking out the views for that hour was a highlight of the trip.
After our hour was up, we hopped on a water taxi back over to downtown.
Also, we seriously almost missed the water taxi for a second time. Whoops.
We walked back over to Pike Place on our way north. The market was so much busier on a Saturday. I could barely walk! This time we stopped at the gum wall so Vandy could add his piece.
Vandy touched the wall (ew) and then we walked through Sculpture Park to get to the Space Needle and the armory. We were going to grab tickets to get to the top of the Space Needle, but the line was a bit long, so we decided to grab drinks in hopes of waiting it out.
We grabbed drinks at "Some Random Bar." (Really, that's what it was called.) I had a raspberry and sage brew before we went back to the Space Needle and gave up on waiting in line. We took a Lyft over to Pyramid Brewing (I went with an apricot wheat beer) and then hopped back on the water taxi to get to West Seattle. We watched the sunset from the dock and then scoped the night lights from the sound.
Then, almost exactly 48 hours after I had touched down, I was back at the airport.
Whew.
This is the second time this year I've fit an entire vacation into a two-day span. As much as I love my job, it's really hard to take time off from it. As a compromise, I've gotten really good at making the most out of my trips. Of course, there are a ton of things I would have loved to do that I didn't get a chance to do, but overall, I'm really happy with my condensed vacation.
I owe a huge thanks to Vandy and Breanna for planning the entire excursion. Vandy picked me up at the airport, arranged for my lodging and shuttled me around the entire city.
I had a pretty unexpectedly rough week leading up to my trip for a variety of reasons, so it was really nice to take two days to have a little fun. I was actually  considering canceling the trip for a quick second just because I didn't have the time to prepare. So, it was absolutely fantastic that Vandy took charge of my visit and put together an itinerary. So much less stress!
I honestly wasn't expecting to like Seattle as much as I did. But, it's safe to say that I'll probably be back for another visit sooner rather than later.