The search for the best daily planner 2016-2017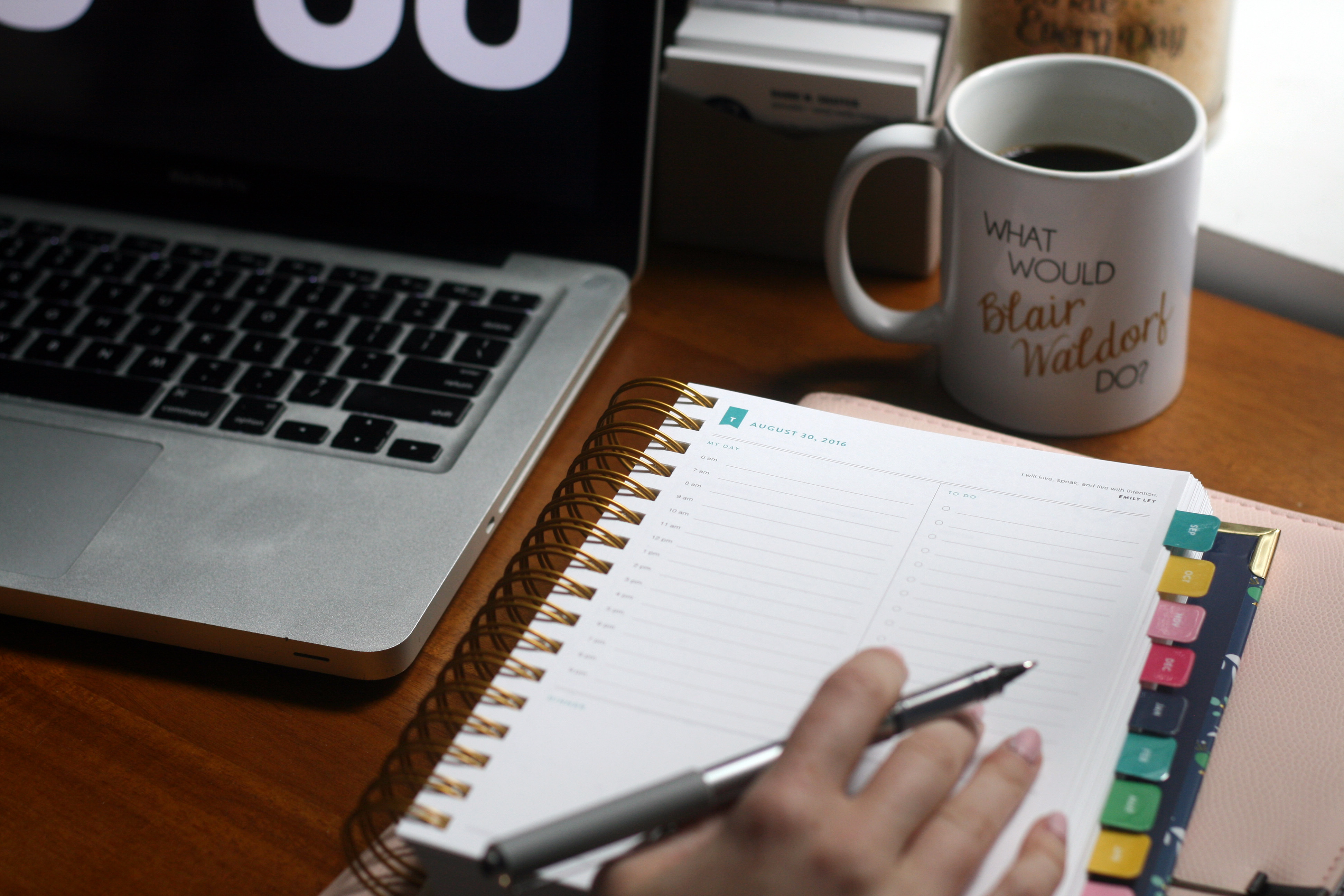 I'm an incredibly Type A person.
Stop me if you've heard this one before.
I thrive on structure, and the word "spontaneity" is not in my vocabulary. If you pull me away from my routine, I will likely die.
OK, that's a little bit of an exaggeration. But, I'm a very organized person and I cannot function without some kind of list, somewhere, detailing my appointments and tasks.
I'm very, very busy. I'm not saying this to #humblebrag, but saying it because I know so many of my fellow 20-something women are in similar positions. The 9-to-5 barely exists anymore. So many millennials not only have a day job, but also keep busy with side hustles, freelance contracts, entrepreneurial plans, side consulting jobs and personal branding projects.
Plus, yunno, remembering to feed ourselves and shower daily. Let's not even approach the marriage-and-kids idea at the moment.
In college, I used a basic weekly planner with an hour-by-hour breakdown. I completely filled up every. single. page. with scribbles about what classes I'd be in, when my exams were, what time my work shift were scheduled and what homework I had to complete.
Then, after college, I started my job as a newspaper reporter and went digital with my iPhone. I didn't have a lot of general "to do" type tasks, and mostly just had to keep track of interviews and appointments I had set up, so this worked fine. I put an appointment into my calendar and then got an alert before my appointment. Easy.
I kept using that same system when I first started my social media job here at the Trib, but the longer I used it, the more I realized it wasn't working. While a calendar system worked when I was balancing meetings, it hasn't been quite so efficient now that I'm balancing tasks.
I quickly realized that I needed a new solution. I had started using a legal pad at work every day to write down what posts I needed to schedule and the tasks I needed to accomplish. I quickly and easily streamlined that process with daily social media scheduling sheets. These have been a lifesaver.
With work-specific organization out of the way, it was time to tackle everything else. I kept using the calendar and started putting my to do list into my iPhone's Reminders app. It was OK… but I didn't have anywhere to write down my meal planning or outfit planning, so I started writing that down in the "Notes" app. I was using three entirely different apps to manage one thing: my life. It just wasn't working.
So… I compressed everything. I started using the "Notes" app on my phone to write down — every day — my appointments and tasks. It was… a clusterfuck not very efficient.
Ugh, right? I got so lost in all the text and the poor layout that I (more often than not) ended up just ignoring it completely and trying to remember everything I had to do off the top of my head. Looking at it was just so daunting! I looked at apps to manage everything that my Reminders, Calendar and Notes app handled, but couldn't find an app that I really enjoyed… so I kept updating my Notes app with everything.
More often than not, I would end up just copying my entire to do list down onto a piece of loose-leaf paper and crossing things off with a Sharpie as I accomplished them.
Then, the notebook-and-Sharpie routine became the norm. I started carrying a notebook with me to-and-from work every day and each day I would start a fresh page on which I would jot down my to do list.
At that point, I had an "aha" moment.
I needed a physical planner again!
So, I started looking. I don't know if any of you have ever explored the #planneraddict community, but it is v overwhelming.
I started making a list of the non-negotiable things I needed in a planner.
A timeline in which to write daily appointments.
A large number of lines for tasks.
An area to write out designated meal plans for the day.
A general space for notes and reminders (ie: outfit plans, bills due, birthdays, etc.)
I decided that a daily planner would be the best option, and I narrowed it down to a few.
After weeks of antagonizing, (OK not really but close) I ended up going with the Emily Ley Simplified Planner.

The 2016-2017 version started on August 1, so I've only had about two weeks to get into using it. But, so far, I love it.
And, my brother's girlfriend Kayleah (one of the nicest people ever) sent me a cute package full of planner stickers to use as soon as I posted a photo of my new planner on my Snapchat story! How sweet is she?
If you have any tips or tricks for staying organized, let me know in the comments. I'd love to learn some new things from you guys.