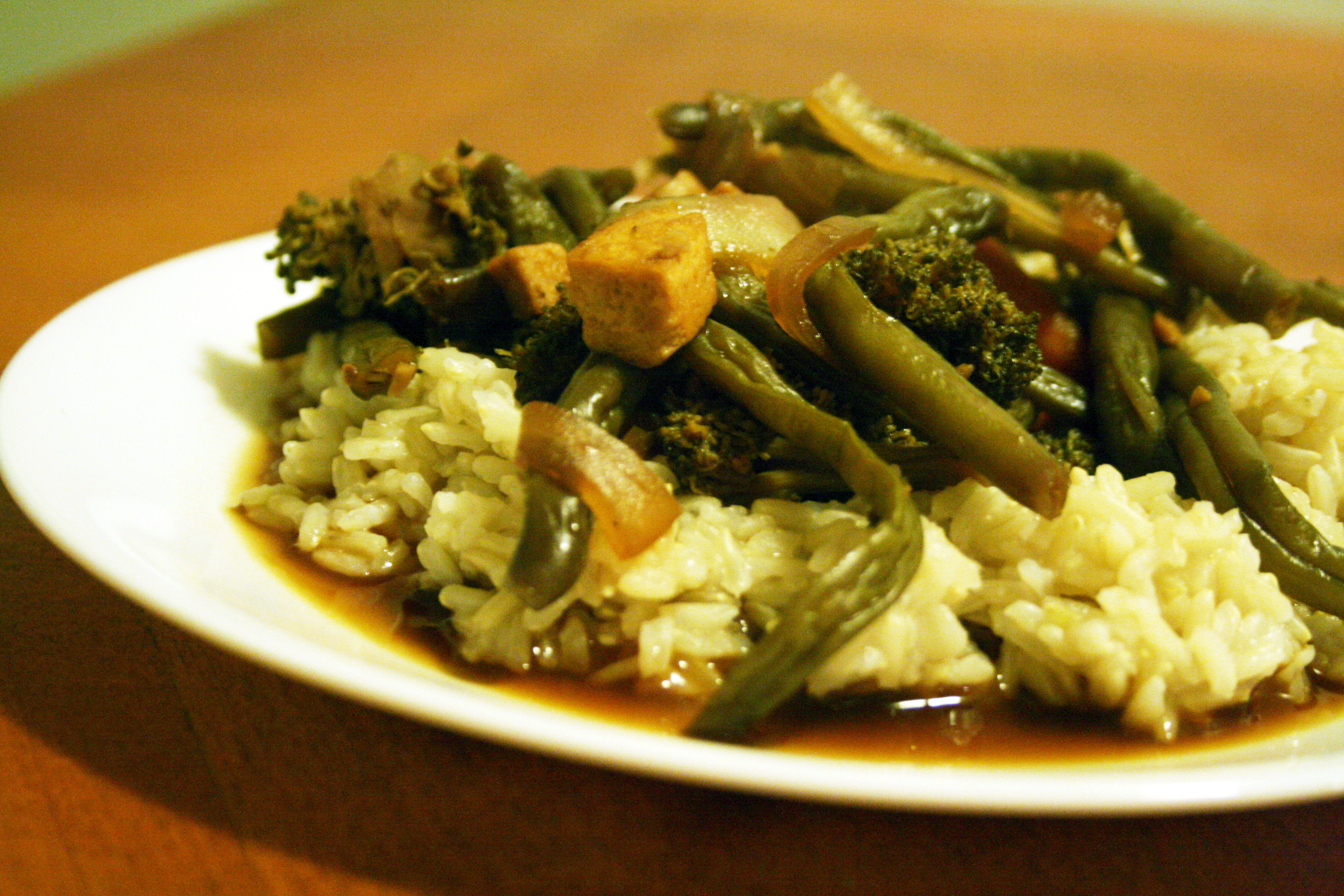 If you haven't noticed lately, I've been on a major slow cooker binge. I guess I've been inadvertently slowly making the transition from the fall theme of my Food Fridays segment into a Crock Pot/ slow cooker theme? It's about this time of the year when I start getting really busy. Between work, end of semester finals and the DIY holiday craftiness that suddenly starts taking up a part-time job's worth of every day, I really don't want to put the same effort into cooking my meals that I do in the fall. Hence, the slow cooker. It's pretty great. Unfortunately, most feasible slow cooker recipes are not very vegetarian friendly, which is a bummer. I love a good vegetarian chili or stuffed peppers, but I like a little variety. I found this recipe the other day, and I thought it was actually pretty good. It branded itself as a orange honey tofu, but by the time I finished with it, it ended up more as a slow cooker stir fry, and I'm not too disappointed about it.
You'll need:
One block of super firm tofu
Mixed vegetables (I used a bag of green beans, a bag of mixed broccoli and carrots and half a white onion)
1 tsp. olive oil
1 1/2 tsp. minced garlic
1/4 cup soy sauce
1/4 cup honey
1/3 cup orange juice
1/4 tsp. paprika
2 tsp. rice vinegar
Layer all your veggies in your crock pot and top with the garlic. Mix the rest of everything together in a separate dish to create your sauce. I made it in a saucepan over low heat to help the honey mix in a little better. Fry your tofu up in the oil for a few minutes, just until it browns on all sides.
Throw the tofu on top of the veggies and top it all with the sauce.
You can cook on high for three to four hours or on low for six to eight hours. Serve with rice and enjoy! The veggies are a little soggier than pan stir-fry, but overall, it isn't a bad vegetarian slow cooker recipe. Sometimes I'm willing to sacrifice the extra veggie crunch for the convenience. Plus, this recipe makes quite a bit of sauce, which makes it really, really good and filling with rice.
What do you put in your stir fry? Tell me in the comments!