Vegan stuffed bell peppers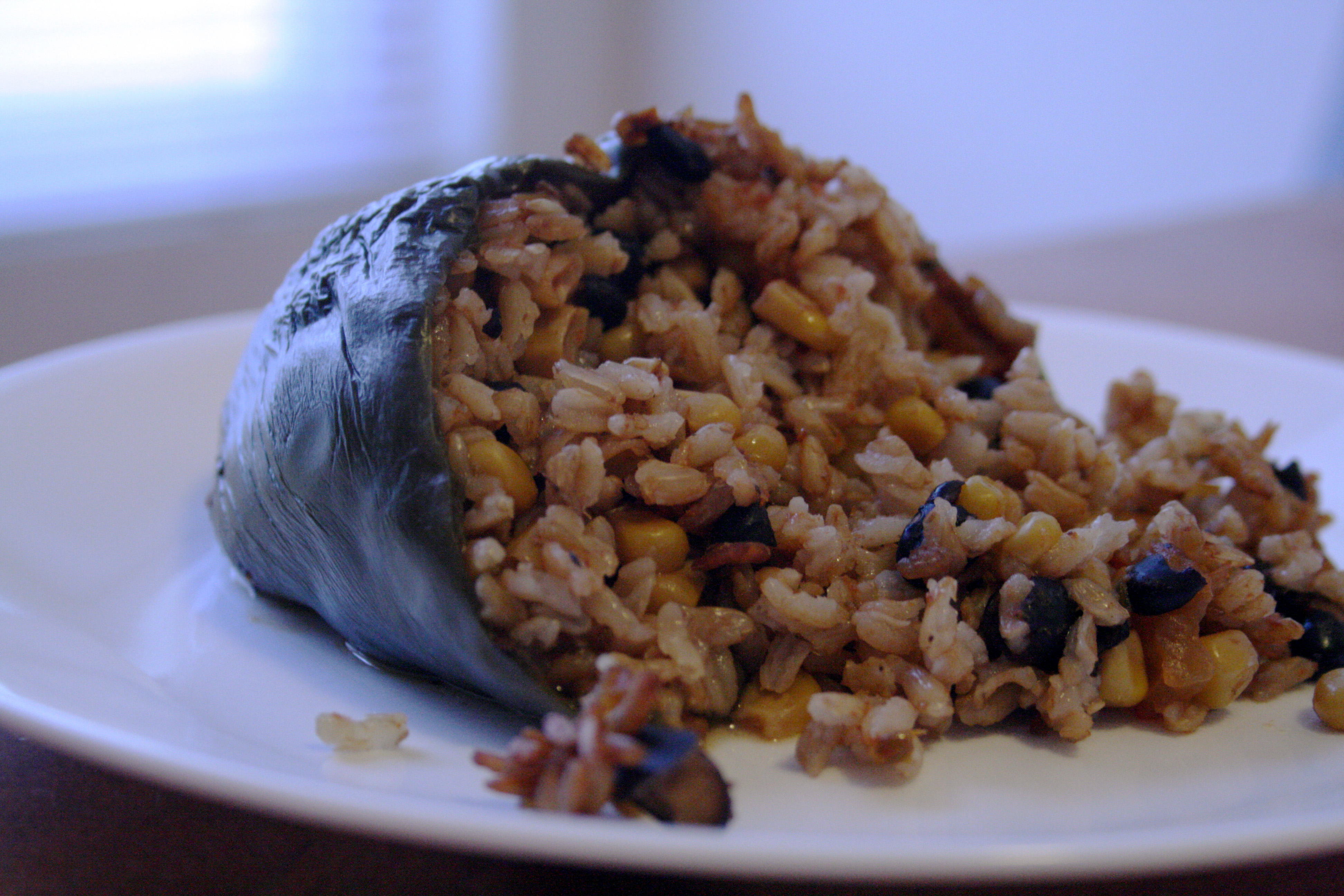 Happy Friday all! Can you believe it's almost Christmas? Good thing, I'm dying to share some of the DIY projects I've been keeping on lockdown lately. Anyway, food. I've been on quite a health-kick lately, if you couldn't tell by the cheesy bacon-y Tater Tot recipe I posted last week. (Kidding!) But– I've definitely been amping up my vegetable and citrus intake to ward off sickness season. Jake's been feeling ill for the past week. Not only have I been super healthy, I've also been doing a little more vegan cooking than usual. Green salads, smoothies, cookies… you name it. But since I'm still (technically) on my slow cooker binge, I'll share with you what I'm having for lunch today.
You'll need:
1/2 a can of kernel corn
1/2 a can of black beans
1/2 a tomato, diced
1 cup brown rice
3/4 cup pasta sauce
1 tsp. minced garlic
salt and pepper to taste
Four bell peppers (I prefer red, but Trader Joe's was out, so I used green.)
Optional: shredded cheese (Colby Jack is good) and parmesan cheese
I don't have an ingredient picture because so many of these items were laying around my kitchen, but I hope you get the gist! Start by cooking the brown rice, and then add the corn, black beans, garlic, salt and pepper, diced tomato and 1/2 a cup of pasta sauce. If you're adding cheese, mix it in here too.That's your stuffing. Cut the tops off your peppers, and stuff accordingly.
In the bottom of your crock pot, mix a cup of water and the remaining 1/4 cup of pasta sauce. Stir, and then set your peppers in the pot. If you're using cheese, dollop some more pasta sauce and sprinkle a little bit of parmesan on top of each pepper just before cooking.
You can cook on low for about four hours, or set the slow cooker on "Keep Warm" and let them steam throughout the night. Voila! I love these, because they're easy to stash in individual Tupperware containers and store in the work freezer for a work week of lunches. Yum! Peppers are filled with Vitamin C, Vitamin E and tons of carotenoids, like lycopene and beta-carotine. They're also chock-full of antioxidants. Definitely an awesome way to prevent the common cold.
So, now that I've shared my favorite vegan stuffed pepper recipe, I want to know- what do you put in your hollow bell peppers?