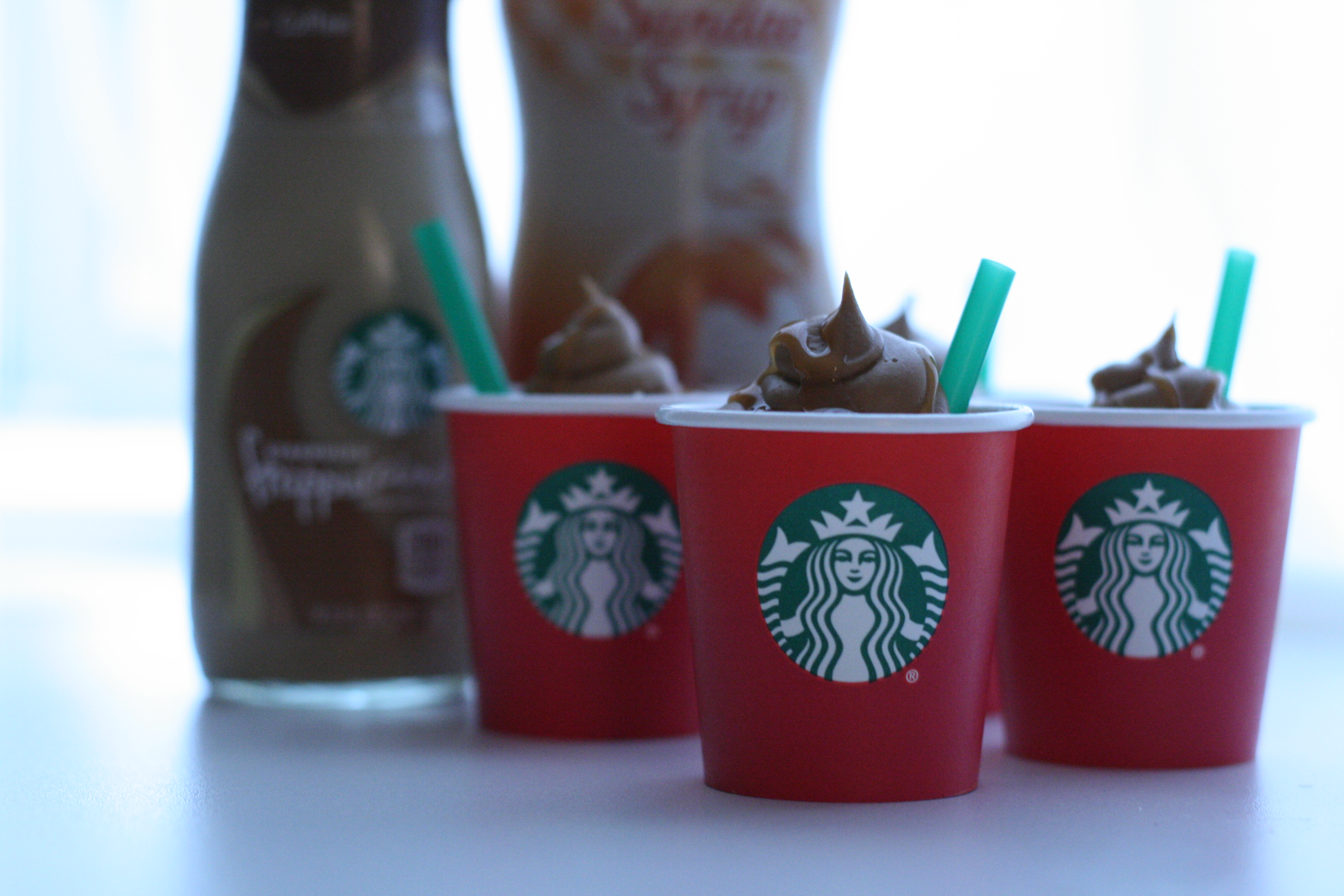 My work bestie, Kasondra, has a small addiction to Starbucks.
And by small, I mean she orders two Venti iced caramel macchiatos a day. Every day.
All of the baristas at the Starbucks across the street from our office know her. Not only does her name always get spelled correctly on her cup, but they also know what's going on in her life, and she knows all the store drama.
And — our office is on Michigan Avenue in Chicago. So to say the store is usually pretty busy would be an understatement.
So, when it came time to celebrate Kasondra's birthday, I knew the obviously perfect way to celebrate.
Starbucks-themed cupcakes!
These were super easy and fun to make. I spent forever trying to figure out exactly how to go about making them. Could you bake them in the cups? (No.) How do you get the cake in there?
I asked one of my coworkers, a former Starbucks barista, how to go about getting those little sample cups from Starbucks. Could I buy them?
No, sadly. You can't. She suggested I walk up to the nicest-looking barista and ask for a few.
I figured it was worth a shot.
So, I went to Kasondra's regular Starbucks and asked.
"Hey, you guys know Kasondra? With a 'K'? Bubbly blonde girl that works across the street? Orders a Venti caramel macchiato every day at about 2 p.m. and 9 p.m.? It's her birthday tomorrow."
Of course they knew Kasondra.
I ended up walking out with two dozen little sample cups. I had been hoping for maybe six!
I ended up making a box cake mix for the sake of time. I wanted to do caramel cake with vanilla frosting and a caramel drizzle, but my Mariano's didn't have caramel cake. I ended up going with white cake, caramel frosting and a caramel drizzle.
It doesn't look exactly like a Starbucks macchiato, but tasted decent enough!
I don't have too many photos of this part, since I was working alone, but I followed the directions to make a sheet cake. Then, I cut the bottom off one of the sample cups (#RIP) and used it to punch little circles out of the baked cake.
I popped the cake circles into the cups, topped each with a swirl of caramel frosting, a caramel drizzle and a green plastic Starbucks straw (which I had cut to fit.)
And that's it! Super simple. The office loved them, and apparently the combo of white cake and gluten-free caramel frosting was a hit, because I had to explain "SERIOUSLY, guys, it's just a box mix" at least 10 times.
Oh, and happy birthday Kasondra!
What's the most creative treat you've ever made? Let me know in the comments!