What I've learned living in Chicago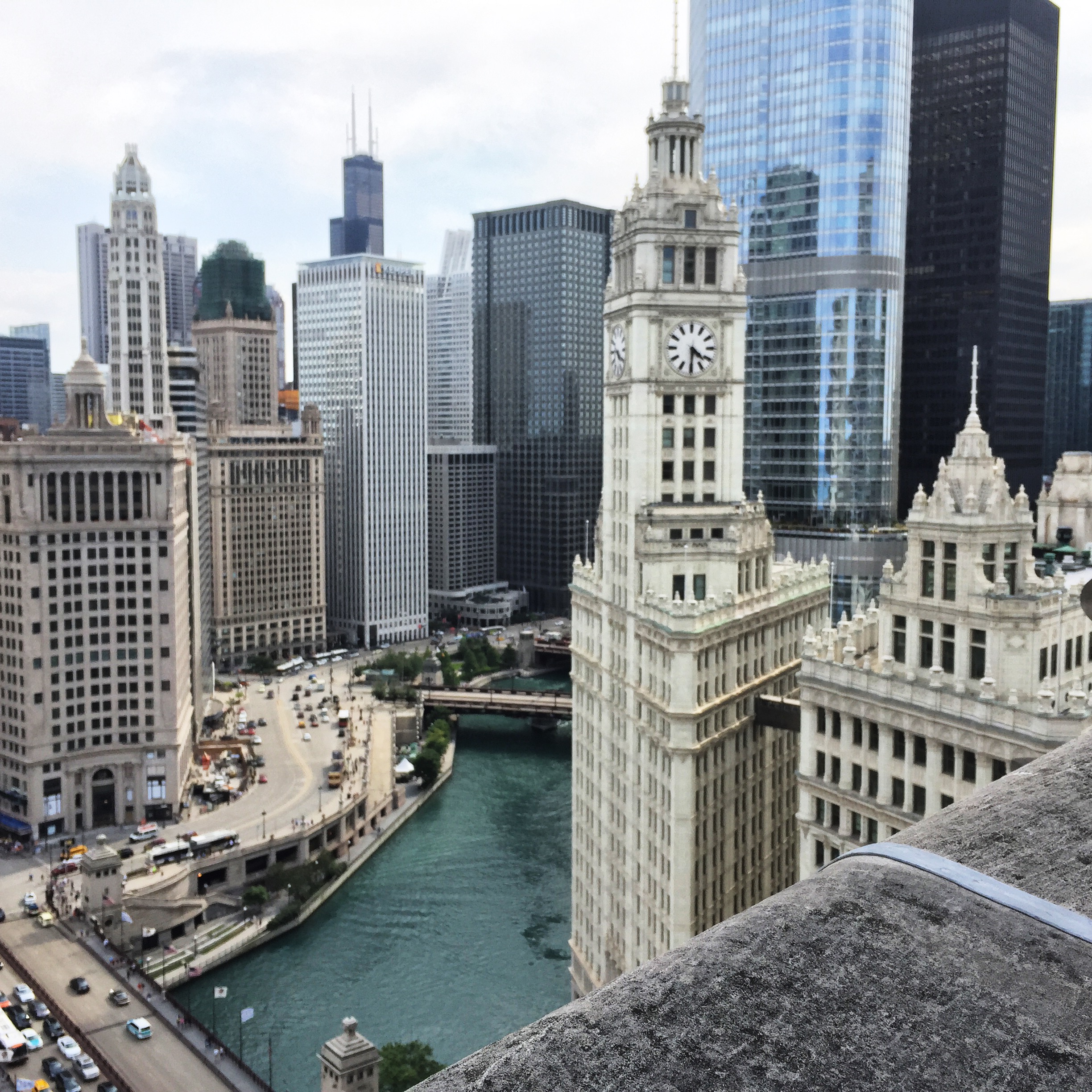 It's been six months — to the day — since I moved to Chicago.
Honestly, I can hardly believe it. I still get goosebumps when I cross the Michigan Ave. bridge to the State and Lake station on my night commutes, and I still get slackjawed when I see photos of the — MY — skyline.
This has been the unrivaled best six months of my life.
And during the course of my spring, summer and fall, I've learned a lot of things about myself, the human nature and this beautiful Midwest gem of a city.
Here are 50 of those things.
You will over prepare. You will plan all your meals, outfits, budget and overpack your work bag just in case the forecast was wrong and it rains.
And then all your plans will fall apart. You're going to meal plan for the entire week, then the cute guy you've been seeing is going to spontaneously ask you to mid-week dinner. Just go with it.
Be prepared for everything. You never know who you're going to run into, when you're going to want a picture and where you're going to end up going after work.
Cubs fans are terrible.
Blackhawks fans are even worse.
Some things are worth spending money on. These things include shoes, outerwear, handbags, quality coffee and a rugged iPhone case.
Some things are worth saving money on. These things include the champagne you bring to BYOB brunch, the gloves you will forget on the L, the cute top that will inadvertently end up drenched in vodka cran at the club and the cab rides you end up taking when you're lazy.
Budgeting is hard. It's so hard. Everything is tempting and it all costs money. But you have to budget, and you have to put money into a savings account.
Dating is real. People actually do go on dates. You will meet people — either on the L, outside a bar, through friends or online — and they will want to formally take you out for dinner, drinks or coffee.
Dating sucks. Hookup culture is real, dates will flake and men will disappoint you. You will end up crying and eating a pint of Ben & Jerry's a few times a month. But you're young and pretty so you'll get over it and move on in three days.
Public transportation is frustrating and unreliable.
City traffic is even more frustrating and unreliable. Especially if you are in a vehicle that must be parked at the end of the journey.
Always choose nights out with your friends over sleep. You will regret it if you don't.
You will rely on hairties like you never did before.
You will lose your sense of personal space very quickly.
There is no such thing as too much hand sanitizer.
It is very easy to make friends. In fact, you will make more friends than you can even maintain friendships with. Don't worry about making friends.
There will always be someone more lost and confused than you.
It's called the "L," not the "el."
…And when you're on it, take your backpack off and hold it between your legs. Also move out of the way if someone is trying to exit the train.
Avoid the Wilson stop after dark.
Bring your headphones everywhere.
Summer will come, and you will cancel your Netflix. If your TV breaks, you will not notice. Then when you notice, you will not care. There are a million other things to do that don't involve watching reruns of How I Met Your Mother.
Every neighborhood has a stereotype. These stereotypes usually exist for a reason.
Date rape drugs are not just scary made-up stories. They are real.
Directions include North, South, West, Lake.
Don't drink the Malort. Don't do it.
Giordano's is overrated. Piece is much better.
There is better shopping on the North stop than there is on the Mag Mile.
You can put ketchup on your hot dog. Chicagoans care, but they don't care that much.
Nobody calls it ChiTown or ChiCity.
Racial issues are real. And there is no better way to educate yourself on them than by firsthand conversations with minorities.
The Loop is cool to look at, but the neighborhoods are cooler to spend time in.
The cabbie will take your credit card. You might have to threaten to leave the cab without paying after he/ she insists the card reader is broken, but the cabbie will end up taking your credit card.
You will lose a lot of weight. You will walk seven miles a day, climb 40 flights of stairs, your butt and calves will look great and you will feel awesome.
…Then you will gain it all back, thanks to a combination of pizza, Portillo's, Italian Beef, doughnuts and Chicago dogs.
Eventually, you will have an answer when someone asks you "Cubs or Sox," and the answer won't be "neither."
Your Instagram feed will get a lot more interesting.
People you have not talked to in years will ask if they can visit you.
You will develop a preference in doughnuts.
The suburbs are not a scary foreign land, and they are actually a very nice place to spend a weekend if you just need to get away.
You will get a parking ticket, no matter how skilled you are at reading signs.
Noticing the Chicago Public Library's digital branch has 70 copies of Amy Poehler's Yes Please is awesome until you realize you are no. 639 in line to borrow one of those copies.
The only people in the Loop after 6 p.m. are tourists.
Keep a running list of all the restaurants you want to try. That way, you're not indecisive when you're starving at 8 p.m.
The phrase "Windy City" does not technically apply to Chicago's weather, but it might as well.
Read Devil in the White City, because it comes up in conversation fairly often.
Even if you know where you're going, you will still use the Google Maps app to track train and bus arrival times.
You can fit more people in your small apartment than you think you can.
The world is a much bigger place than you had ever imagined. Everybody has a story, and everyone is just one small blip on this giant radar that is Earth. You will never feel so insignificant, but so independent and powerful at the same time.
–
I love Chicago so much. I can't imagine being anywhere else right now, and the past six months of my life have been the unrivaled best. I won't get too cheesy, so I will just leave it at that: I am very, very happy.
What did you learn when you first moved to your city? Let me know in the comments!