12 great Chicago brunches and breakfasts: North Side edition!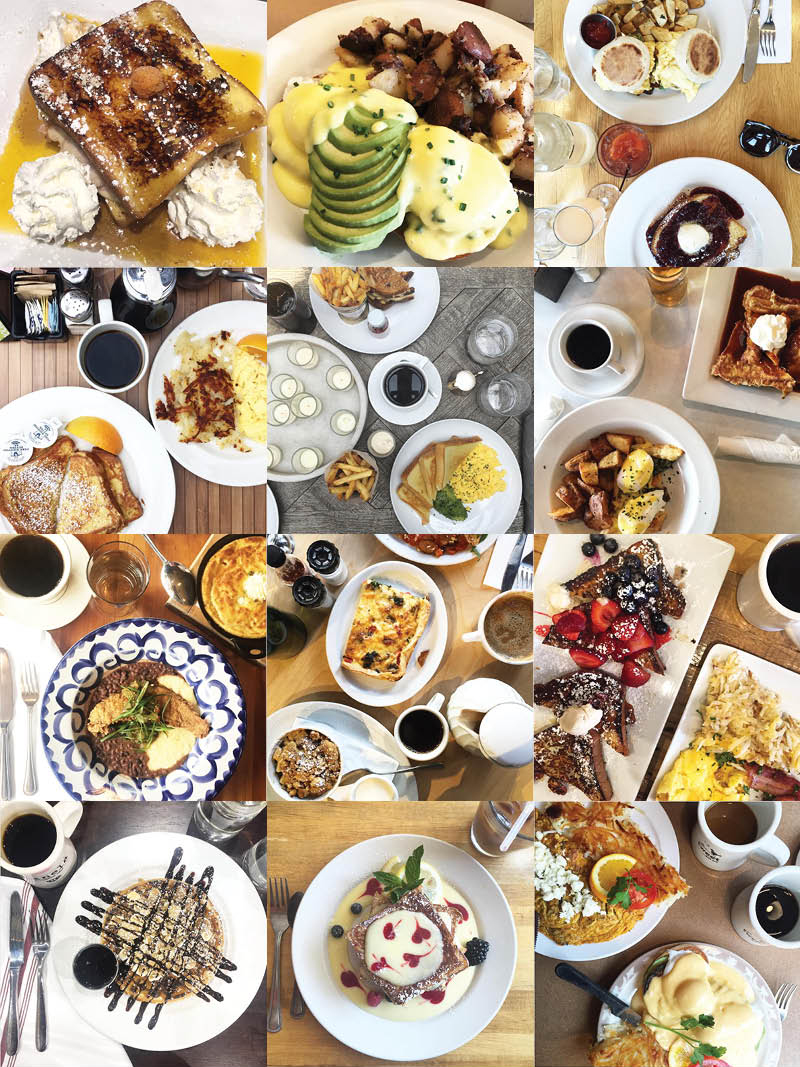 Hi, my name is Randi, and I have a slight addiction to brunch.
(Cue the support group: "Hi, Randi.")
Breakfast food is my absolute favorite. It tends to lean slightly more vegetarian-friendly than other meals, and vacillating between "savory" and "sweet" offers two entire entities of practically endless combinations. From yolky bennies and toast piled high with avocado to syrup-drenched waffles and flaky jam-stuffed pastries, breakfast options continue practically forever.
And — when you add spicy bloodies and fruity mimosas to the combination? Heaven.
In the few years I've lived in Chicago, I've spent quite a few weekend mornings eating my way through the city with friends, trying out restaurant specialties, touted deals and drink after drink. I actually started keeping up with my morning meals on Instagram using a hashtag, but since I've received quite a few requests for recommendations, I decided to list 'em out
I'm starting with a few of my go-to brunch restaurants on Chicago's North Side, since that's where I live, and hence, where I dine most frequently. Let's go!
・・・
Kanela Breakfast Club. I'll always have a soft spot for Lakeview's Kanela, because it was one of the first brunches I had in the city after moving here. The menu is slightly Greek-infused, with offerings like thick yogurt, loukoumades and tyrokafteri omelettes, but it also has decent "sweet" and "savory" menu options. I've actually tried the entire sweet menu at Kanela — not sure whether to be proud or ashamed. My favorites are the Coco Crunch Pancakes — chocolate chip pancakes covered in a crunchy melty sauce made with Cocoa Krispies cereal — and the french toast, made with challah bread and topped with both sweet lemon creme fraiche and apricot jam. Plus — Kanela offers $25 pitchers of mimosas or bloodies.
Locations in Lakeview, Andersonville, Wicker Park, Old Town, Streeterville and Ukrainian Village.
M. Henry. The Andersonville location of this bakery and restaurant is the only one in the city, but it's 100 percent worth the trek. Breakfast in M. Henry's restaurant is served all day — and with a menu offering everything from a roasted asparagus and prosciutto benedict to a lemon curd brioche french toast made with honey graham cracker crumbs — you're going to want to stay from open-to-close in order to eat as much of the menu as you can. But, no worries. Considering an all-day stay isn't exactly feasible, M. Henry's bakery carryout offers pies, breads, quiches, muffins and cookies to go.
Tweet. This Uptown location is tucked away in an unsuspecting location, but this slightly-hidden gem of a restaurant has a menu offering just about anything you could possibly imagine — and arguably the best bloody marys in Chicago. If you're on any kind of a restrictive diet, Tweet is the place to go. Its menu has an entire spread of gluten-free goodies, and an entire selection of vegan and/ or vegetarian options. The servers are incredibly knowledgeable about what makes it into each and every dish, so if you're avoiding refined sugar or have intense food allergies, you're golden. I usually go for the "savory" selection at Tweet — my favorites are the corn arepas, the California benedict and the Santa Fe special. Head's up though, Tweet is single-bill and cash only.
Big Jones. I've never been to Louisiana (it's on my bucket list though!), but I've been told this Andersonville restaurant is the closest you can get to southern cajun without actually hopping on a plane and heading down to NOLA. This menu features every southern staple you can imagine: gumbo, biscuits and debris gravy, Sally Lunn, crawfish patties, shrimp and grits, lard-baked cornbread and griddle cakes. My favorite is the fried and breaded catfish served over a pile of brown rice and black beans, but everything is buttery, smoky, spicy and savory.
Southport Grocery. This little tiny breakfast spot is tucked in the corner of a specialty grocery store, focusing on local and artisan food products. But, don't let the nondescript look fool you. The food, ranging from cupcake batter pancakes to chicken and grits — and always a quiche of the day — is delicious, and the entire Southport area itself is filled with shops and storefronts, so you can spend an afternoon perusing after you eat. And the best part? The grocery store sells some of the mixes to make the menu with, so you can recreate your favorite dishes at home.
Batter & Berries. Three words: French. Toast. Flight. There's always an insane line out the door at this Lincoln Park restaurant, but it's worth the wait. Batter & Berries specializes in french toast, so you can pick a decadent version of the classic, or go with all four on one plate. This breakfast favorite also serves classics like chicken and waffles, and biscuits and gravy — but the waffles with a side of cheesy eggs, hash browns and bacon is a great pick.
Nookies. If you're one of those people that can never choose between sweet and savory (*raised hand emoji*), the Edgewater Nookies is your solution. This restaurant has a "sweet and savory" option of either pancakes or waffles with hash browns, eggs and sausage or bacon. The menu varies by location. I've been to three of the four locations, and all have been fantastic.
Locations in Edgewater, Old Town, Lakeview and Lincoln Park. Full bar at Edgewater, BYOB elsewhere.
3 Arts Club Cafe. Brunch in a furniture store sounds weird, but this Gold Coast restaurant is THE most beautiful place I've ever brunched. I've waited up to three hours to get a seat here, but the soft scrambled eggs with avocado and toast — and the unrivaled ambiance — has always been completely worth the wait.
Cellars. This Edgewater spot (formerly known as Broadway Cellars) sucked me in with $10 bottomless mimosas. Seriously, you can't beat that. Oh, and the food? Also top-notch.
Uncommon Ground. This restaurant is really cool because it puts a priority on organic and sustainable sourcing when it comes to its food. No joke — there's actually a farm on the roof of the Rogers Park location! Fun fact: My coworker Liam is a beekeeper, and he tends to his hives on the Uncommon Ground roof. So, not only is the food insanely delicious — it's also insanely good for the environment!
Locations in Lakeview and Edgewater.
Toast. There is no booze at this eatery, but the amazing food more than makes up for it. I've tried sweet (crepes) and savory (benedicts) and neither has disappointed.
Locations in Lincoln Park and Bucktown.
Over Easy Cafe. Here's another brunch spot you'd better get used to waiting in line for. Ravenswood's Over Easy Cafe has a menu with some pretty popular staples — like the signature "sassy eggs" and the banana-spiked french toast — but the rotating menu is my favorite! It always features dishes made with seasonal ingredients, and there's never a guarantee that something will make it back to the menu after its initial debut. There's no booze here, but the food MORE than makes up for it.
・・・
Whew! When I first came up with the idea for this post, I thought it would be hard to fill a list of a dozen… but the hard part was actually paring it down once I realized how much I actually brunch. (Sorry Mortar & Pestle, Wilde, Bakin' & Eggs, Hutch, Summerhouse, etc.! I love you all, I swear!)  There are soooo many delicious brunches on Chicago's North Side. I honestly might keep adding to this list as I wander out and try new places. There are a ton on my list, like Orange, Cafe Selmarie, Band of Bohemia, etc. And, of course, I'm always open to your suggestions!
Happy brunching!