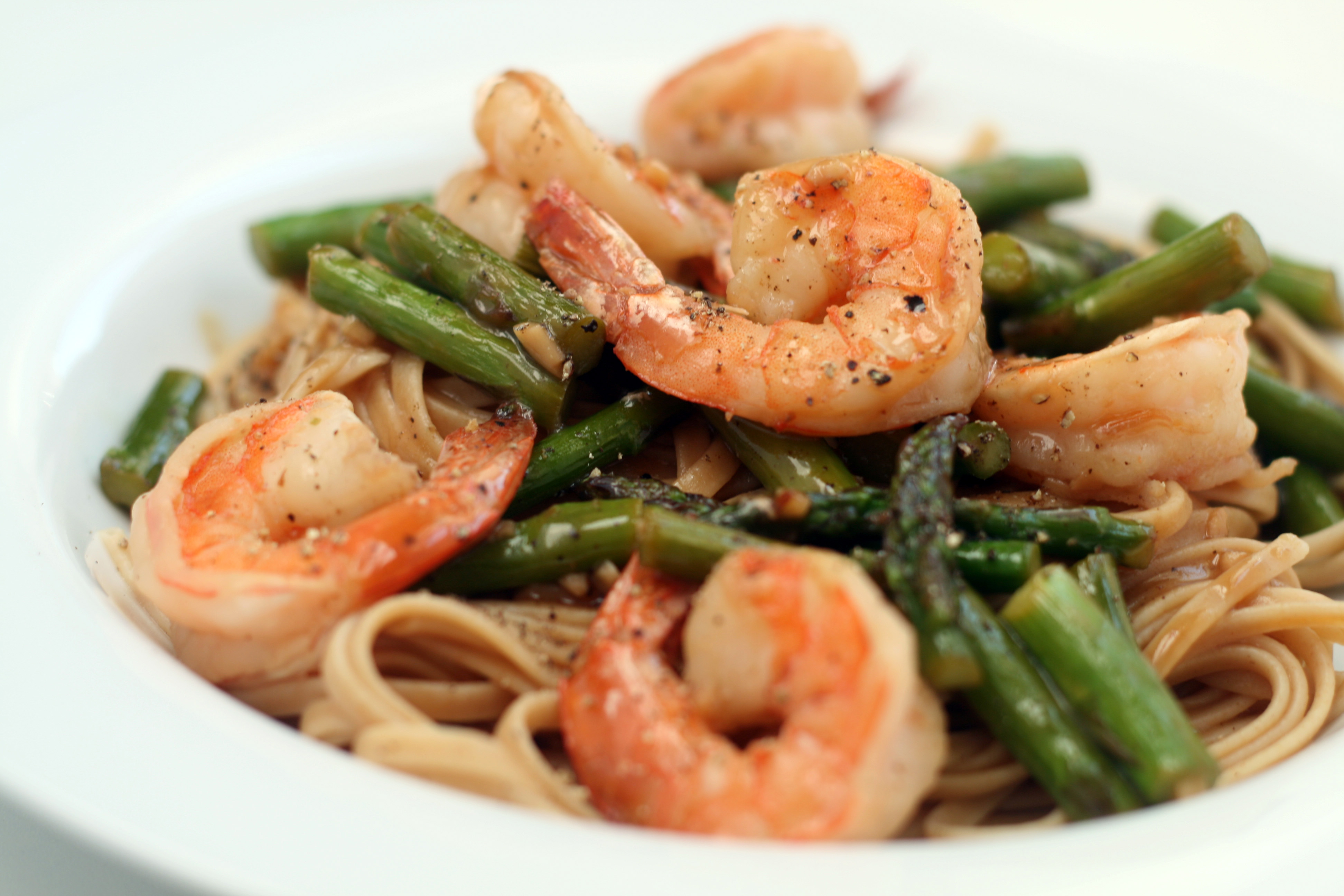 Shrimp is definitely one of my favorite seafoods. When I was little, cold shrimp paired with cocktail sauce was one of my favorite things to eat. I remember my mom teaching me how to correctly bite the little crustaceans, holding the tails just-so in order to make sure none of the meat went to waste.
And — while I do still love the shrimp-and-cocktail-sauce finger food pairing, I've taken to experimenting a bit more with shrimp recipes as an adult, like this shrimp and asparagus linguine dinner dish.
I found this recipe for a shrimp and asparagus stir fry the other day, and decided to give it a try as a pasta dish.
You'll need:
Half a pound raw shrimp, peeled and de-veined
About 20 stalks of asparagus (roughly half a bunch), trimmed
1 tsp. minced garlic
1/3 cup vegetable stock
1/2 tbsp. cornstarch
1/2 tbsp. soy sauce
1 tbsp. brown sugar
3 tbsp. lemon juice
Olive oil
Salt and pepper to taste
Enough linguine for two servings (roughly 4 oz.)
Start by mixing up your sauce. Whisk together the vegetable stock, cornstarch, soy sauce, brown sugar and lemon juice. Set aside.
Cook your linguine according to package instructions, and then set that aside.
Cook your shrimp. Heat a tablespoon or so of olive oil over medium-high heat on a burner. Once your pan is warm, add the shrimp and cook for a few minutes, until the gray color starts to turn pink. Remove your shrimp from the pan and set aside. (Tip: wrap the shrimp in tinfoil and pop it into the oven or microwave so it stays warm while you finish cooking everything else.)
Start on your asparagus. Chop the stalks up into one-inch to one-and-a-half-inch pieces, and toss in your frying pan with another tablespoon or so of olive oil, once again over medium-high heat. Fry for about five minutes or so, and then season with the garlic, as well as salt and pepper to taste. Give the combo a good stir, then slowly pour the sauce mixture overtop.
Add the shrimp, simmer for a minute or two, and then remove from the burner.
Plate your linguine, top with the shrimp-and-asparagus mixture and you're all set!
This recipe serves two, so it was perfect to make for dinner one night, and then to enjoy for lunch at work the next.
What's your favorite shrimp recipe? Let me know in the comments!