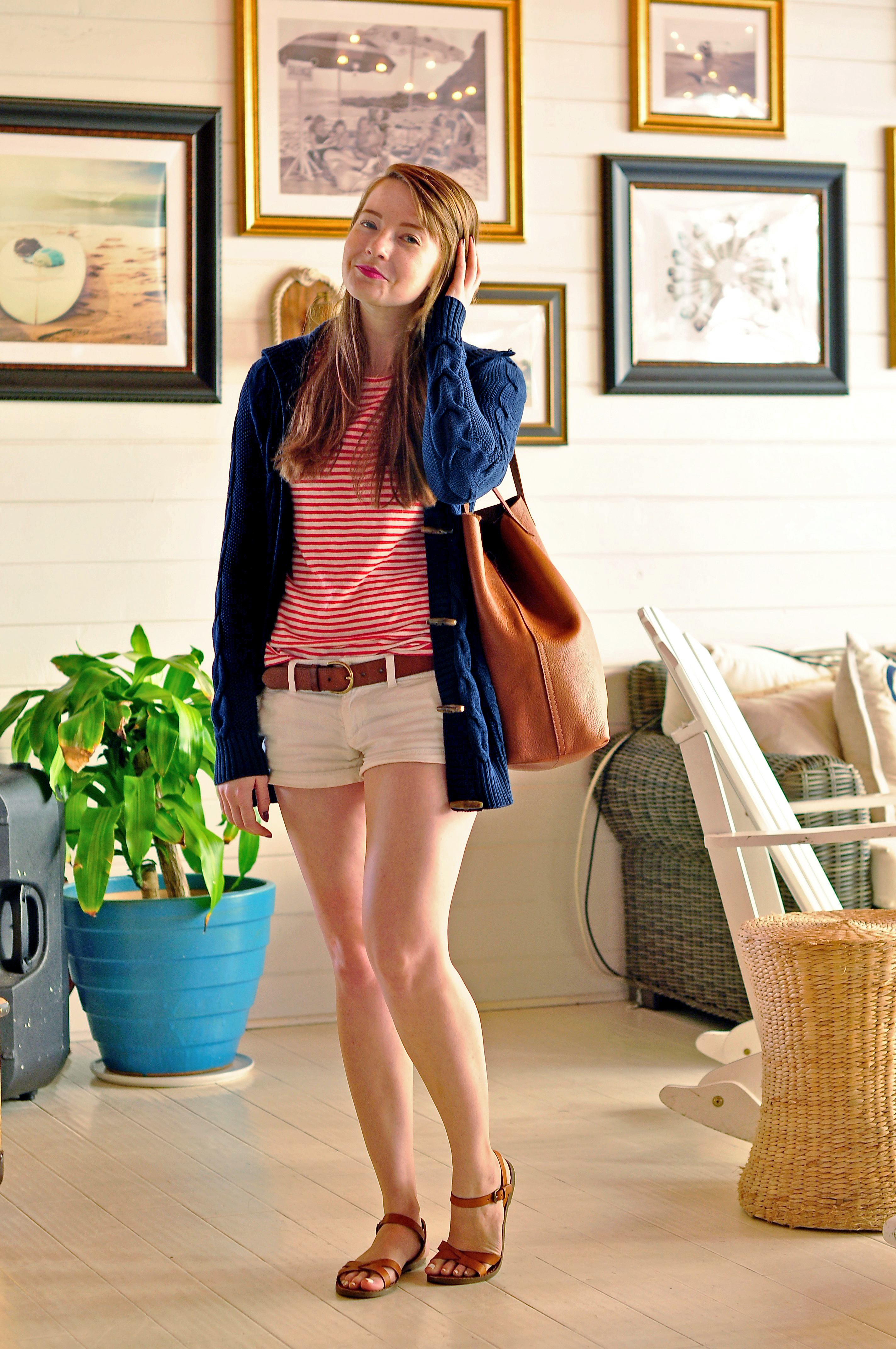 Happy Labor Day! The sun sets tonight on the last "unofficial official" day of summer here in Chicago.
It went by way, way too fast.
I spent pretty much all of May waiting for summer to get here. It was a lot of waiting. This season started off pretty cold and rainy, and seemingly took forever to get here. And then once it got here, it was just kind of… over?
Summers always seem to go by too quickly, don't they? Don't get me wrong, I absolutely love fall. But once fall starts, it means the biting cold and seemingly never-ending darkness of winter is so close! However, the good thing about living in such a big city is that once it gets cold and dreary, it isn't too hard to pick a themed restaurant/ bar and pretend it's summer. Some local favorites are Three Dots and a Dash, Lost Lake, Mahalo and — of course — Hampton Social.
(Pst, affiliate links below.)
cardigan | t-shirt | belt | shorts | sandals | tote
I spontaneously met up with my work friends Grace and Alex — and Grace's friend Christina, who was visiting from Los Angeles — late last week at Hampton Social. I was just leaving a dentist appointment (yuck!) so I couldn't eat (bummer!) but since the restaurant's Hubbard Street location puts it pretty close to the newsroom… I've been here many, many times before — especially for half-price rosé and pizzas during Happy Hour.
Grace, who is pretty well traveled and has basically lived all over the entire country, tells me all the time that I am "very East Coast."
I've been to the East Coast literally once in my entire life for an extended-weekend trip to Princeton, New Jersey and a day trip to New York City, so I really can't weigh in here.
But, I've always wanted to go to coastal New England, and of course, the Hamptons. I don't live under a rock so I've seen photos, and it looks absolutely gorgeous.
In the mean time, this restaurant makes a nice alternative. The interior is breezy and light, and the giant "rosé all day" sign was actually probably made to be Instagrammed.
Plus, even the food at Hampton Social is themed!
From top-to-bottom: halibut ceviche, lobster mac and cheese, watermelon salad
I know the entire fashion world is beyond ready for fall and has already decked itself out head-to-toe in riding boots, cable knits, navy blazers and fleece, but I'm still holding on to summer over here. A simple shorts, t-shirt and chunky-knit cardigan combo in my favorite navy-and-red color palette is one of my favorite looks for both early and late summer.
Shop the post:
Photos by Grace Wong
This post contains affiliate links. For more information, please read my disclosure policy.