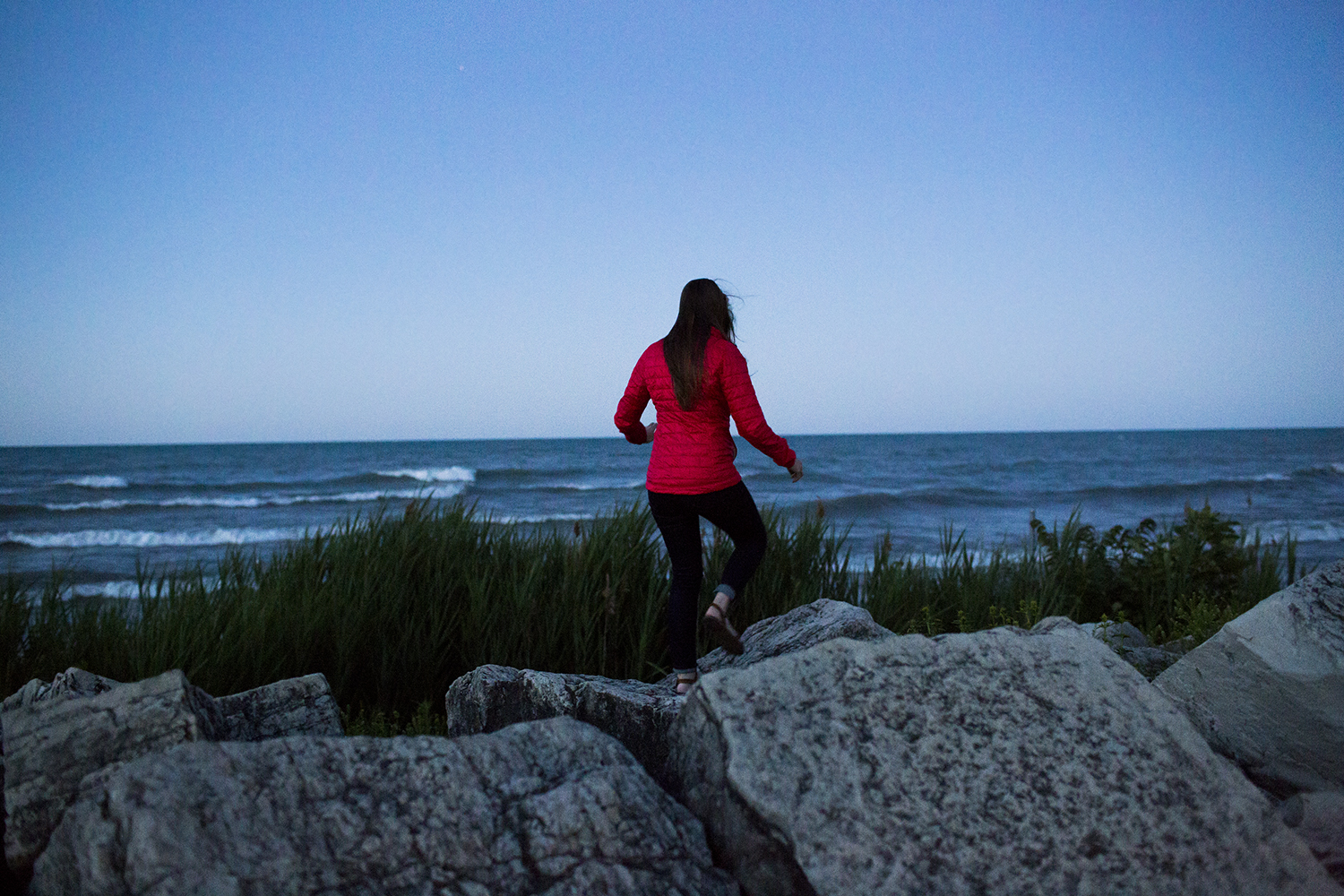 Is now a good time to drop that super cliche Ferris Bueller line about life moving fast? Because holy crap! I feel like I blinked and then suddenly 2016 ended. It seems like Christmas decorations appeared out of nowhere, and I actually completely forgot that this week is Thanksgiving! It wasn't until Mando started talking about holiday plans and our work schedules last Friday that I suddenly remembered.
But, I'm not going to complain. I really love staying busy and feeling productive. Work has been occupying a ton of my time lately. First, the Cubs won the World Series. Then, there was that election. And, on top of everything, I'm actually recovering from a brutal cold right now. I thought I kicked it out of my system a week ago, but then it came back in full force this weekend. Yuck. Bring on the green juice, please!
Photo: Armando L. Sanchez
[one; work]
So, speaking of work, let's start there. In somewhat big news, I am moving into a new role at the Trib! My new job title as of today, actually, is Digital News Editor. I'll still have a very heavy hand in the paper's social media presence (habits are hard to break!), but I'll also start dabbling in web production for chicagotribune.com. I'm super excited and also slightly nervous to take on this new role!
And, in other minor news, I recently made a small radio debut over at WGN Radio. You can listen to me live on 720 AM Monday afternoons at 12:30 as part of the Wintrust Business Lunch with Steve Bertrand. You can also tune in online at WGN Radio's website. In between "ums" and "uhs," I talk about all things social media, so listen in if you'd like to hear me talk super, super fast and high pitched.
Photo courtesy of Mike Heidemann and WGN Radio
[two; friends and family]
A few weekends ago, I traveled to Michigan to celebrate the baby shower of the gorgeous mom-to-be Ashley! Ashley was my college roommate, and she's expecting her first daughter with her husband Doug just after Christmas this year. I'm so excited for them! Congrats Miller fam!
This trip was extra fun, because my friend Erin — who has known Ashley since middle school — came to Chicago from Charlotte so we could both take the train to metro Detroit in order to surprise Ashley. Erin and I were both in Ashley's wedding, so it was really cute to have a little reunion of sorts at the shower.
I also made a separate trip back to Michigan in order to visit my alma mater for homecoming weekend! I spoke in a class on campus and had the chance to visit my old college newspaper office and talk to some of the students working there now. I also made it a priority to hit up some of my favorite places.
So cheesy.
During that visit, I was also able to go to the wedding of my college friend Ryan, who married his longtime girlfriend Nicole. The ceremony was near my hometown, and was absolutely beautiful. Congrats you guys!
Jackie, Ryan and I — the three of us worked together at CM Life, our student newspaper, in college.
[three; dining]
I recently braved the three-hour wait to grab a brunch-turned-late-afternoon-lunch at the 3 Arts Club Cafe inside the Restoration Hardware. This place is absolutely gorgeous, but the wait for that soft scrambled eggs and avocado combo always seriously tests my patience. I've been loving the newly-opened River North location of Sweetgreen lately for lunch, and have definitely been taking advantage of the Stan's Donuts gelato riiiight next to my office during the last warm days of 2016. I gave Taqueria Traspasada a try and have been making far too frequent trips to the Nookies location in Edgewater since it's near Mando's apartment. I also finally gave Bottlefork a try while a friend was in town.
Honestly, I've been on a bit of a dining slump lately. I'm starting to develop favorites and go-to places — and while there's definitely nothing wrong with that — I feel like I'm not taking full advantage of allllll the amazing food this city has to offer.
So, leave your restaurant suggestions in the comments puh-lease! I would love love love to try them out.
Top row, left-to-right: Bottlefork, Stan's Donuts and Nookies
Bottom row, left-to-right:Taqueria Traspasada, 3 Arts Club Cafe and Sweetgreen
[four; traveling]
So, I finally got to take my long-awaited European adventure! I visited both Paris and London last month on my birthday, and am already dying to go back to both.
In terms of upcoming trips? … Nada. My work schedule has been so crazy lately with my transition, so making any upcoming plans seems a bit futile. I'm hoping to go to San Francisco with Mando at some point in early 2017 though, if that's possible.
[five; affiliate link alert!]
Tis the season… for shopping! I am counting down the days (four) until I can get my Black Friday on. There are several things on my wish list lately. I'm sure I'm not the only person swooning over tartans, cable knits and metallics lately… right?
I just threw together the list of my most worn items this fall, so I'll leave you with a list of all my current desires… especially since the holidays are coming up… hint, hint!
I'm absolutely dying over this cape jacket my friend Erin wore on her trip to Michigan. It's sold out in almost every size, so I'm hoping for a restock! I just ordered these cute tartan flats when they were on sale, which will be convenient to keep in my desk at work when I change out of my go-to Bean Boots once the snow starts falling. I also ordered this seasonal mini skirt and am tempted by this gorgeous crimson dress, which both look perfect for holiday parties. I just stocked up on my favorite fleece-lined tights since the temperature has already started dipping, and I've been lounging in my favorite (and affordable!) fleece pants at home. Also, I had every intention of buying this scarf for myself while I was in London… but since I got this jacket instead, it's still very much on my wish list.
[six; etc.]
This weekend, I've ventured out to the big screen two whole times. I'm really not a fan of movie theaters. Sitting in silence — without fidgeting — while avoiding my iPhone and listening to people chew for a few hours at a time is not really enjoyable in my opinion. But sometimes, a movie is just enough of a big deal to draw me in. I caved and went to the theater Friday and Saturday to watch both Fantastic Beasts and Where to Find Them and Arrival. I actually cried at the beginning of Fantastic Beasts when I heard the Harry Potter theme because I was just so darn excited you guys.
I've also put my regularly scheduled Netflix queue on hold so I can binge out on Gilmore Girls before the revival hits Netflix this week! I've seen several episodes before and know the general series arc, but have never watched it beginning-to-end, so I figured now was as good a time as any to get around to doing that.
I've also been fitting in a little bit of time to read. I just finished The Curated Closed by Anuschka Rees, and am about halfway through Feminist Fight Club by Jessica Bennett.
This fall was an absolute blur, and I'm already sad to see it go! But, I'm really excited for winter. I think I'm one of three people in the Midwest that actually, genuinely loves winter? There's something about the combination of snowy nights, hot chocolate, the holidays and cozy blankets that just makes me feel like a kid again, you know?
Wishing you all a happy Thanksgiving!
I swear half these photos were taken in the same night, and I do own more than just this one shirt. But I wasn't joking when I said it definitely cracked my most-worn list.
This post contains affiliate links. For more information, please read my disclosure policy.