Pinned butterfly wall art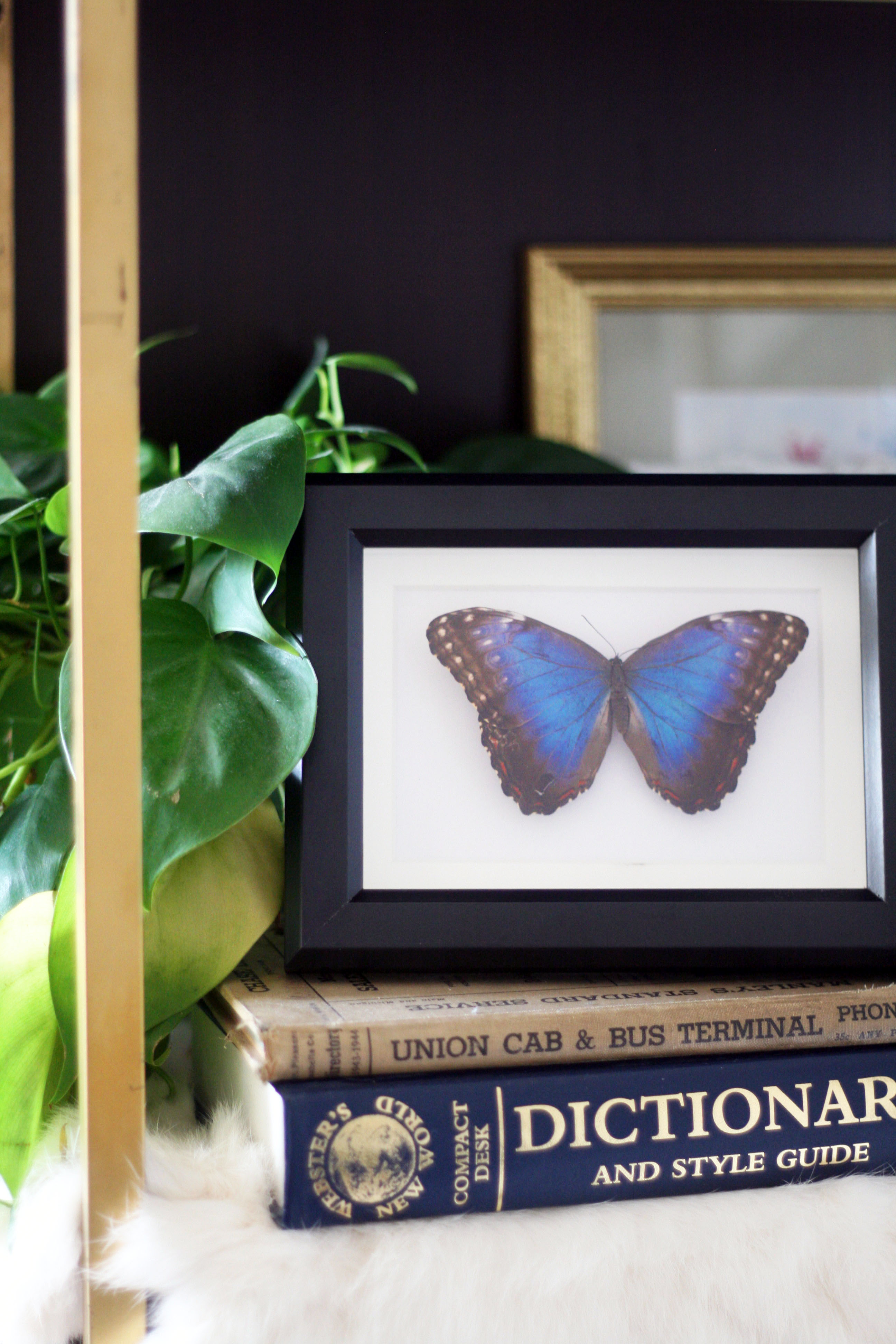 When you don't eat meat and one of your good friends is a taxidermist, the jokes practically write themselves.
But, jokes aside, my friend Mickey is a taxidermist by trade. I've been friends with this girl since high school, when we both obsessed over things like UnderOath, pyramid-studded belts and Vans sneakers together.
I've always felt kind of bad, because I really wanted to support her career, but also I didn't really want to gut and stuff a dead rat. You know, normal friendship dilemmas.
So, I got super stoked when I found out that she was offering a not-quite-as-gruesome class at the recent Pilsen Renegade Craft Fair pop-up: Butterfly pinning!
Important side note: No butterflies were killed during the making of this project. That would be sad. This little guy died naturally at a butterfly farm.
This craft takes two sessions to make, because the butterfly needs to be moist when you spread it, and then dry when you mount it. I did the first part of the project at Renegade, and then Mickey came over and helped me finish it up a few weeks later.
I'm totally in love with how this framed specimen turned out!
Oh, and the best part? She also sells these kits in her Etsy store (affiliate link), so you can actually buy your supplies and do this at home! No worries — the directions are included.
As it turns out, you have to have a pretty delicate touch for this. Start by taking your butterfly and gently sliding a pin through its thorax, pointed side facing down. Then, push your pin into the channel of the styrofoam block, and use the two stock strips to gently nestle the wings down and then pin the strips into the foam.
Step one is done! Let your little friend dry out.
Now, the mounting. To mount your butterfly, you need:
∙ A shadowbox or frame
∙ Foam posterboard
∙ Superglue
∙ A pair of needle nose pliers
∙ A craft knife
Mickey is a huge fan of using the Ikea Ribba series to frame these guys, so that's what I ended up using.
Start by taking apart your frame and then using the craft knife to cut a piece of foam board to fit perfectly inside. If the frame you picked has a mat, or a backing, you can just trace that. This will be the background of your frame.
Then, remove the stock strips from your (now dried) butterfly and pull him off of the styrofoam block. Push the pin all the way through, and then use the pliers to cut half an inch or so from the bottom of the pin.
Use the pliers to push the now-shortened pin into the foam board from underneath the butterfly, and then dab a bit of glue on the top of the pin to secure it to the specimen. Dab another small amount of glue to the pin to secure it to the foam board, and then let it dry.
Pop the board into the frame, and then put everything back together. Voila! You're done!
I really like how this little guy turned out. I had originally planned on adding him to the gallery wall in my apartment, but Mickey put him on my shelving unit to take a photo, and I thought he fit in perfectly.
Here's the link again (affiliate link) if you want to purchase a kit to make your own pinned butterfly wall art. I picked a blue morpho, but there are other iterations available as well, so you can pick a color that will complement your decor.
This post contains affiliate links. For more information, please read my disclosure policy.