DIY floral grapevine wreath for spring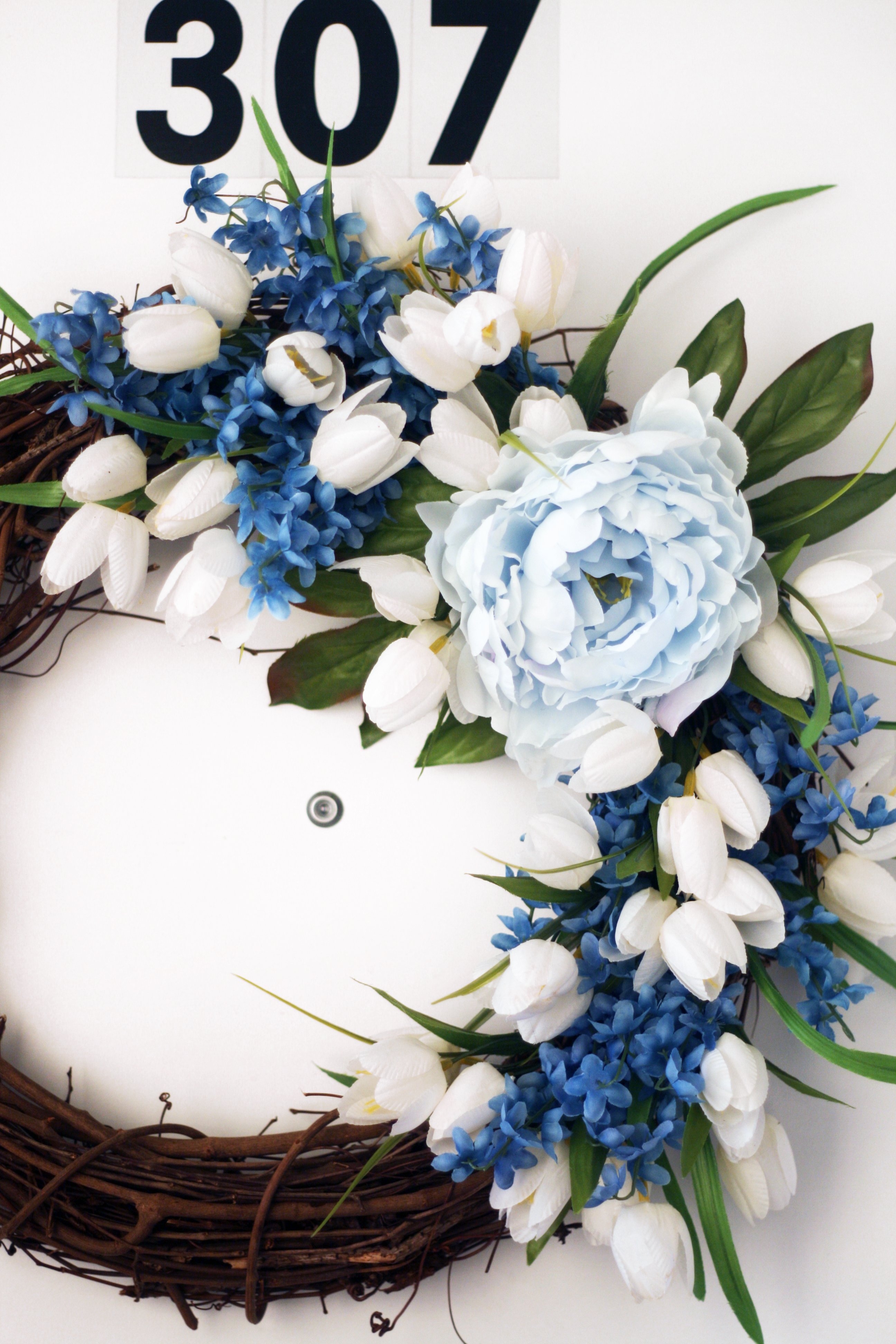 An interesting fact about my little Chicago apartment: it's only my second ever apartment to offer a front door closed off to the general public. You need two keys to get to it: a building key, and a unit key.
All but one of my college apartments and houses had outdoor-accessible doors. This meant that anything you left by the front door — doormats, shoes, shovels, half-finished bottles of pomegranate Burnett's, seasonal decor, mail — would end up stolen.
So, one of the things I love about #aptwithani is the hallway-facing front door, because it means I can decorate it for each season with a beautiful wreath, without having to worry quite so much about it disappearing.
I have a small collection of fall and Christmas wreaths that I've picked up on sale at JoAnn Fabrics throughout the years. Seriously you guys, I go insane for those post-holiday clearance deals where everything is marked down 90 percent.
But, I haven't been able to find a spring wreath that I really, truly love. Maybe I'm crazy, but I'm not willing to embrace the succulent trend this much? A little bit of an extreme example I know, but I just couldn't find anything I really loved last season or this season.
So, because Pinterest is the constant enabler in my life, I decided to make my own.
There are a few popular bases to choose from when it comes to wreath-making. I knew I wanted to make something with a grapevine, which is a circle of simple intertwining vines. Other popular wreath bases include wire, styrofoam, straw and twig.
I culled together some inspiration from Pinterest (one, two, three, four) and went straight to the floral section at Michael's to start mixing and matching artificial blooms. I ended up with a combination of ocean blue forget-me-nots and pure white tulips surrounding one sky blue peony. I actually picked this combo pretty quickly! I spent a moment debating between the peony and a cluster of soft blue hydrangeas, but now I think I'm glad I went with the peony.
I wish I'd taken photos while putting this piece together, but I was way too into the project. Luckily, it's simple enough to explain without photos. Just use a pair of wire cutters to snap all the individual flower pieces off of the bouquet that they come in. Then, stick them into the wreath vines at an angle, so they go with the flow. Everything should actually hold fairly securely! Because the artificial peony was so large and heavy, I left a bit of extra stem on it. I poked it straight through the vining, and then used pliers to bend the stem at a 90-degree angle to keep it in place.
Once everything is placed how you'd like it, just flip the wreath over and use hot glue or craft glue to secure everything.
And, that's it!
I really love how my wreath turned out! It's a beautiful spring addition to my front door, and it looks much more welcoming to guests than the bare plastic 3M hook that had been left hanging on the door since the holidays.
Next up? A fun summer piece to swap it out with. I've already got sunflowers and daisies on the mind!