Business cards: Design tips (and cute cases)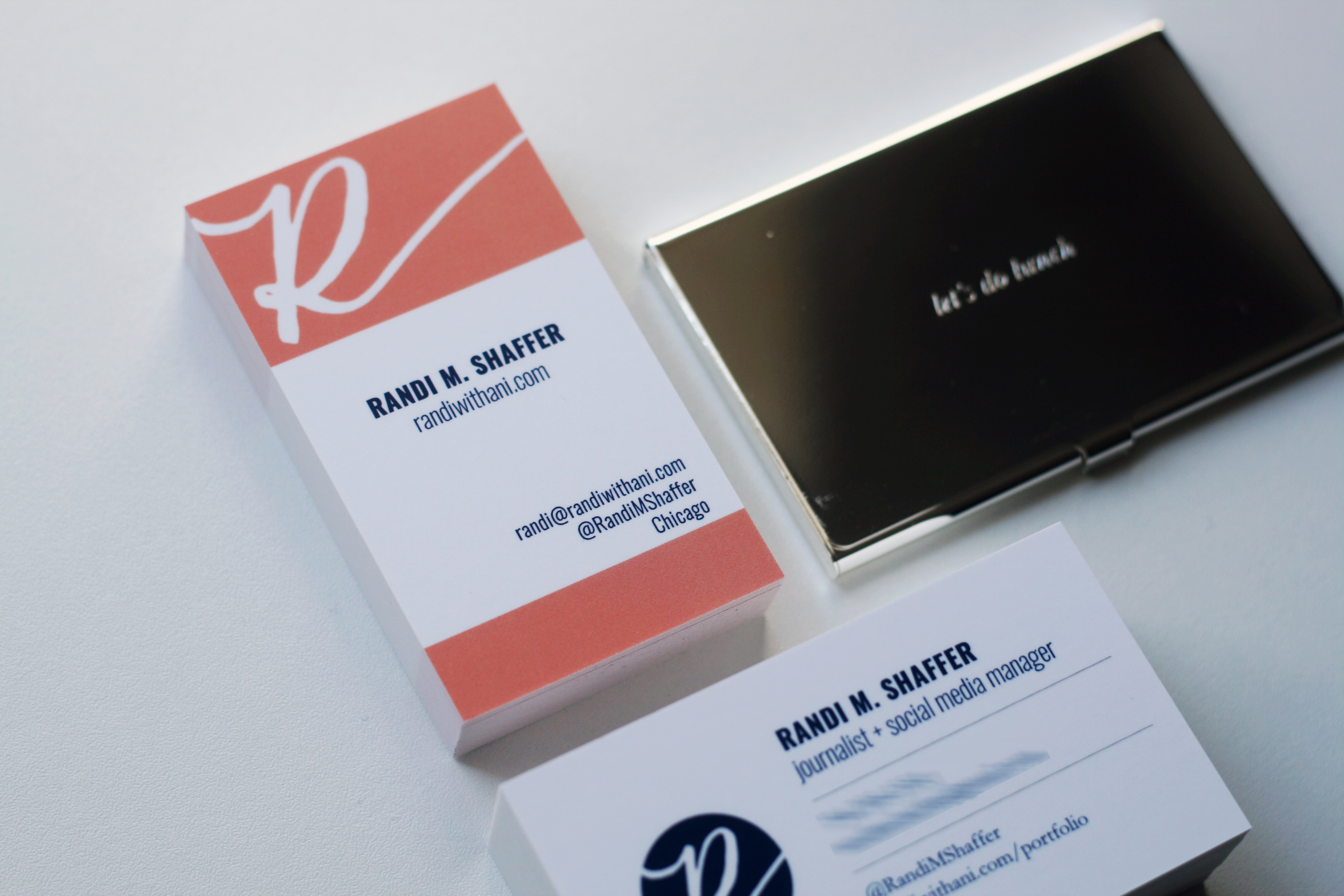 It's actually somewhat embarrassing to admit this, but — for roughly a year and a half of my post-graduate adult life — I didn't have business cards.
Whoops.
My last job had cards printed for me, and I relied exclusively on those for about three years. I used my personal cellphone for everything, so that number was printed on them. I wasn't freelancing or side hustling at all back then, so my work-provided cards filled every need I had.
But, when I took my new job in early 2015, it did not come with pretty printed business cards right off the bat. Also, I had started freelancing and had joined a few professional organizations — which basically exist only for networking purposes.
And so, after putting it off month after month and scribbling my Twitter handle down on scrap paper (sorry everyone), I finally got around to designing my own personal business cards and having them printed.
And then, ironically enough, my job presented me with a case of 1,000 business cards two months later. Sigh.
However, I think it's important to have more than one business card design — more on that later. So, right now, I have three different card options: My company-provided cards, and two different personal business card designs.
Designing both of my personal business cards was surprisingly hard! Picking a design, deciding what contact information I wanted to include… the process was a little more nitpick-y than I thought it would be. It took a few weeks of designing, editing, proofing and consulting to get them how I wanted them, but I'm really pleased with how they turned out.
Here are a few tips I picked up along the way.
Don't skimp on quality. There are some things you should never cut corners on, and business cards are one of them. It might be a little tempting to want to save as much as you can on a paper product that you won't even be keeping, but resist the urge. Business cards show that you pay attention to detail. They leave a lasting impression and are money well spent. I had my cards printed through Moo and I cannot recommend this company enough. (I am not getting paid to say any of this, by the way.) I had two types of cards printed: original and super. The originals — the cheapest available version — were far superior to many, many business cards I've handled. Also, they're matte and easy to write on, which is key when someone needs to jot something down when meeting with you.
Include all your contact information*. You can never state the obvious enough, right? Typo-free name, job title, phone number, email address, website, office location (even if it's just the city) and relevant social media handles. Make sure that all are active and functioning. If you're going to direct somebody to your LinkedIn account, make sure you check it more than once a year.
*Or maybe, don't include all your contact information. Think long and hard about who you will be giving your business cards to, and what information you want to give them. Maybe you talk to a lot of people on a daily basis, but don't want all of them to have your cellphone number. Or maybe your photo studio is located at your house, and you don't really want to give your home address out to every single person you network with. No problem. Nobody is limiting you to just one business card. Consider printing a generic card with all your contact information for serious business, and a "light" card that glosses over some of the more intimate ways of getting in touch. Another tip? Think about having your "light" cards printed at lesser quality for a lesser cost. These are the perfect cards to have on hand when your stepsister's boyfriend's nephew finds out you're a website developer and wants you to redo his band's site and while they can't pay in actual money right now, of course they're totally down to hook you up with their demo CD right now and will for sure get you back once they make it big of course.
Make sure your job title makes sense. Stating the obvious again, but this is especially important if you work for yourself and don't have a specific job title. What exactly do you do? If you don't have an official job title — like many freelancers — succinctly state what services you offer. "Graphic and web design." "Marketing and branding." "Calligraphy and hand lettering." Things that do not belong on a business card? "Critical thinker." "Maker." "Creative." Mmm. Nope. Be as straightforward as you can.
White space and legible font. Your business card is not a resume. I repeat: Your business card is not a resume. It is also not an art project. It is not a portfolio, nor is it a rate sheet. I am all for personal branding, creativity and setting yourself apart. But, if somebody cannot look at your card and immediately figure out how to get ahold of you, that card is going in the trash and your potential client will be going elsewhere. Pick one or two cohesive fonts, make sure they are large enough and ensure readability trumps aesthetics.
Things that go on your business card: Your name, your job title, your contact information, a professional logo.
Things that do not go on your business card: The name of any previous employer, what you charge for your services, made-up job titles, inspirational quotes, the name of your alma mater (unless you work there), clip-art, illegible fonts, a myriad of colors, selfies.
Protect your cards. Assuming you listened to the first point I made, you just spent somewhere between $50 and $200 on a healthy supply of business cards. Great! Keep them looking nice. True story: I used to use a binder clip to corral my business cards together. Don't do this. Buy a nice looking card holder to toss into your bag. Here are a few cute picks for under $100. (Affiliate links.)
I snagged one of the above Kate Spade designs to keep in the side pocket of my purse.
Like I said before, my cards weren't discounted or compensated and I wasn't paid any money for this post. I'm being completely honest here when I say I was blown away by my experience with Moo. My cards were way nicer than I anticipated and they arrived incredibly quick. I had a shipping notification a day after I placed my order, and they were at my front door about three days after that, with standard shipping. They also came in functional little boxes that I'm holding on to.
A few more things to keep in mind: Moo occasionally offers discounts, so check the brand's social feeds before ordering. Also, students can get a small percentage off their first order. Because Moo began in Europe, it offers several business card sizes, so ensure you're getting U.S. standard when you order. While I did design my own cards, Moo does offer pre-designed templates you can select from if you would rather play it safe. And finally, one thing I didn't consider was the feasibility of carrying around the cards. I had originally planned on getting the luxe cards, but ultimately ended up getting a combination of original and super for ease of carrying, and I'm glad I did. (The thicker the card, the fewer you can slide into card holders and pockets.)
Whew. That was a lot. But, you can never be too prepared when it comes to networking!
Do you have any business card advice? Leave it in the comments! I'd love to hear it.
This post contains affiliate links. For more information, please read my disclosure policy.