Current summer skincare routine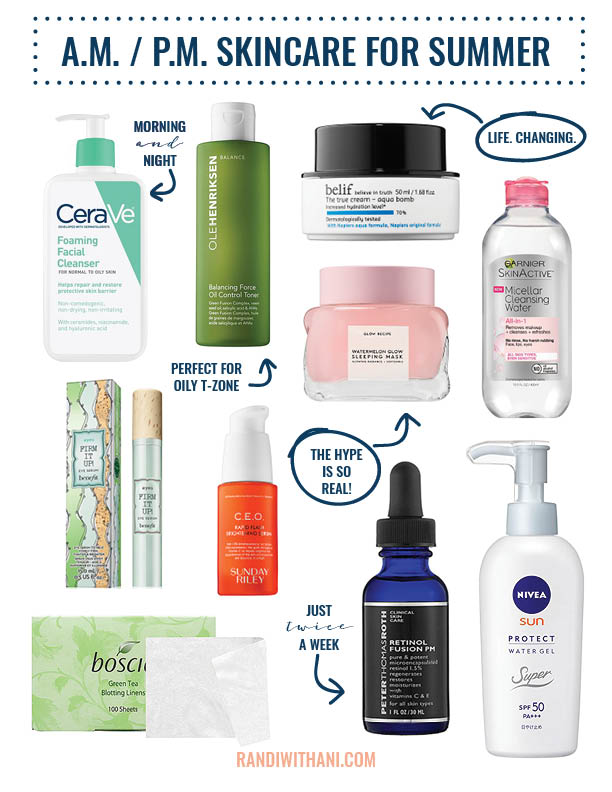 I have, admittedly, somewhat of a spotty track record with skincare.
All through my late teens and early 20's, I slept in my makeup. And — even as recently as last year — if I ran out of face cleanser or couldn't fit my moisturizer in my TSA-approved baggie of liquids, I'd just swap out my body soap and hand cream. Cringe.
I've been genetically blessed with mostly-clear skin. I have a pale freckly complexion that doesn't break out much at all aside from the inevitable that-time-of-the-month zit, so I've always been able to get away with treating my skin like straight garbage.
But now that 30 is on the horizon (gulp), I've been trying to take a more active role in putting together an actual skincare regimen. As it turns out, it's kinda hard to do! I'm planning on writing a post about how you can develop a skincare routine starting from scratch, but for now, I'm just going to share my current lineup.
First, a little bit about my skin. Like I mentioned, my genetics have been very, very good to me in this department. My skin gets a touch dry in the winter, and incredibly oily in the summer. I have an exceptionally greasy t-zone year-round. Sun protection is a major concern of mine because I'm so pale, but I love my natural freckles and hesitate to cover them up in the summer. I'm really self-conscious about the dark circles that form under my eyes when I don't get enough sleep. I wear under-eye concealer almost daily, but I usually don't wear foundation at all.
And — as a full disclaimer — absolutely no product can replace the results you get when you eat healthy, drink lots of water and work out. So make sure you're not trying to replace veggies and cardio with serums and creams!
Anyway, here we go. (Pst! Affiliate links.)
∙∙∙
Morning line-up:
Cleanse: CeraVe Foaming Facial Cleanser. This was recommended to me by my dermatologist and it's a pretty fail-safe option. Cream and gel cleansers don't seem to pick up all the oil that accumulates on my skin — especially in the summer — but this drugstore cleanser does, and it doesn't leave my face feeling squeaky and tight afterward.
Tone: Olehenriksen Balancing Force Oil Control Toner. This has salicylic and glycolic acids in it, so I like to swipe it on my t-zone with a cotton ball post-cleanser just to make 100 percent sure all the oil is gone. (My forehead seriously turns into an oil slick overnight.)
Moisturize: Belif the True Cream Aqua Bomb. When it comes to skincare, the Koreans know what they're doing. I received a sample of this with a Sephora order once and was immediately hooked. It's lightweight without being sticky at all, cooling without being tingly, and it only takes a tiny amount to fully hydrate.
Eye Serum: Benefit Cosmetics Firm It Up! Eye Serum. Honestly, of all the products in my current lineup, this is the one I'm the least attached to. This serum serves as a good base for my undereye concealer, but that's about it. I'm open to suggestions if you have anything better I should try!
Antioxidant/ Vitamin C Serum: Sunday Riley C.E.O. Rapid Flash Brightening Serum. This stuff actually smells like oranges, which is really refreshing… especially because I'm usually putting it on at 5 a.m.! A lot of serums leave my skin feeling sticky or oily, but this one doesn't at all, which is especially nice since I'm putting it on during the morning with five other products that tend to add up.
Sunscreen: Nivea Sun Protect Water Gel Super SPF 50. If you only take one thing away from this post, it's that you should always, always wear SPF! I am incredibly liberal with my sunscreen application in the summer because I burn so easily, so I always finish off my face with it. I actually found this stuff in the comment section of a blog I stumbled upon, and I ordered it off Amazon from Japan. It's a body lotion, but it works amazingly on my face without being sticky, greasy or heavy.
Daytime touch-up:
Boscia Green Tea Blotting Linens. Again: I have a super, super greasy t-zone. These wipes smell fantastic and soak up all the extra oil that seems to accumulate on my forehead, nose and chin by the early afternoon. And, oddly enough, they're cheaper cost-per-volume than those infamous drugstore Clean&Clear wipes.
Evening line-up:
Makeup removal: Garnier Micellar Water — pink top. I've tried to get in the habit of taking my makeup off as soon as I get home in order to let my skin breathe. Micellar water is amazing because it's a cleanser, toner and moisturizer all in one. If I'm feeling particularly lazy (admittedly, this happens two or three times a week), I'll just end my nightly routine with this step.
Cleanse: If I'm not taking the lazy way out for the night, it's on to CeraVe, round two, a few hours after make-up removal.
Tone: Olehenriksen toner, again on t-zone only.
Retinol: Peter Thomas Roth Retinol Fusion PM. Ah, 30. It's still a few years away, but I decided to get a jumpstart on it by using a mild retinol now rather than later. This is a very low percentage, and it hasn't made my skin freak out at all like I was warned most retinols would do, but I still only use it two or three times a week.
Night cream: Glow Recipe Watermelon Glow Sleeping Mask. I'm totally one of those people who buys products based on the packaging, and the packaging on this is what sold me. So, imagine my surprise when I found out — after purchasing — that this is a new and super coveted product that's been on backorder at Sephora for practically ever. But, I can totally see why the hype exists! This lightweight gel smells like a watermelon Jolly Rancher. I apply a thin layer of it at night. It's slippery and greasy at first, but soaks right in and leaves my skin so, so soft come morning. I can't get enough of this stuff!
∙∙∙
That's about it! I've been getting into the habit of trying new products and switching products in and out to see what works and what doesn't — and to motivate myself to stick to a new routine. I always find that looking forward to a new product is one of the best ways to make sure I'm sticking to good skincare habits.
What products do you use or recommend? Let me know in the comments!
Shop this post:
This post contains affiliate links. For more information, please read my disclosure policy.